The Top 50 Albums of 2017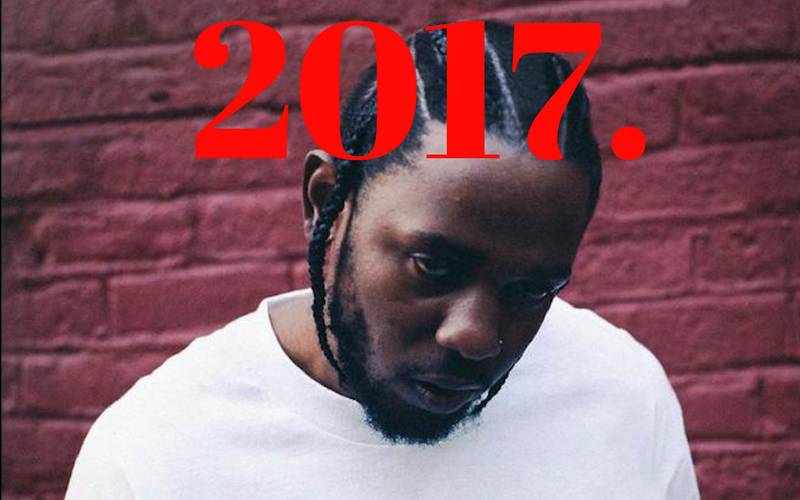 (Sargent House)
After years of teasing, Chelsea Wolfe finally delivers a true metal album. Granted, by Abyss she was already well on her way, comfortably sitting on the barrier between; likewise, Hiss Spun sees her giving up precisely none of the ground she staked from her debut up till this point. The grime, the gloom, the gothicisms, the hints of Nick Cave and Swans and witch house and ethereal wave still abound. They are simply amended by the final enunciation of that lingering presence that haunted her sound from the corners for all this time: metal. The ultimate moment of this marriage, the one that will mean the most to longtime fans, is when Wolfe's perfectly haunted voice gives way to the primal roar of Aaron Turner (Sumac, ex-Isis), one master nodding to another, a proper initiation on record. Wolfe seems only to be improving with time, and as great as Hiss Spun is, it does not yet feel like we've reached the apex of her powers. – Langdon Hickman
---
(Dead Oceans)
We sometimes forget that the practice of creating sounds which constitute music started without language. Music was entertaining and traditional, celebratory and divine long before we started adding words to sing praises to God, monarch, nature, or girl next door. To this day, we can even point to musical styles that use nonsense, glossolalia, or other obfuscation to transform the voice into just another instrument—still capable of delivering a message, to be sure, but often it's a message of a broad and abstract theme, a code to be broken. With all due respect to Neil Halstead and his co-conspirators in Slowdive, the writing and singing on their self-titled fourth album are just this side of superfluous. Their vocalizations work as melodic texture, threads in a shroud worn soft, smooth, and thin with time. We recognize and appreciate this strategy, for we recognize My Bloody Valentine and Cocteau Twins and countless others in this oeuvre. Cocteau Twins remain in the wind, however, and MBV can be relentlessly impenetrable. From the piano-driven "Falling Ashes" to the subtle turning-out of "Star Roving"—a track somehow inferring Stone Roses and Interpol and therefore all of alt-rock across their long absence—Slowdive's return is made credible by its results in addition to its mere existence. The band build an emotive yet accessible cocoon, and we see/hear only shadows and masses beyond it: washes of pale and dimmed colors representing loss, sadness, isolation, endless hope. The words of Slowdive, the alleged details, they don't matter so much. And in this moment, I'm OK with that. – Adam Blyweiss
---
8. (Sandy) Alex G
Rocket
(Domino)
Whenever I write about an album for Treble, I like to get a second opinion before I put pen to paper. I played Rocket to a friend who never listened to Alex G before. "This sounds like a horse," they said, upon listening to, you guessed it, "Horse." While "Horse" may hold the most synesthetic qualities on the album, this visual concept has become commonplace over the course of (Sandy) Alex G's career, with Rocket being the artist's most vivid release yet.
It's no surprise Alex Giannascoli's music has already begun to shape the current indie rock landscape—his contemporaries and collaborators have borrowed styles and even ripped melodies from the singer/songwriter's dense, trendsetting catalogue. On Rocket, Sandy breaks new ground with dancehall percussion grooves on "Sportstar," the scathing industrial punk of "Brick" and the increasingly popular indie-twang on both "Bobby" and "Proud." For an album so chock full of paradox, Rocket somehow makes sense, unlocking an even higher level of potential in Alex G's ceaselessly blooming talent. – Patrick Pilch
---
(Matador)
Few artists are capable of creating a sound divorced from time. For Algiers, this quality is at the core of their aesthetic. There are vocal melodies on The Underside of Power that hark back to the centuries-old intonations of Black American spirituals, or more recent declamations of Howlin' Wolf. They often exist over beats mined from Southern hip-hop and modern electronic music. The band's guitars, when present, owe much to the riff patterns of post-punk and the screaming static of industrial or noise. This all combines to frequently function as a profound examination of the polarized mess into which America falls deeper and deeper each year. ("This is how the hate keeps passin' on," frontman Franklin J. Fisher sings on "Death March.")
Algiers' eponymous 2015 debut wore influences so much on its sleeve that one could consider it pastiche and was still one of that year's best records. The Underside of Power shows the band coming into its own and trying new things (the dark ballads of "Mme. Rieux" and "Hymn for an Average Man") to confront a far bleaker national environment than that of 2014-15. On "Cleveland," Fisher names Sandra Bland, Keith Warren, Lennon Lacy and other Black folks recently killed by police. "Average Man" cuts just as deep: "So let a sigh ring out—denial/Deny it/Deny it/Ignore their screams, you got away with it." It's hell out there, and Algiers has made music suited to it. – Liam Green
---
(True Panther Sounds)
The biggest missed opportunity of 2017 was King Krule being somehow absent from the long list of performers at the Bang Bang Bar in Twin Peaks: The Return. Though Archy Marshall's music more often evokes grimy British alleyways rather than a verdant Pacific Northwestern clime, there's a great deal of Lynchian atmosphere permeating his long-awaited second album The Ooz. Marshall builds a zig-zagging underworld of his own, soundtracked by sinister lounge jazz textures, lifesick lullabies and atonal saxophone flecked with garmonbozia. King Krule's music is made for Red Room backwards walks, but it also occupies a surreal space of its own, one with just as much debauchery and vague menace but no shortage of style. It's hard to make sense out of the clash of sounds that emanates from The Ooz, and it's probably only possible in the late night hours when "he's mashed, I'm mashed, we're mashed," but the odd mix of soothing textures and uncertain danger is where the fun lies. Even on repeat listens, no roadmap or GPS can provide a proper guide through these dark closes and corridors, but Marshall's purpose is by no means ambiguous. He's just here, as he puts it in "The Locomotive," to "twist the soul of the people." – Jeff Terich
---
(Nonesuch)
Crack-Up is an album full of tectonic moments. Returning after a six-year hiatus, Robin Pecknold has created a series of songs that constantly shift and tremor beneath your feet with near-geologic force. Where previous Fleet Foxes records had suffered from the folksy preciousness that dominated a lot of turn-of-the-decade indie rock, Crack-Up replaces that with intense compositional ambition. Multi-suite tracks like "I Am All That I Need / Arroyo Seco / Thumbprint Scar" and "Third of May / Odaigahara" are violent collisions that reflect Pecknold's own volatile state of mind as he assesses his own insecurities, doubts and relationships. And when Crack-Up falls back into simplicity—on the helpless, frustrated, "If You Need To, Keep Time on Me," it does so with the quiet confidence that informs the rest of the album. – Sam Prickett
---
4. The National
Sleep Well Beast
(4AD)
When it eventually comes time to debate which album is the best of The National's decades-long career, Sleep Well Beast will at least be in the conversation. It's a subtle variation on the sound that they've established over the past 20 years—skittering electronics are the biggest change here—but it also serves as a refinement of what the band does best, from the stadium-ready rock of "Day I Die" and "The System Only Dreams in Total Darkness" to the muttered, wry self-loathing of "Walk It Back" and "Carin at the Liquor Store." Matt Berninger (sometimes accompanied by Carin Besser, his wife who has been a named presence in the band's discography since Alligator) isn't as explicitly funny as he's been before, but on album highlights "I'll Still Destroy You" and "Guilty Party," he gives some of his most direct, affecting performances of his—and the band's—career. – Sam Prickett
---
(P.W. Elverum and Sun)
A Crow Looked at Me was Phil Elverum's self-described "re-entrance into the world" after the tragic loss of his wife Geneviève Castrée to pancreatic cancer in the summer of 2016. Castrée left behind her baby daughter Agathe. Those words are nearly impossible to type without choking up. The incompressible loss at the center of Crow, and Elverum's bravely matter-of-fact approach to it make the album less a collection of music and more a radical act of self-confession shared to the world.
There are times throughout the listening of Crow, whether it be during the aching "Real Death" or the elliptical finale "Crow," where it feels like this isn't something to be written about. What I can offer is a sincere amount of gratitude toward Elverum for holding a mirror up to his unbearable pain and showing it to the world. In exploring his death-addled grief, Elverum has made something that is shockingly life affirming and precious, which is truly a mesmerizing accomplishment. – Wesley Whitacre
---
2. Kendrick Lamar
DAMN.
(Top Dawg/Aftermath)
Kendrick Lamar's told his life story, updated it with jazz-funk instrumentation and a haunting from the ghost of Tupac Shakur and compiled a set of outtakes that outpace most emcees' best singles. That is when Kung Fu Kenny isn't doing a walk-on only to upstage every track on which he features. There aren't many rappers on his level—there's essentially next to none, though there is one more album on this list—so for his fourth album, he's essentially in a sparring match with himself, anticipating his own every move and countering each one with incredible lyrical blows of his own. Like each of Lamar's previous albums, DAMN. is an epic journey inward, albeit one with beats that bang harder and production that befits a more commercial product. As if it were that simple; "DNA." might sound more or less like a commercial hip-hop single, but its dissection of judgments toward his Blackness subverts the party-rap norm. "XXX." might feature U2, the biggest band in the world, but they're mere tourists on Kendrick's own introspective journey. That's all the most of us can hope to be when the narratives unfold this quickly and with such nourishing food for thought, like how the generosity of Lamar's own father toward the future head of Top Dawg prevented the robbery of the KFC where he worked—and likely led to the place where he is now. Sure, the production slaps, and some of the songs are among the most immediate of Lamar's career, but as much as this is top-down volume-up music, it's just as frequently contemplate-your-place-in-the-universe music. In a word: Damn. – Jeff Terich
---
(Def Jam)
The late, great Roger Ebert once described the zither theme of Carol Reed's epochal crime film The Third Man as "jaunty but without joy," and that's exactly how I feel about long stretches of Vince Staples's second full-length album. Its futuristic sound takes few cues from modern hip-hop and instead draws from UK garage and dubstep, Detroit techno, house music and industrial. Songs cut off prematurely, fracture suddenly at their halfway points, change tempo on a dime. Amid this sonic environment that seesaws back and forth between beauty and chaos—and not infrequently blends the two—Staples is well aware of his current fame and the distance it's given him from the harsh shit he grew up around, but feels little relief at this fact.
Even the album tracks that are most jubilant on a surface level, "Party People" and "Rain Come Down," bear strong undercurrents of melancholy, as if Vince is telling us, "We can party through this shit! Absolutely! Nothing's wrong!" then pausing, and muttering, "Fuck man, who I'm kidding?" Their hooks read almost like attempts at hiding one's fears. But Staples doesn't do dishonesty, and his feelings of ambivalence, frustration, lust and sociopolitical anger never stay concealed. From the class and race conflicts that can't leave him alone for long enough to have a date at a nice restaurant ("745") to the industry machinations chronicled on "Samo," the rapper realizes he's traded in Long Beach gunfire for Hollywood bullshit. And then there's "BagBak," which almost seems like Staples' effort to one-up YG's "Fuck Donald Trump." Alternating encouragements of Black Americans to pursue excellence with acidic condemnations of the overweight, aging freak currently falling asleep to Hannity as I write this (as well as the would-be Masters of the Universe like Robert Mercer who put him there), "BagBak" rivals the best politically charged work of Public Enemy, Run The Jewels, Algiers and Kendrick Lamar. In a year of sociopolitical horrorshows both foreign and domestic, there's great encouragement—principally directed to Black folks, but its resonance is universal—in this proclamation: "Ain't no gentrifying us, we finna buy the whole town/Tell the 1 percent to suck a dick because we on now." Amen, Vince.  We can rely on you to tell us the truth next time around if we've progressed nowhere from the point documented on Big Fish Theory. – Liam Green