Hip-hop proved unusually generous in a year that seemed to take more than it gave. If an artist released one good album, there's a good chance they offered up a handful. The Alchemist, Boldy James, Jay Electronica, billy woods, Elucid, the various members of the Griselda label and collective—the list of artists in rap that somehow just kept putting out more good music after already setting the bar high enough somehow kept growing throughout the year. Consider it a welcome and unexpected blessing, but what's not necessarily so surprising is that hip-hop was as strong as it was in 2020. It's continued to be a platform for innovation and experimentation over the past decade, as well as usurping rock as the most popular genre in the U.S. And while a lot of our favorites are all quite different, the one thing they have in common is a sense of exploration within the classic formula of beats and rhymes. Here are the best hip-hop albums of 2020.
---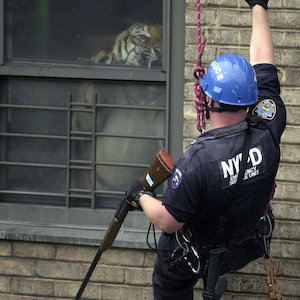 Armand Hammer – Shrines
You're not going to absorb everything on Armand Hammer's fourth album on a first listen, or even a second, maybe a third. Elucid and billy woods pack a lot of information, a lot of allusion, a lot of intricate wordplay, a lot of news cycle deep cuts—including the very real story of an illegally kept tiger in New York City referenced on both the album's cover art and at the end of "Pommelhorse"—into an album that's as stunningly produced (from Kenny Segal, Navy Blu, Earl Sweatshirt and more) as it is steeped in righteous anger. Shrines is a poetic summary of our fucked up world from broken dreams ("It started as a lesson of achieving dreams and reaching fantastical heights/Ended with us watching the Challenger rocket smoldering on the black and white") to grotesque memes ("It's more than a few ways to skin cats/Pelt's drape, drip dripping, we wore the skulls as a mask") and playful flexes in between ("nudging flat-earthers off the block like Q*Bert"). The quotables come fast, the beats are seductively sinister, and the picture grows a little more disorienting with each spin, even amid its moments of hope and nostalgia. Its final track "The Eucharist" fades out as if to queue up the next beat, but it just ends, hanging like an ellipsis. There's no closure to be found here, just a grotesque, surreal reality depicted in stunning, hypnotic detail. – Jeff Terich
Listen: Bandcamp
---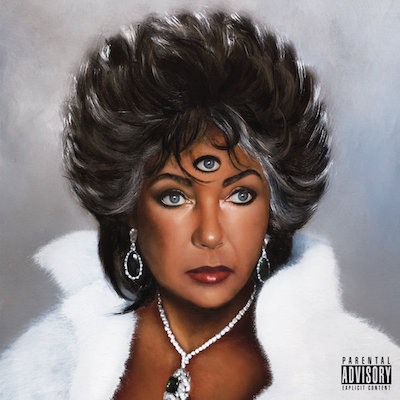 Armani Caesar – The Liz
There's no question about 2020 being a big year for Griselda—the Buffalo hip-hop label and collective's members each flooded the zone with top-notch hardcore rap records this year. The tally: Conway and Westside Gunn each delivering three releases and Benny the Butcher with two. And while Armani Caesar delivered just one album, The Liz, her contribution might very well be the best of the bunch, balancing the label's trademark gritty crime raps with moments of salacious pop-rap slither. The strip-club trap of "Yum Yum" is the first of its kind on a Griselda release, not quite as over the top as "WAP" but no less sexually empowered and raw. Meanwhile, tracks like "Countdown," reminiscent of Mobb Deep's most unsettling tracks, and lead single "Simply Done," featuring an ace boom bap beat from DJ Premier, find Armani holding her own alongside the group's banner emcees, delivering icepick raps without breaking a sweat. – Jeff Terich
Listen: Bandcamp
---
Backxwash – God Has Nothing to Do With This Leave Him Out of It
This breathtaking album finds the Zambian-Canadian rapper-producer Backxwash presents a staggeringly complete sonic vision that integrates rap and metal and industrial into something dark and jagged and fucked but that still reads as rap music, all insistent hi-hats and bass drones. On its ten tracks, she works to assert her trans identity by imagining deathless violence, externalizing the trauma of her fundamentalist upbringing; her vocal cords shred as she confronts the conflicting urges toward defiance and understanding. It's just an arresting goddamned listen, one that careens from fury to forgiveness and creates a sense of emotional weight that justifies both. – Ben Dickerson
Listen: Bandcamp
---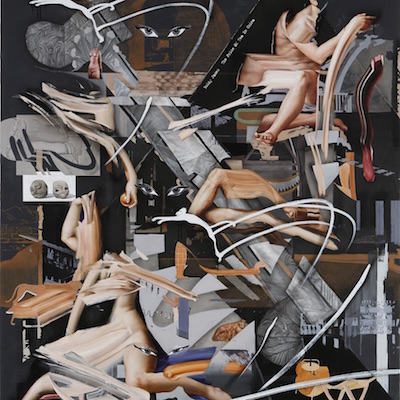 Boldy James & The Alchemist – The Price of Tea in China
Boldy James and The Alchemist both appear twice on this list, which tells you something about strong their respective years were. (And there's a whole two other Boldy records that didn't even make this list, which tells you something about just how busy the dude's been.) But The Price of Tea in China is a markedly different release than James' jazzy, experimental Sterling Toles collab, Manger on McNichols. The difference, naturally, lies in The Alchemist's chilling, analog crackle beats, which on tracks like "Giant Slide" make for nightmare fuel and on "Surf & Turf," featuring Vince Staples, a floating miasma of surrealist ambience. When Alc is involved, there's a 99.9 percent change it's going to sound sublime, but paired with James' icy veined yet anguished first-person narratives of survival and faustian bargains, they're given a stunning gravity. There's nothing new about grimy realism in rap, but when told with this level of earnestness and conviction, it still feels like a punch to the stomach. – Jeff Terich
Listen: Spotify
---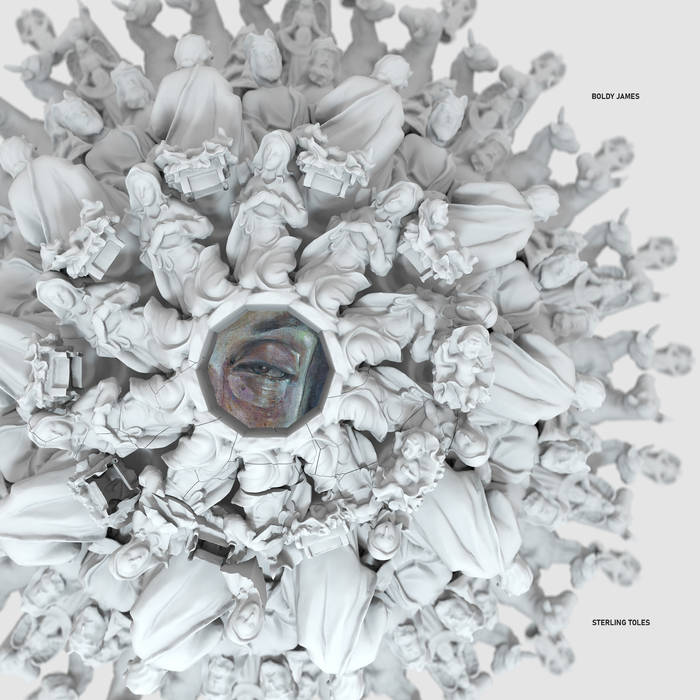 Boldy James & Sterling Toles – Manger on McNichols
Any rap record that subsumes its own bars is a special kind of record. Manger is clearly a producer's record, the kind of lush and potent heady mix of contemporary classical, jazz and soul elements hybridizing into an opium den spiritualist high. That Sterling tapped Boldy to be the leading voice casts him more as the Virgil to our Dante, a psychopomp rapper in our Orphean descent into the burning waters of the Phlegethon. The 13-year genesis of this record, chronicled beautifully on the Bandcamp listing for the record by the producer himself, is felt across its entire span; this is a meditation that was assembled in fits and starts but always with care, no misplaced brushstroke or hasty move just to clear the project from the table. It effuses thoughtfulness. – Langdon Hickman
Listen: Bandcamp
---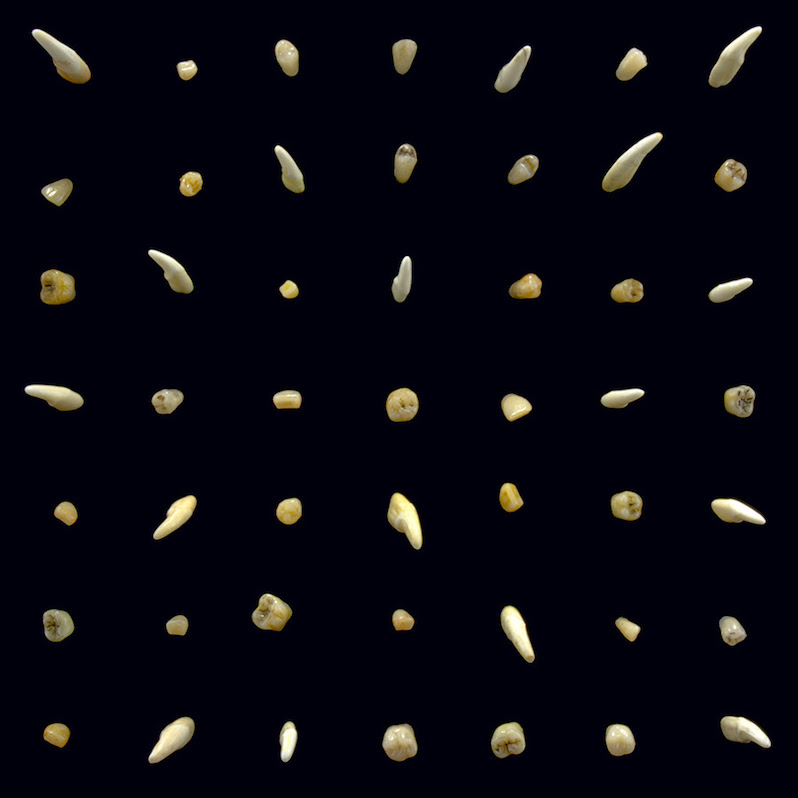 clipping. – Visions of Bodies Being Burned
The most thrilling moments on Visions of Bodies Being Burned, the second album of clipping.'s horrorcore experiment, arise from the collision of rap and horror tropes, because that's where it feels like the trio is really landing on something vital. They're making, I think, a new sort of folk tale—something haunted and hyper-referential ("Say the Name" alone drops lines from Big Pun, Murphy Lee, ODB, and Scarface), supported by scrapes and shatters and itching, clicking drones—as in "Check the Lock," which contorts the drug-dealer paranoia of mid-aughts coke-rap into anxious, echoing terror, and "She Bad," which injects rap vernacular into a chilling pursued-through-the-woods narrative built over a creaking, lurching field recording. – Ben Dickerson
Listen: Bandcamp
---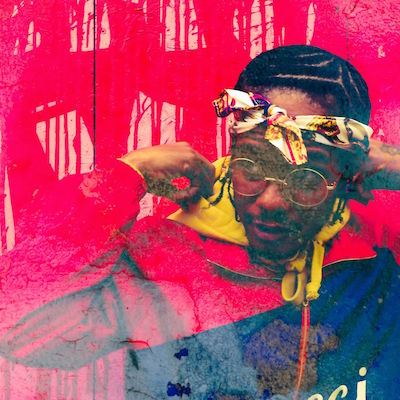 Chris Crack – Haters Forgot They Were Fans First
I came to Chris Crack, honestly, for his best-in-the-game song titles; past hits include "Good Cops Don't Exist," "Turning Down Pussy Builds Character," etc. Of course, his songs—often (usually) built over crisp soul loops filtered to bring out the bass and treble, with Chris' yammer sitting in the mids—aren't usually aren't about what the titles are about, but they're similar to the titles in that they're these great, specific snapshots: They're brief, usually between 1 and 2 minutes, and a lot of them are just a hook and some sharp punchlines and not even a fade-out before the next track starts. Crack's a tremendous wiseacre and listening to this record is like having a really funny friend drop by for a brief visit, say one hilarious thing and then slip out without you noticing. – Ben Dickerson
Listen: Bandcamp
---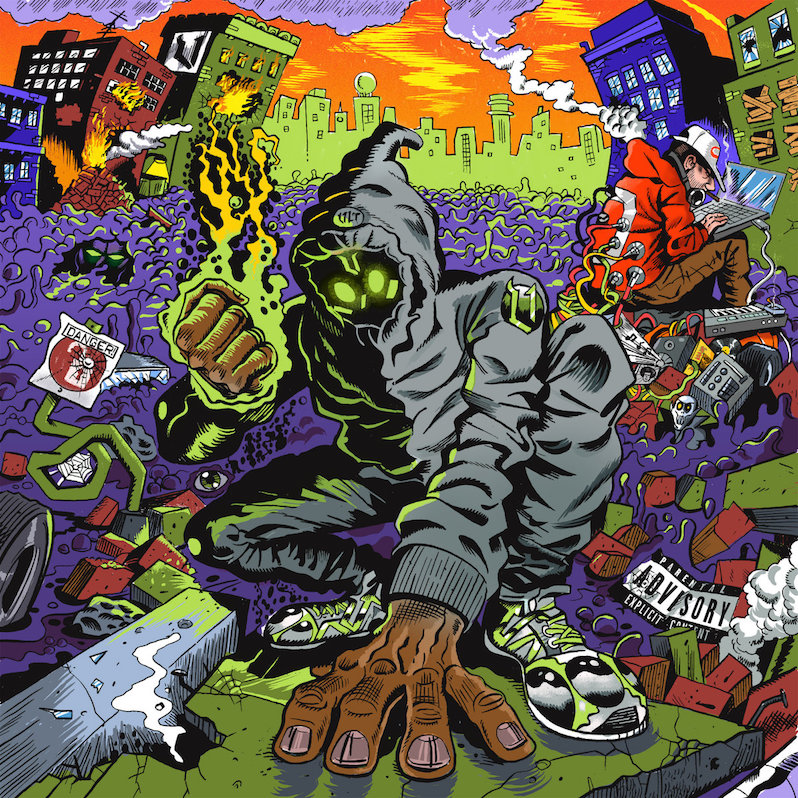 Denzel Curry and Kenny Beats – Unlocked
The three-record arc of Imperial, TA13OO and ZUU (not to mention a landmark cover of Rage Against The Machine's "Bulls on Parade") proved that Denzel Curry could do anything from incendiary rap-rock to boom-bap '90s cool to avant-garde work. On Unlocked, he sets out to do everything all at once and in record time. There's something impressive about the punky hardcore fury of dropping an 8-track record that clocks in at just over 15 minutes but, like Gulch who this year did the same in the world of metal, god damn does Denzel deliver. It's a psychotic mess recorded in one weekend, a creative explosion, the fact of its brief genesis and briefer runtime further intensifying that underlying sense: Denzel can do anything. – Langdon Hickman
Listen: Bandcamp
---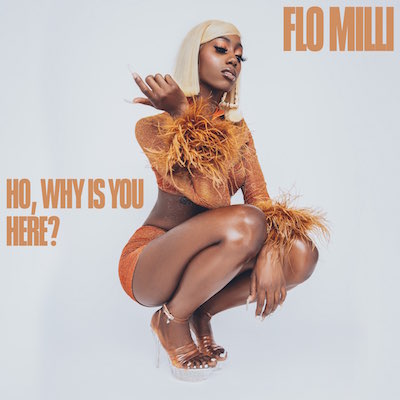 Flo Milli – Ho, Why Is You Here?
It's not exactly right to say that Flo Milli emerged fully constructed—her signature track "Beef FloMix," a big TikTok hit (I have grown old), has been floating around for a year or two now—but on Ho, Why is you Here?, she fully inhabits her imperious scammer persona, rapping in slick, use-every-beat-in-the-meter, run-on sentences in above-it-all cadences about bilking dumb dudes for dollars just for the fuck of it. The choruses, which she handles herself, are simple and memorable, and the beats are hard, full of sharp percussion and 808s that'll distort your car speakers. – Ben Dickerson
Listen: Spotify
---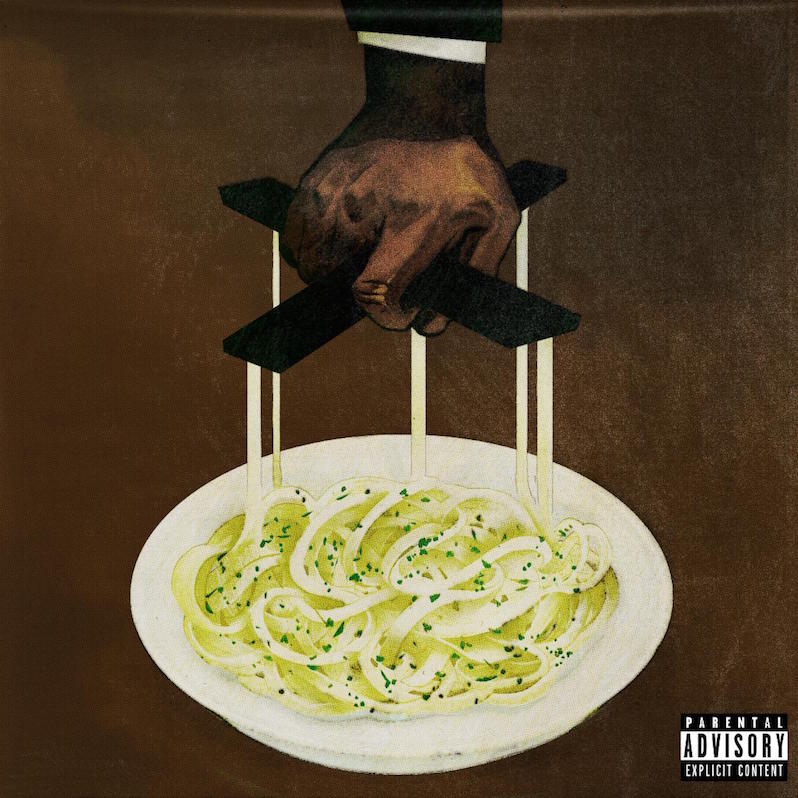 Freddie Gibbs & The Alchemist – Alfredo
The Alchemist has had a landmark year and is, by any reasonable count, the producer of the year, dropping fire records with Conway the Machine and Boldy James (the former of which appearing on our ballots and the latter appearing on our list), not to mention two solid solo LPs of his own all in 2020 alone. But this is the top rap record of the year for the simple reason of its synthetic interpolation of Freddie Gibbs, the rightful critical darling of hip-hop ever since the release of his 2013 record Pinata. Freddie does his best work in these collaborative environments, tapping into the sophisticated cool of old school hip-hop while still containing enough panache for some heavy flex street-level rhymes. The mafioso cool of The Alchemist's work lifts those bars to simply the platonic ideal of hip-hop. This is rap as it is supposed to be, forever. – Langdon Hickman
Listen: Spotify
---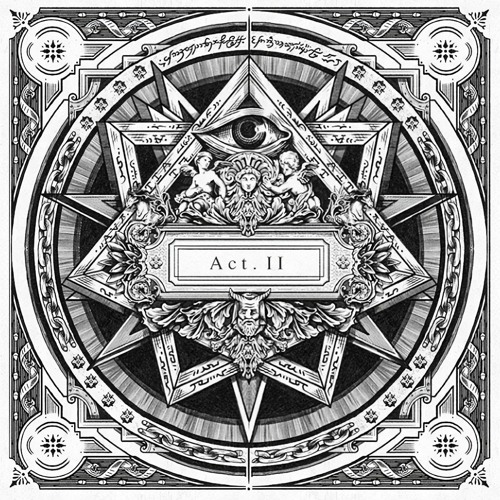 Jay Electronica – Act II: The Patents of Nobility (The Turn)
It's a curious irony that at least a few of 2020's best hip-hop records contained material that dated back a decade, and similarly curious how one of those records came from Jay Electronica, now 44, who only this year got around to releasing a debut album, and then followed it up only months later with this. Act II: The Patents of Nobility (The Turn) had been slated for release back in 2011, but didn't materialize until this year when it ended up being leaked unexpectedly, leaving Jay to once and for all give it an official release via TIDAL. And though it in many ways feels like more of a "mixtape" (a quick succession of 90-second tracks, Jay rapping over a mostly-unedited "Bonnie and Clyde" by Serge Gainsbourg), the complete product is a spectacular one that's retained its sparkle despite its near-decade wait. Assertions like "Fuck Bill O'Reilly and Rudy Giuliani" don't hurt, fiercely urgent boom bap tracks like "Welcome to Knightsbridge" and affecting slow-burners like "Run and Hide" only drive it home. The only question that remains is what else he's been holding back in the last nine years. – Jeff Terich
---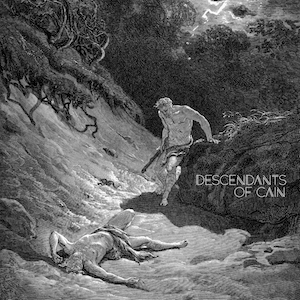 Ka – Descendants of Cain
The title doesn't lie. Ka descends like a hush, murmuring prayer like a preacher, rabbi or imam more than spitting bars. Tracks blur and blend into one another; this is clearly a conjoined statement, a long unfurling poem more than a series of club beats and hype lines. There is a consideration, like entering the cloister to bear witness to the mysteries of god. All of this is done without melodrama, either, which is the truly masterful part, reading as a sincere series of thoughtful meditations rather than galaxy brain Immortal Technique cornball BS. There is a weight and de profundis to true spiritual music that this resounds with like a clarion bell in an empty hall. – Langdon Hickman
Listen: Spotify
---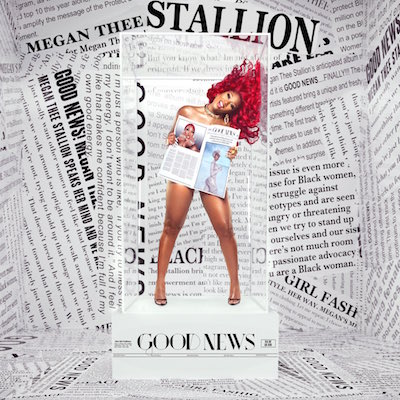 Megan Thee Stallion – Good News
A big thing here is that it is extremely cool and good that Megan Thee Stallion is a Southern pop-rap star who actually gives a shit about the South: The Webbie and Juvenile homages on "Sugar Baby" and "Work That" serve to broaden the album's palette (expertly-rendered big-budget Houston shit, mostly) and place Megan where she belongs, in the proud tradition of great down-South shit-talkers. The second thing is that Megan is her own greatest subject: She raps (and raps so well, in double-times and stutter-steps, with supreme confidence) almost exclusively about how bad she is, how everyone and their mother (and your mother) wishes they could get next to her and how they couldn't even handle it if they did; listening to her come up with new ways to express that ethos (one standout: "Invest in this pussy, boy/Support Black business") is really goddamn fun! And so aside from a few ill-fitting pop swings (it doesn't matter how smooth Popcaan is; he simply cannot sell the word "intercourse" as a big sexy hook), Good News is an assured, controlled debut that establishes Megan as an absolute force. – Ben Dickerson
Listen: Spotify
---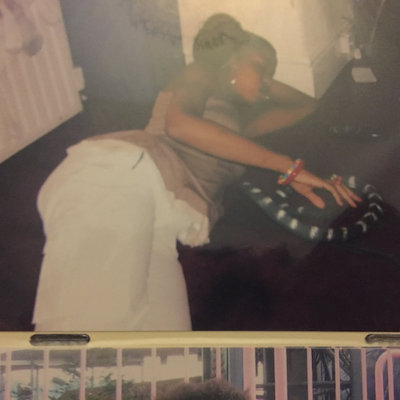 MIKE – Weight of the World
The progression of Michael Jordan Bonema's hazy, jazzy, lo-fi rap has been fun to watch, from early highlights like May God Bless Your Hustle, released when he was just 19, up to last year's Tears of Joy, a big-hearted and warm set of psychedelic rap that found a middle ground between experimentation and accessibility. Weight of the World isn't a radical reinvention, more a refinement of everything he's done well all along. His rapping sounds sharper, the production more gorgeously enveloping, and everything just off-kilter enough to still feel as wonderfully surreal and otherworldly as expected. Weight of the World still carries the grief and emotional weight of Tears of Joy, but there's a greater sense of poetic eloquence in the way he works through his pain and the growth he's undergone: "Back then my diet was shrooms if it wasn't herbal/And threw some violence towards the blues 'cause the wound eternal." On the bright, joyous "get rich quick scheme," MIKE likewise shows that his growth means allowing more light in as well. It's remarkable enough that he's built up the kind of catalog he has by just his early twenties, but all signs point to even greater things to come. – Jeff Terich
Listen: Bandcamp
---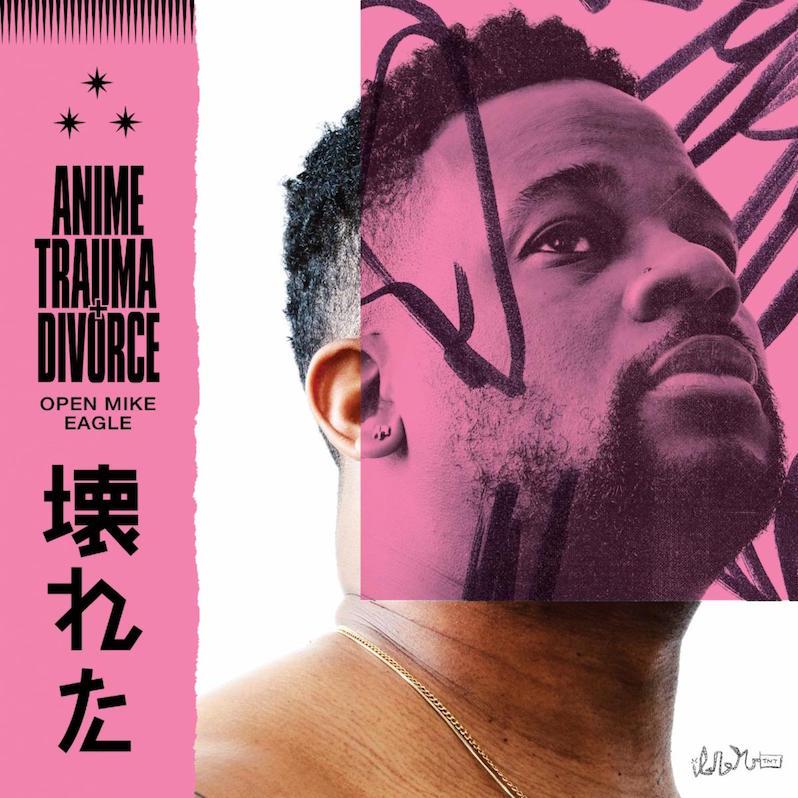 Open Mike Eagle – Anime, Trauma and Divorce
"The shit fucked me up, so Imma fuck you up." Within the first few seconds of Anime, Trauma and Divorce, Open Mike Eagle lets the listener know they're in for a bit of a downer. It's not a clever title, this really is a record about divorce and trauma, told with references to something that brings Mike happiness: anime. Then again OME has tackled pain and struggle in stunning ways before—his 2017 album Brick Body Kids Still Daydream brought the warmth and humanity out of a community that the government turned its back on. Likewise, here Mike works his way through one of the worst years of his life and his struggle to navigate starting over at 40. His attempt to work out what it means to treat yourself in "WTF is Self-Care" is both hilarious and relatable, while "The Black Mirror Episode" finds him raging against Netflix. The entirety of Anime is littered with punchlines, some of them subtle, some of them more like, "If I was a Transformer I'd be Headass-imus Prime." But beneath the jokes is real pain and honesty, which results in something both uncompromising and stellar. All the same, though, here's hoping next year works out better for Mike. – Jeff Terich
Listen: Bandcamp
---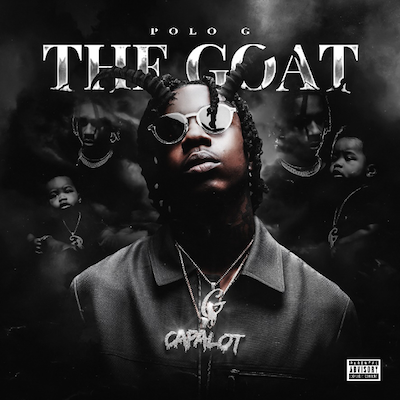 Polo G – The Goat
Polo G rides a fine line between intimacy and the grandiosity of great pop rap, channeling his real history in the worlds of crime and prison toward a sincerity and transparency in mainstream-friendly hip-hop spans that is painfully rare in those spaces. His sense of melodicism guides his rhymes, evoking mid-2000s hip-hop or perhaps the more sing-rap spans of Bone Thugs but without capitulating to full cornball Drake mode. There is a time and place for heady arthouse rap but there is likewise a necessity for hard beats and someone rapping their ass off and spilling their heart all over the floor. Polo G may have produced a fairly orthodox record with The Goat but god damn if it doesn't satisfy. – Langdon Hickman
Listen: Spotify
---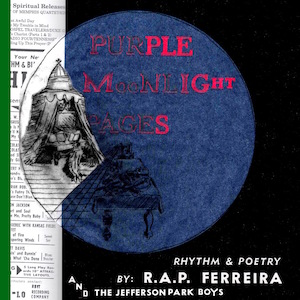 R.A.P. Ferreira – Purple Moonlight Pages
Rory Allen Philp Ferreira literally has "rap" in his initials, which leads one to wonder why he went as long as he did under the name milo? No matter, when a rose by any other name still have these bars. Ferreira's first album under his given name is as breathtaking a jazz-rap odyssey as he's ever released, whether he's contemplating the state of the universe in a gas station bathroom or simply doing a load of laundry, lifting not one but two lyrical references from Pharoah Sanders tracks or name-dropping Horace Silver. Ferreira's a thought-provoking, surrealist master of ceremonies, grounded but looking toward the cosmos, yet his production team The Jefferson Park Boys (Kenny Segal, Mike Parvizi and Mr. Carmack) provide enough groove and hazy moods to give his solioquys liftoff. The meticulousness of Purple Moonlight Pages has a way of feeling like effortlessness, but that's all part of its magic. – Jeff Terich
Listen: Bandcamp
---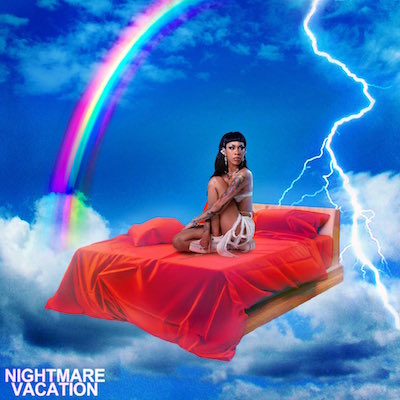 Rico Nasty – Nightmare Vacation
Rico Nasty doesn't really do subtlety. She growls as much as she raps, could convincingly front a hardcore band, and ends every! phrase! with! an! exclamation! point! Bitch! And yet, as her proper full-length debut, Nightmare Vacation showcases a surprising breadth and versatility that offer a more rounded picture of who she is as an artist than her earlier (excellent) mixtapes. A track like "IPHONE" traffics in the futuristic hyperpop in the vein of Charli XCX and Grimes, while she vibes out in a cloud-rap haze in "Own It" and gets back to absurdly fun vocal shred on the brief, banging "OHFR." Rico Nasty is as much a personality as an artist, but on Nightmare Vacation, the two are integrated seamlessly. – Jeff Terich
Listen: Bandcamp
---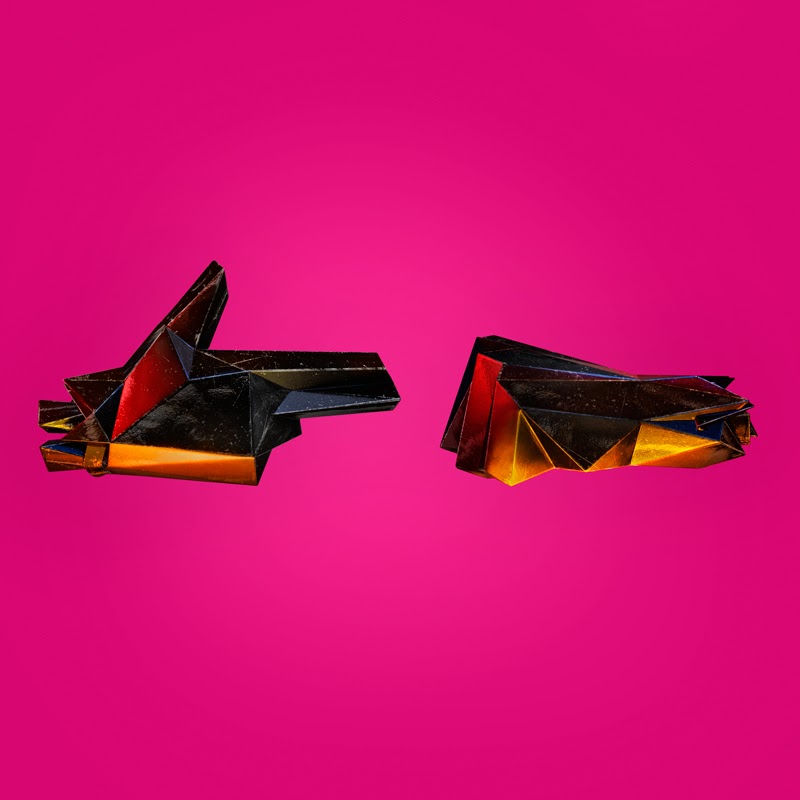 Run the Jewels – RTJ4
A new Run the Jewels album always seems to show up just when we need it. The last time we caught up with Killer Mike and El-P, America had just elected a devil in a bad toupee and a spray tan as president. This time, the world's on lockdown due to a pandemic—oh, and all the injustices that they've rapped about before are still happening. And of course, they released it for free. More concise than its predecessor, concentrated and potent, RTJ4 is as hard as Run the Jewels have ever sounded, a half-hour and change of sobering grievances offered up with typical trash talk, occasional kitsch and action-hero tag-team escapism (introducing: Yankee and the Brave). Mike and El never sound as if they're having anything less than a complete blast even when speaking truths that are hard to swallow. The sound of revolution? That remains to be seen, but it's sure as hell the soundtrack of fighting another day. – Jeff Terich
Listen: Spotify
---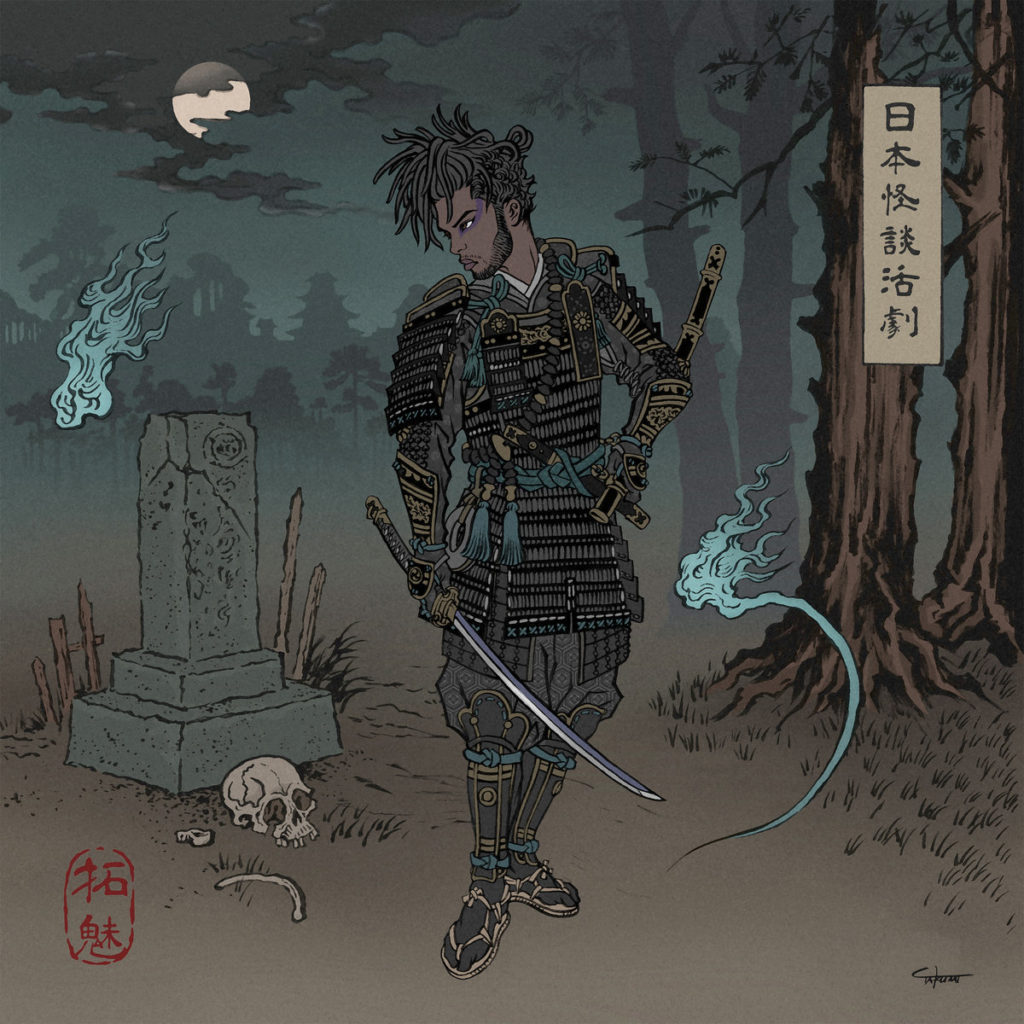 Chester Watson – A Japanese Horror Film
There is a lushness here, like stepping into a cinematic forest cloaked in mist stalked by vampiric yokai. The word "film" in the title does a lot of lifting in this loose concept album love letter to Japanese media and culture by Chester Watson, pushing him to create a set of interlinked vignettes that expand their scope from the miniatures of the specific line to a record long imagistic meditation on the subject matter. Arthouse rhymes over throbbing sub-bass frequencies? God yes. "Nujabes" is an album highlight, a song about listening to the dearly departed creator of chill-hop while watching Samurai Champloo. – Langdon Hickman
Listen: Bandcamp
---
Support our Site—Subscribe to Our Patreon: Become one of our monthly patrons and help support an independent media resource while gaining access to exclusive content, shirts, playlists, mixtapes and more.