Constantines : Kensington Heights
The Constantines have always been a "big" band. From day one, the Guelph, Ontario-based group has played a most thunderous brand of rock `n' roll, churning out a post-hardcore fierceness paired with a blue collar earnestness that yielded them comparisons to the same two artists time and again, which we don't necessarily have to mention again. The group's expansive, explosive clamor is something best enhanced in a live setting, where Bry Webb, Steve Lambke, Dallas Wehrle, Will Kidman and Doug MacGregor merely intensify the snarling beast within each song, all the while keeping every note in its place, never giving into sloppiness yet never remaining satisfied with a less than incendiary performance.
When The Constantines released their third album Tournament of Hearts, however, I noted that it was the band's restraint that made them unique. I still defend that statement, for the band has some really amazing and bluesy ballads that hold up alongside their heavier rock songs. Nevertheless, rock songs are what The Constantines do best, and with fourth album Kensington Heights, the group throws restraint to the wind and offers up their most enormous album to date. Within that enormity are multitudes; this isn't a big album for merely being loud, but rather for spanning the spectrum of the band's full potential.
Though The Constantines have no doubt streamlined some of the abrasive punk rock edges of their sound, Kensington Heights proves that they can still erupt with the same ferocity that has long been a hallmark of their sound. Before getting into the savory nooks and crannies deep within their epic songcraft, The Cons kick off with some good old-fashioned rock stomp with the bombastic single "Hard Feelings." Over wailing guitars and blazing organ, vocalist Bry Webb bellows "you can tell by the way we walk/ We've got hard feelings," as if to introduce their ragged posse's entrance, and it's an impressive entrance at that. Slower, but bearing just as much weight is "Million Dollar Hotel," a gut-puncher of a song that reaches "When The Levee Breaks" levels of heavy-as-fuck blues. The verses tease, slinking along slowly and slyly, but when the chorus kicks in, the group comes firing on all pistons, powerful but composed.
"Trans Canada" cruises along a great bass groove, low-key but still upbeat. In the song's second half, that cruise becomes a soar, with Webb wailing dark visions like "you're the black angel/ I was on your side." Lambke's "Shower of Stones" is a surprising departure, veering farther into feedback-laden Sonic Youth territory. When it comes to solid rock anthems, however, The Constantines are unstoppable. "Brother Run Them Down" is an instant classic, echoing the blue collar grit of the New Jersey hero to whom they've so frequently been compared, and "Credit River" careens with danceable energy.
Much of Kensington Heights' greatest moments actually come in ballad form, though until now, that's been a fairly minor aspect of the bands oeuvre. "Soon Enough" and "Sub-Domestic" were merely shades of the greater depth that the band has achieved here. Standout track "Our Age" is, without a doubt, one of the best songs the band has written to date, beginning with a quiet folky sound before erupting into a magnificent, emotionally gripping chorus. Simultaneously displaying their subtler side and their mighty rock `n' roll heights, it's written for endlessly repeated listens. "Time Can Be Overcome," the longest track on the album at just a bit under six minutes, has a lazier, bluesier progression, showing the band at their bar band best. Yet the album's major climax is "I Will Not Sing a Hateful Song," which treads a path somewhere between Wilco's "How To Fight Loneliness" and The Cons' own "Tank Commander." It rocks and it affects without pummeling, but packs a wallop all the same.
Yes, The Constantines most certainly still know how to rock, and on Kensington Heights, they do so in a bigger way than ever imaginable. It's particularly impressive how well they balance the extremes—the unruly punks and the salt-of-the-earth rockers, the balladeers and the noise addicts, the artist and the everyman. Yet what's most amazing about Kensington Heights is that The Constantines can play a style of music decades upon decades old and still make it sound exciting.
Similar Albums:
The Afghan Whigs – Gentlemen
Spoon – Gimme Fiction
Hüsker Dü – New Day Rising
Video: "Hard Feelings"
Download at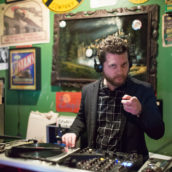 Jeff Terich
Jeff Terich is the founder and editor of Treble. He's been writing about music for 20 years and has been published at American Songwriter, Bandcamp Daily, Reverb, Spin, Stereogum, uDiscoverMusic, VinylMePlease and some others that he's forgetting right now. He's still not tired of it.