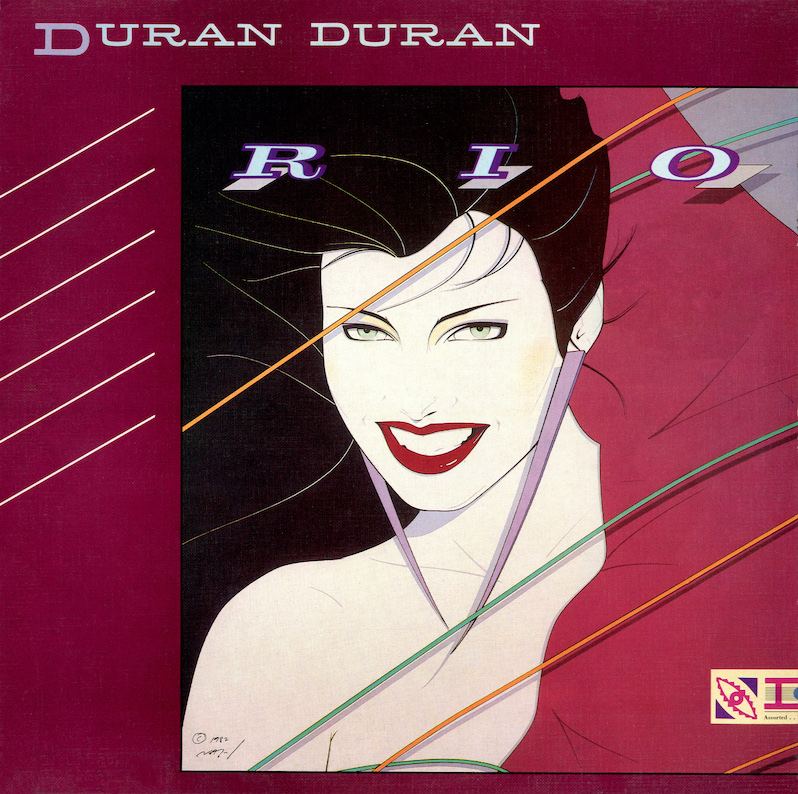 While their debut contained a trio of hit singles in "Planet Earth," "Girls on Film" and "Is There Something I Should Know," it was Rio that made Duran Duran into superstars, teen idols and music video heroes. Rio, in fact, was actually the first cassette I ever bought with my own money so it holds a special place in my heart. It wasn't the first album I ever owned; I did have a handful of vinyl records, but the early '80s heralded the debut of the Walkman and cassettes were all the rage. Unfortunately, the small rectangular plastic case couldn't well represent the largesse of the biggest '80s new romantic band in the land, Duran Duran. Rarely does an album cover truly fit the style and attitude within, with maybe only the Clash's London Calling as the most obvious example. But Rio's Patrick Nagel-painted cover not only encapsulated the slick new wave of the stylish band, but also the early '80s in general.
"Rio" and "Hungry Like the Wolf," the album's two biggest singles, were like mini-films instead of music videos, the first being a paint-splashed boat ride in exotic waters, the latter homage to the Indiana Jones films. MTV had just debuted the year before, and Duran Duran became the channel's first artistic ambassadors. Those two songs are surely recognized whenever played despite almost nonsensical lyrics. It's the rest of the songs on Rio that bring me back to the album again and again. "My Own Way" and "New Religion" are uptempo new wave classics that highlight the driving rhythms of bassist John Taylor and drummer Roger Taylor (as has been said time and again, no relation). Due to three of the band members being surnamed Taylor, most fans were on a first name basis with Duran Duran.
The true standouts on Rio, however, are its slow burning numbers: "Lonely in Your Nightmare," the big hit "Save a Prayer" and the spectacular and sexy "The Chauffeur." John's slinky bassline and Nick Rhodes' slick and hypnotic keyboards nearly stole the show, but Simon LeBon proves on these songs that he's no mere whiny slouch. When LeBon goes low on the register, he is in absolute command of the song. "Save a Prayer" features some of LeBon's finest work, his passion overtaking him as he sings, "And I wanted to dance, so I asked you to dance, but fear is in your soul / Some people call it a one night stand but we can call it paradise." "The Chauffeur" is my favorite Duran Duran song, matched only maybe by "Planet Earth." This erotic song is pure guilty pleasure in the lyric department, but is also one of Duran's finest musical moments; slow and spellbinding with some of Nick's most dramatic keyboard work.
At this time, my older sister was also a devoted Duranee, even more than myself. While I picked up albums on cassette, she was busily collecting the vinyl 12-inch singles. Some of these b-sides and remixes, or "night versions" as they called them, were even better than the originals, making them well worth picking up, but the collection of songs that make up Rio have resulted in the one album by Duran Duran that's an absolute must-own. The next year, Duran Duran would release Seven and the Ragged Tiger, which would feature massive singles and videos in "Wild Boys" and "The Reflex," but Rio still remained their most consistent and accomplished album.
---
Label: Capitol
Year: 1982
---
Similar Albums: