Fleet Foxes : Fleet Foxes
Fleet Foxes' Robin Pecknold says that he grew up listening to his parents' record collection, citing standbys such as The Beach Boys, Simon & Garfunkel and Crosby, Stills & Nash as among the regular rotation. He also says that his parents' basement is a place he likes to go for inspiration. And the medieval-themed cover of Fleet Foxes' self-titled debut, which probably looks even more incredible on a 12-inch vinyl sleeve, even seems to recall the gatefold panorama from The Allman Brothers' Eat A Peach—likely another staple in the folks' collection. Given these facts, it makes perfect sense that Fleet Foxes sound warm and homey, comforting and robust, and for that reason they've created one of the most exciting debuts of the year.
It may sound counterintuitive, but it's true: Fleet Foxes sound fresh because of their focus on the familiar. While any artist who seems to carve out an entirely new genre niche may seem innovative, it's often the artist who makes the old seem new again that is capable of something truly impressive. On Fleet Foxes' self-titled album, the many-bearded Seattle quintet romanticizes a classic sound, wrapping their sound in a rich blanket of reverb (some of which must be credited to producer Phil Ek) and strumming away through '60s-inspired folk-rock that sounds remarkably contemporary.
The 11 songs on this first outing have a genuine and rustic sound, which may or may not be surprising given Pecknold's ripe age of 21 years. The age, of course, doesn't matter if the passion and the conviction are there, and these are songs you can feel. Not, like, in the fried-on-acid, jam band, dancing in circles sense, but in a simpler, more soulful manner. "Sun It Rises," opening with a gospel-inspired harmonization, gives way to a sprightly and bright acoustic progression, and even more heavenly vocal harmonies. The vocals, themselves, initially gave me pause for their sonic similarity to those of My Morning Jacket's Jim James. Unlike James, however, Pecknold's voice doesn't carry with it a Kentucky drawl. Even more interesting, James' voice seems a bit more imperfect by comparison, though Pecknold's own has a slight fragile quiver that arises as he hits the high notes.
Fleet Foxes hit an early peak with the catchy "White Winter Hymnal," a glorious and soaring pop tune that stands to be the band's "New Slang" (note to Braff: don't ruin this one for us, too). Its bouncy vocal harmonies and upbeat riffs make it an absolute treat, though the same could be said of high-energy standout "Ragged Wood," in which Pecknold's vocalized longing "you should come back home/ back on your own, now" sounds more like friendly invitation than anguished desperation, which, quite frankly, is a welcome shift from the norm.
While Fleet Foxes, like Grand Funk Railroad, are very much an American band, they do occasionally show traces of British pop or folk, as on the baroque acoustic ballad "Tiger Mountain Peasant Song." And yet a western coastal breeze pulls them south to Los Angeles' Laurel Canyon for the amazing "Quiet Houses," which is given an extra bit of muscle thanks to Craig Curran's bass. "He Doesn't Know Why" is quite simply a testament to the band's ability to write sublime hooks, but if I were to point to one moment in which the band seems to trump all their best moments, I'd choose "Your Protector." Good lord is this an amazing song. A melancholy flute sets the groundwork for Pecknold's epic narration: "she left me to roam/ your protector's coming home…you walk along the stream/ your head caught in a waking dream/ your protector's coming home." From there a solid rumble of tom toms, a blazing organ and a trace of Morricone turn this into a masterpiece that only becomes cooler with its backing vocals and cry of "you run with the devil."
Fleet Foxes' music seems equally at home among its Sub Pop peers (especially all the bands started by former members of Carissa's Wierd) as well as alongside your parents' record collection. Given the band's penchant for vintage sounds and Pecknold's surprising well of inspiration from comfort zones, that's most likely the point. If there's one thing Fleet Foxes has in common with all of the reference point thrown their way, it's a particularly magical quality that can make any listener feel euphoria with just the strum of a few notes.
Similar Albums:
My Morning Jacket – At Dawn
Grand Archives – Grand Archives
Crosby, Stills, Nash & Young – Déja Vu
Download at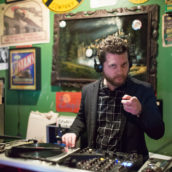 Jeff Terich
Jeff Terich is the founder and editor of Treble. He's been writing about music for 20 years and has been published at American Songwriter, Bandcamp Daily, Reverb, Spin, Stereogum, uDiscoverMusic, VinylMePlease and some others that he's forgetting right now. He's still not tired of it.