Somehow, when nobody was looking, or everybody stopped caring, stadium ambition crept into the world of indie rock. Sonic traits and approaches once seen as mainstream are now fair game for indie bands and vice versa; the lines have been blurred, so much that there really isn't much of a line anymore. It's gotten to the point where there's a little U2 and Springsteen in every band whose record ends up in Treble's mailbox, or so it seems. Really, though, it's only a handful of bands who get it right. Indie rock in the UK has been like this for some time. Primal Scream, Spiritualized, even Super Furry Animals—they all had the hooks, chops, and grandeur to rock a festival crowd. And yet, they did so without blatant Bono or Boss-isms; still do, I suppose, though Primal Scream kind of sucks now.
Like the aforementioned trio, Oxford's Foals are the rare British band in 2008 that combines both a hooky, commanding presence with an idiosyncratic sound. Their sound, which has been called `math-rock' way more than it ever should have, incorporates finger-tapping and bizarre effects a la Battles and dreamy shoegazer textures over high energy beats. It's not the kind of thing you would easily imagine in a packed Glastonbury field, but then again, you certainly couldn't rule it out, especially when the group belts out a glorious ballad such as "Big Big Love (Fig. 2)."
Funny thing about Foals is that they don't claim to have any grand commercial ambition. Antidotes, which was produced by TV on the Radio's David Sitek, doesn't immediately sound like a big pop record, certainly not by traditional standards. In fact, Sitek even told the band he wasn't going to help them make a glossy pop record, and as such that statement became a deciding factor in why he was chosen for the job (though supposedly the band weren't pleased with the final mixes and did some post-op work themselves). That said, in spite of the chaos and effects-laden overdubs, there's a catchiness and danceability to these tracks that's impossible to resist.
There's a great buildup to opening track "The French Open." It gathers steam and begins to chug forward, yet once it's fully charged, still rides a loose groove. Yet in the final third, the song tightens up, intensifies and rides home at full speed. In a sense, it's catchy and easy to like. In another, it's structured in such a way to ensure that it won't receive radio airplay. Of course, that sort of privilege might best be reserved for single "Cassius," a furious disco-pop tune bolstered by Antibalas' horns. When frontman Yannis Philppakis yelps "I wish we'd gone/ wish we'd gone away," it's best left to surrender; that's the hit right there.
"Red Socks Pugie" is more expansive and atmospheric, though "Olympic Airwaves" is the next true standout, with mesmerizing harmonic riffs and all the soaring power that made you love Bloc Party the first time around. It's a killer tune, though it has good company in "Balloons," a single that functions like a machine, perfectly rotating its finger-tapped riffs before escalating into a distorted breakdown. And the slowly trudging ballad "Heavy Water" is something to behold as well, gorgeous and tripped out with ringing guitar riffs that climb toward the heavens.
A band like Foals doesn't really exist for stadium crowds and rock `n' roll heroism. In fact, that seems to be far from their aim on Antidotes. Frantic energy, complex rhythms and oddly structured songs don't exactly make for arena rock staples. Yet the odd thing about Foals is that, even for all their quirks, have an urgency and command that suggests they could do this in front of either dozens or thousands—either way they'd floor the lot of `em.
Similar Albums:
TV on the Radio – Return to Cookie Mountain
Battles – Mirrored
Minus the Bear – Highly Refined Pirates
MP3: "Balloons"
Download at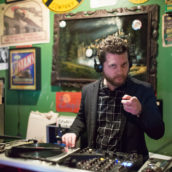 Jeff Terich
Jeff Terich is the founder and editor of Treble. He's been writing about music for 20 years and has been published at American Songwriter, Bandcamp Daily, Reverb, Spin, Stereogum, uDiscoverMusic, VinylMePlease and some others that he's forgetting right now. He's still not tired of it.