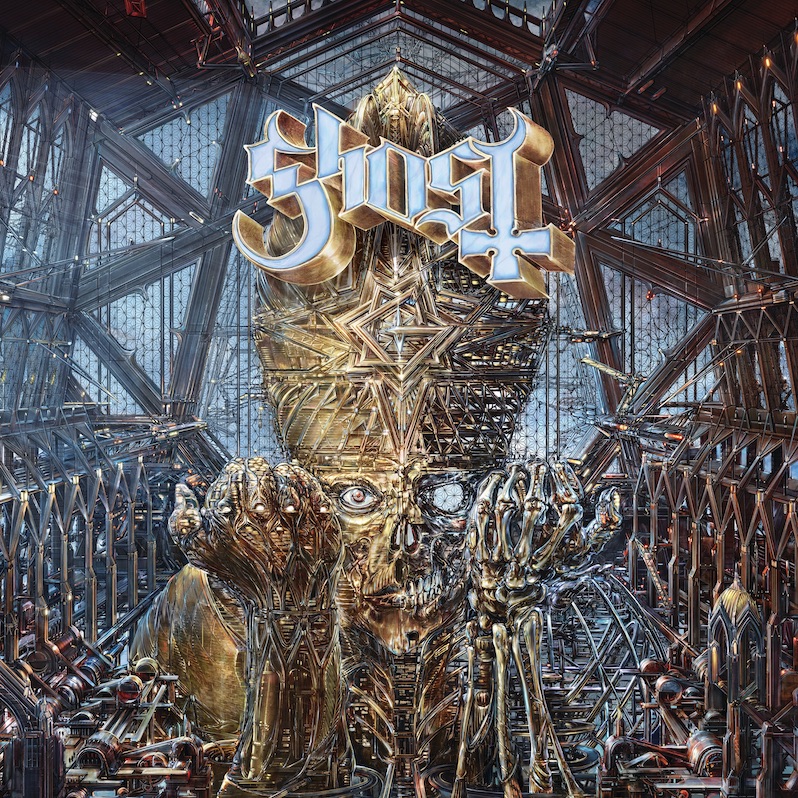 Ghost's most startling feat is successfully shifting the perception of satanism to one of refuge. It's how the actual Church Of Satan has always presented itself: more as a performance-art defense of humanism in the shadow of an intolerant right, rather than a horde of followers of a plasma-drooling figurehead. But it took a theatrical Swedish metal band to inch that revision closer to mainstream acceptance. 
Ghost's previous two albums, Meliora and Prequelle, respectively peaked at #8 and #3 on the American album charts. Just by the numbers, some of the listeners who've made them popular have to be Christian, right? In the '80s Ghost would have been pilloried to the gallows by piety in hair lacquer; now they barely cause a stir beyond a few pearl-clutchers, mostly from Texas community churches.
Tobias Forge's notably un-metallic voice is a big reason why. It's one of the least threatening voices in hard rock: pristine, homey, friendly. As a counterpoint to Ghost's banks of metal guitar, that voice is almost comical. But as Ghost has evolved, it's become a perfect synthesis. And although Forge has presented Ghost albums as conduits for dark themes—Prequelle in 2018 was a meditation on death in the context of medieval plagues (an album that, again, nevertheless hit #3)—there are odd manifestations of hope and compassion that show up in Ghost's work.
Impera, Ghost's new album, veers into a different direction. Conceived as an examination of the rise and fall of earthly empires, Impera dials back on the satanic verses. There's only one mention of the devil by one of his known pseudonyms on this album, when Mephistopheles drops in on "Call Me Little Sunshine." Elsewhere, Forge—as Papa Emeritus IV, Ghost's fifth "frontman" in as many albums—often takes the first-person voice of the forces he criticizes. 
Those forces, as you might expect, are the commingled sectors of piety, industry, greed, and the hypocritical monster they managed to construct. As Forge told Blabbermouth last October, "It wasn't really hard to be inspired by the last couple of years."
As a protest record, Impera blends the mythical and the direct. "Kaisarion" uses the 5th century stoning death of Alexandrian philosopher Hypatia—a woman, it should be noted—as an early exemplar of pro-mob, anti-science rabidness: "Our brotherhood of good faith sealed an apostate witch's doom." "Watcher in the Sky" takes a shot at flat-earthers championing regression in thought, passively searching "For the light of our savior/His Machiavellian grace." If you've got a Machiavellian messiah, either he or you is doing it wrong. 
Ghost goes over the top on the astounding "Twenties." Mixing death metal with reggaeton, of all things, Forge deftly mocks a pep rally of the rich and infamous, one that takes down "Ivy League dopes" and generates tons of grassroots McHate. It's one of Forge's smoothest moves on the record. Dropping references to both the Third Reich and "grabbing 'em all by the hoo-hahs," he outlines the frightening parallels of the Nazis-in-waiting among the Weimar Republic in the 1920s and the red-hatted arena throngs of the 2020s. The expected payoff, in a hilariously awkward line, is the dream that "we'll be grinding in a pile of moolah."
As obviously sarcastic as Impera's marquee songs are, it's again Ghost's uniquely empathetic viewpoint that sets the album apart. "Spillways" may decry misplaced religiosity, but Forge understands why it's relied upon: "Your desolation/Led you into this/Vile incarnation/Of consummated bliss/I know you need it now/To make you feel alive." On the breathtaking "Darkness at the Heart of My Love," Forge reveals a shuddering hole in the process of redemption through personal relationships: "Now paint a pair of eyes/And let us watch as it dries/Remember always/That love is all you need." Mephistopheles tells the subject of "Call Me Little Sunshine" "You will never walk alone/You can always reach me." Such compassion serves as a reminder that, at one point, Lucifer was the most beautiful angel in Heaven before he broke the office kitchen policy.
It all might be too arch to take if Impera wasn't as entertaining a hard rock album as the last decade has seen. Ghost re-employs Swedish pop genius Klas Åhlund (Robyn) and songwriting team Vargas & Lagola to give the songs a melodic thrust. They leave no thread of '80s pop-metal and hard rock unstitched. "Kaisarion" could have been the backing song for a Top Gun montage. "Spillways" reconfigures the piano riff from Journey's "Separate Ways" (or maybe Billy Joel's "All For Leyna") to explain the ravages of automated faith. "Hunter's Moon" and "Griftwood" play off the pop-metal of late-period Blue Öyster Cult, the closest comparison to Ghost's work in general (and yet not a sufficient one).
The only problem with Impera isn't so much a problem as an artistic challenge. Despite the music's over-the-top drama, Forge's satire is almost too subtle. Musically "Kaisarion" is euphoric, but the lyrics consist of stinging criticisms of cruel zealots. Which pitch are we supposed to buy? "Darkness at the Heart of My Love" can be interpreted as an exposé of empty religious value-signaling—as Forge intended—but it could also be a hauntingly beautiful, straight take about the inherent darkness Ghost's heroes live with as a rule. Who thought a metal band could have a Randy Newman problem? 
But confusing the narrative and upending expectations seem to fall in line with Ghost's crooked march toward immortality. They're playing devil's advocate, pun fucking intended. They work from the given that nothing in this world has ever made sense. They believe, and don't try to hide, that real answers are complicated and won't necessarily fall on our preferred side.
Impera is Ghost's irresistible argument in favor of the "wrong" side. That is, the "answer's-not-so-easy" side. God bless 'em.
---
Label: Loma Vista
Year: 2022
---
Similar Albums:
Paul Pearson
Paul Pearson is a writer, journalist, and interviewer who has written for Treble since 2013. His music writing has also appeared in The Seattle Times, The Stranger, The Olympian, and MSN Music.