Seize the Day: An interview with Ought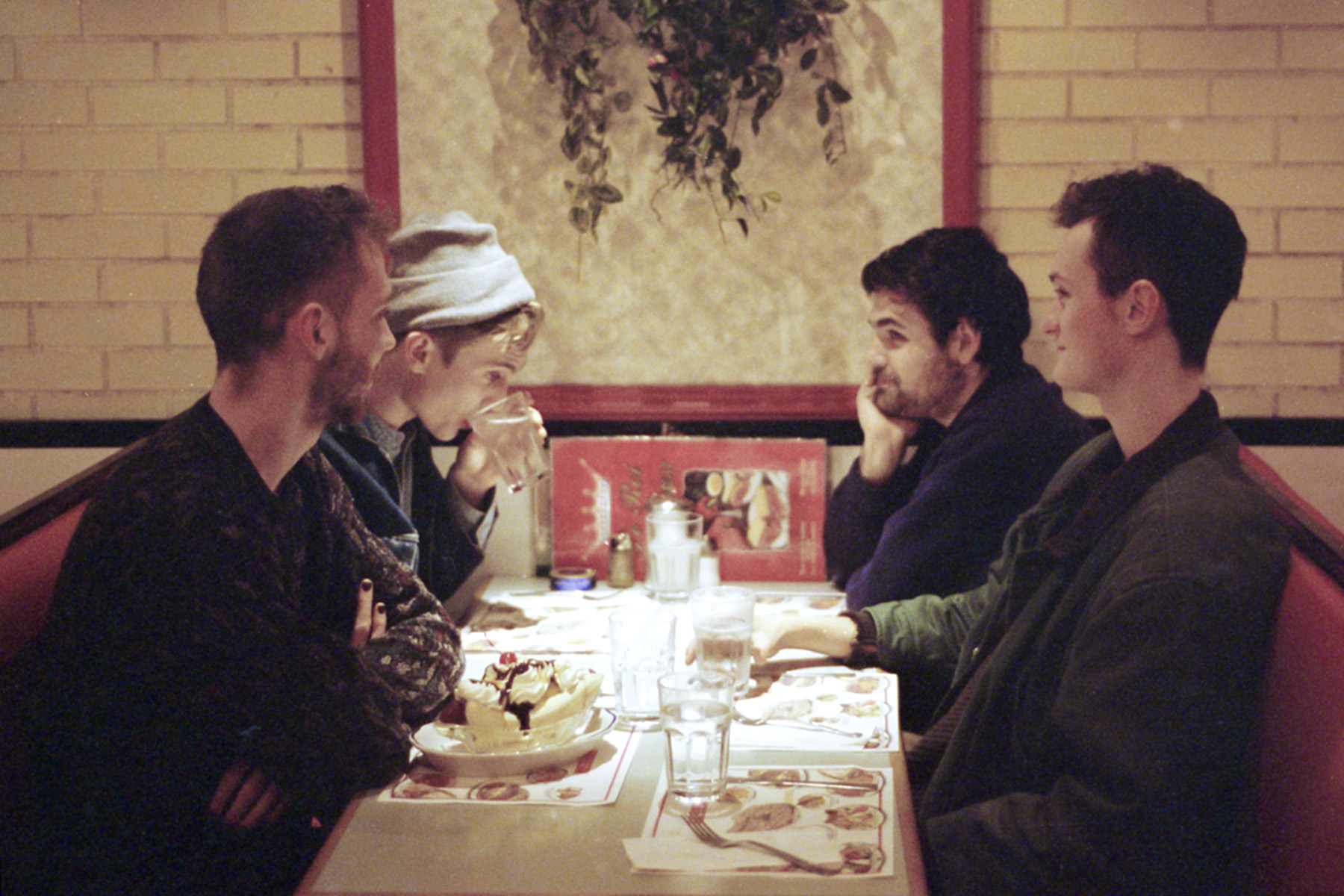 The music of Montreal's Ought is characterized by a tense energy. It's a driving force — and a cathartic one at that. But at the heart of it is a restlessness that's not just audible, but palpable.
In "Pleasant Heart," the opening track on the quartet's debut album More Than Any Other Day, vocalist Tim Beeler sounds frayed and frazzled. He's tense and nervous, and can't relax. And yeah, while we're on the subject, he does sound a little bit like a young David Byrne — only with more of a shredded larynx. Their music doesn't just radiate; it's incendiary.
Yet, the intensity on More Than Any Other Day could just as well be interpreted as a positive force — no matter how jittery or close to the edge it gets. The energy that the band emits is almost inextricable from the context in which Ought was formed. The band, which comprises three Americans (Beeler, keyboardist Matt May and bassist Ben Stidworthy)  and one Australian (drummer Tim Keen), came together in Montreal in 2012 during the time of the Printemps d'Erable Quebec student general strike that prompted widespread student activism. People were organizing and mobilizing in the streets of their adopted city, and whether intentional or subliminal, that activity fed into the kind of art that the band was starting to make together.
Ought isn't an explicitly political band, drummer Tim Keen explains over a Skype call from Montreal. But a much broader sentiment of questioning the world around you fed into the writing and recording of More Than Any Other Day.
"It's definitely inspired by that place in time… but also inspired by that general feeling of unrest in both a personal and political way," Keen says. "We were writing that album in a time when hundreds of thousands of people were starting to question quite vocally the ways in which we live and how our society is structured. And at the same time we were figuring ourselves out."
That visceral unrest is part of what makes More Than Any Other Day a compelling — and thrilling — listen. To be clear, it has its share of quieter moments, like the outstanding "Habit," which feels heroic without growing too noisy or aggressive. But even on a relatively subdued track like the Spoon-style groover "Around Again," there's a tension at play that always feels on the verge of breaking — even if it never entirely does.
Sometimes Ought escalates into a propulsive roar of a song, like closing track "Gemini," which ends the album showcasing the band at their most explosive. But perhaps the most fascinating track on the album is the quasi-title track, "Today More Than Any Other Day," which begins as a sedate and bluesy jam on the way up to a hard-driving post-punk strummer, with Beeler spouting alternately surreal and motivational one-liners, like, "Today, more than any other day, I am excited to grocery shopping/ And today, more than any other day, I am prepared to make the decision between two percent and whole milk."
"Today More Than Any Other Day," like all the songs on the album, underwent a process of evolution and refinement, but Beeler explains that this song in particular ended up considerably differently than how it began.
"I remember, the first couple times we played it live, it being a really angry track," Beeler says. "And through a totally non-conscious effort to do so, over a year of playing it … it took a really slow arc of becoming the song it is now. The tone changed a bit.
"I've been surprised to see how many people have clung to this song as being really pure: 'This is a totally positive song,'" he continues. "And that is the main moving force of the song, but there is a duality going on. Seize the day — but acknowledging feeling hopeless or feeling angry or disempowered to do anything about it. But kind of transcending it by yelling about it in this fun and uplifting way."
The front cover of More Than Any Other Day depicts a scene in which a group of people are joining hands at the center of a circle, as if getting hyped up before a business presentation or a company softball tournament. It's easy to put this picture in the context of the record itself, tying into the student demonstrations in Montreal, or a kind of unspoken sense of solidarity in uncertainty that Beeler projects through his poetic verses.
But it's also kind of a coincidence. The photo is a found object, albeit one whose composition and mystique captivated the members of the band.
"A friend of ours, Maya Richmond — who is credited on the album — found a bunch of these photos on top of a dumpster," Beeler says. "They were all photos from a … teambuilding exercise. Like this office from the '70s went on a teambuilding retreat. There's lots of pictures of people doing trust-falls.
"We just kept coming back to this photo," he continues. "It has a nice connection. It was hanging up in our house where we were writing songs together. It is interesting the way it's cropped — the only face that's visible is that one person's face, and for some reason that person is really gripping. There's a sort of sadness in his eyes. It also seems like he's taking it very seriously."
There is one other element that drives the intensity and power behind Ought's songs — the vibrant and muscular sound of four guys in a room, playing the hell out of their instruments. They're a versatile group, nimbly transitioning between subdued jangle-pop tunes and sweeping rock anthems. Most of the tracks on their debut build up slowly to a mighty climax, much like Constellation labelmates Godspeed You! Black Emperor or Thee Silver Mt. Zion Memorial Orchestra, but without sounding anything like either of those groups.
The magic only happens when we're all playing together

No, Ought is much more rock than post-rock, if not in any conventional sense of the term. And in the month since More Than Any Other Day was released, they've seen a lot of comparisons thrown their way: The Feelies, Talking Heads, and Cap'n Jazz, to name a few. Bands like these may be one small part of their compelling and unusual mixture. There's a lot more to their sonic approach than the sum of their influences, however — which sometimes means catching inspiration in unexpected ways.
"I think it's fair to say that our influence base is very diverse," Keen says. "We all have a lot of shared interests, and we listen to an insane variety of music, from more ambient noise music to more heavier styles. [Shaping our sound] happens pretty naturally. A lot of us haven't even heard the records we're attributed to sounding like. It's just sort of what you're playing."
"The jams that a lot of these songs come out of, it's often like, 'How the heck did that song come out as that'?" Beeler adds. "It's so refreshing and surprising, and it's so nice to be surprised by the music that you're making. Even when we play the songs from the album, they came from such a place that's equal parts everyone.
"The magic only happens when we're all playing together."
You might also like: