The 30 Best Albums of 2019 (So Far)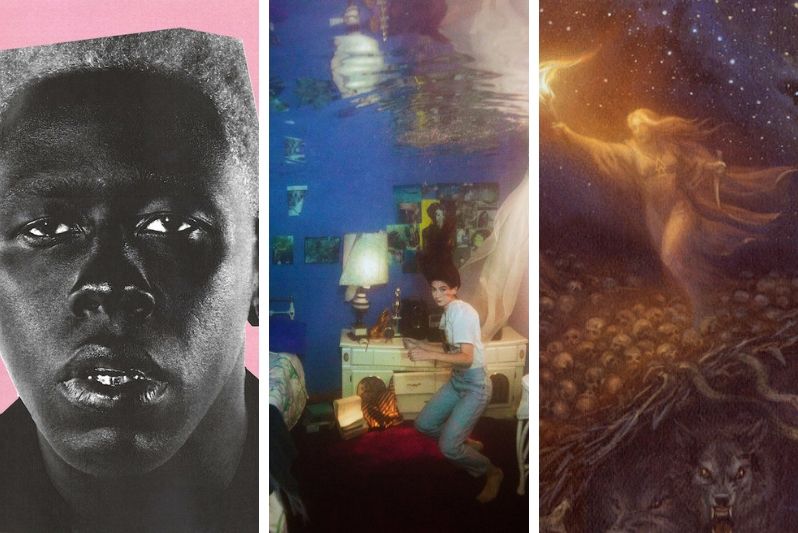 The National – I Am Easy to Find
(4AD)
The National are really good at singing about being an adult. It's a complicated, overly talked-about thing, but the band are the only ones who really seem to get it right, whatever "it" is. On their latest, I Am Easy to Find, the band accompanied the release with a short film directed by Mike Mills. Covering the lifespan of a woman, the group of men approach this other gender with a delicate take, resulting in a beautiful homage to the trials and tribulations women too often face.
Musically, the album is stunning, featuring the Brooklyn Youth Chorus, Sharon Van Etten, and Kate Stables. There's an aftershock to some of the songs, like the impossible-to-describe beauty of the piano intro to "Light Years." Moreover, the lyrics provide solace and tools for when life becomes too much, like on "Quiet Light" when vocalist Matt Berninger sings, "Nothing I wouldn't do for another few minutes / Learning how not to cry every time there's another sad unbearable morning / But sometimes there's nothing I can do." – Virginia Croft
---
Pile – Green and Gray
(Exploding In Sound)
Let's just get this out of the way: Pile are kind of a weird band. Ostensibly they play post-hardcore, their songs often erupting into Shellac-like bursts of rhythmically intricate and furiously intense punk. But more often than not they sound like a singer/songwriter being interrupted by a neighboring hardcore band. To frontman Rick Maguire's credit, however, the transitions between the two are seamless, and the twang works just as well as the scrape. On Green and Gray (not to be confused with Gold & Grey), the heavier moments hit that much harder, allowing greater contrast against the hushed moments of beauty, so while "The Soft Hands of Stephen Miller" might rage with reckless abandon, "Hair" ends up sounding that much prettier. It's an odd contrast, yes, but it's one that Pile only seem to get better at balancing. – Jeff Terich
---
Jessica Pratt – Quiet Signs
(Mexican Summer)
Jessica Pratt songs are like magic tricks—they're simple, elusive things that vanish when you come too close to understanding their inner workings. For Quiet Signs, her third album and best work to date, Pratt opened up ever so slightly, recording in a studio and allowing other instruments into the mix. Even so, when those instruments make their presence known—a piano, a synthesizer, a flute—they sound ghostly and reticent, as if to make too much noise would break the spell cast by Pratt herself, whose reedy voice and elliptical lyrics are as bewitching as ever. Even in her most confessional moments, as on "Here My Love," Pratt sounds guarded, as if singing from behind a curtain: "Here my love, near my love / Try to keep my worries safe from where they'll do you harm." Like any good magician, Pratt knows the importance and the burden of keeping secrets. – Jacob Nierenberg
---
Rakta – Falha Comum
(Iron Lung)
There's no easy way to classify a band like Brazil's Rakta. They're ostensibly a post-punk band, increasingly more of a psychedelic band, and frequently orbiting somewhere just on the outskirts of either. Falha Comum finds them pushing themselves into realms previously unexplored, the expanse of its seven tracks revealing some nightmarish hallucinations from other worlds. When they hold on to a groove, it's sublime ("Fim do Mundo," "Flor da Pele"), but the group more often chooses to descend into the vortex. – Jeff Terich
---
ScHoolboy Q – CrasH Talk
(Top Dawg)
Consistency is an undervalued commodity in music, including hip-hop. Schoolboy Q might not hit the delirious heights of his Black Hippy compatriot Kendrick Lamar, but he's not in an arms race with K.Dot. Q makes eminently enjoyable West Coast rap in albums that sometimes have predictable rhythms but are never boring. Crash Talk exemplifies this again while throwing a noteworthy curveball: a strong sense of maturity and perspective, gained by beating an addiction to lean and navigating the trials of fatherhood. While he still makes gangsta anthems repping the Hoover Street Crips he left behind ("Numb Numb Juice," "Gang Gang," "Water"), Q also celebrates his newfound stability on songs like "CrasH" and "Black Folk" and makes sure not to take it for granted with an uncompromising chronicle of what he overcame in "Tales." – Liam Green
---
Solange – When I Get Home
(Columbia)
Solange Knowles hasn't had the typical pop career path. If anything, she's proven that doesn't always work—her 2003 debut Solo Star is barely remembered, for instance, though her biggest album to date, 2016's A Seat At the Table, was the one that, up to that point, had least adhered to any kind of proven pop formula. Admirably, she uses her platform to only continue to let her music evolve into more unpredictable and artful forms, When I Get Home being her least conventional yet, though one of her most intriguing. Flowing more like one continuous set of music than individual singles, it calls into question the idea of a premature album death by suggesting this one's best left as a whole. It's a warm but weird ride through one of pop's most iconoclastic minds, and one of the year's most continually rewarding listens. – Jeff Terich
---
Spellling – Mazy Fly
(Sacred Bones)
Laced with sumptuous synths and mesmerizing vocals, the bewitching second album from Spellling (the ironically misspelt moniker of Bay Area artist Chrystia Cabral) is a bold and singular creation. Sonically, you might call it Afrofuturist darkwave, but it's hard to pin down—a potent cocktail of ghoulish electronics, contorted R&B and psychedelic soul. Cabral's emotionally charged, highly expressive voice invokes the suffering of the past, particularly on "Haunted Water," a powerful and compelling hymn for the victims of the transatlantic slave trade. Following her entirely self-released 2017 debut Pantheon of Me, Mazy Fly (released on the Sacred Bones label, but written, sung and produced by Cabral) signals the more assertive arrival of an unmissable, risk-taking artist. – Sam Pryce
---
Spirit Adrift – Divided by Darkness
(20 Buck Spin)
One only need listen to "Angel & Abyss," the epic centerpiece of Divided by Darkness, to see how far the band has come. A sprawling dirge that combines the best of various permutations of classic '70s and '80s metal giants, from mournful doom into a heavy metal stampede, "Angel & Abyss" is something of a showpiece for the Arizona outfit, who showed the potential for something great early on in their career and now seem to be pushing themselves in ways they never have before. In many ways, Darkness follows a vintage metal archetype: eight songs, two sides, big riffs, bigger hooks. But in that they reveal greater nuances between the big choruses, and a penchant for immediacy that reveals influences beyond even metal's mightiest. There have been and will be more wildly experimental metal albums this year, but none that revel as much in the sheer joy of heavy metal itself. – Jeff Terich
---
Bruce Springsteen – Western Stars
(Columbia)
The songs on Bruce Springsteen's 19th album are dispatches from a vision of the American West that is neither romanticized nor the bleak, violent landscape he explored on The Ghost of Tom Joad. Western Stars is some of his richest, most nuanced work in well over a decade, tales of ordinary folk trying to secure stability in a complicated world. Some are content, like the workers happy to drink and dance their leisure time away in "Sleepy Joe's Cafe" and the joyful wanderer of "Hitch Hikin." Others are troubled, like the lonely, failed songwriter of "Somewhere North of Nashville" and the title track's aging alcoholic actor. Most of these characters, though, occupy the sort of gray areas so common to real life. Springsteen sings their tales like a man well within his prime despite having just hit 70(!), and Western Stars elevates them to cinematic grandeur with arrangements that sound like a fusion between Willie Nelson and Ennio Morricone. – Liam Green
---
Sunn O))) – Life Metal
(Southern Lord)
After a four-year hiatus, Stephen O'Malley and Greg Anderson returned in April with an album of intensely nourishing and uplifting noise music to clean out your ears, nose and other passages with its merciless drones. It's a prime embodiment of one of the band's lifelong missions—to redefine metal as having a contemplative, life-affirming quality, rather than something stereotypically preoccupied with death and destruction. New frequencies and textures are explored, as the doom-laden rasp of their former vocalist Attila Csihar has been substituted by the graceful, hesitant voice of Icelandic cellist and longtime collaborator Hildur Guðnadóttir. Produced by the infallible Steve Albini, who has given their sound an added richness, Life Metal is only the first of two albums planned to be released this year from the Seattle duo, the second (entitled Pyroclasts, expected this fall) being called a "more meditative" effort. – Sam Pryce
---
Tr/st – The Destroyer-1
(Grouch/House Arrest)
This first half of a double album to be completed this November is a carnal, kinky set of music. Inspired by the physical isolation of rural Canada and the social isolation of superficial Los Angeles, Robert Alfons turns out synth-pop with subjects yearning for connection of any kind and at any cost. You can half imagine the name "The Destroyer" itself referencing a well-known hedonist, their genitalia, or their imposing sex toy of choice. And you can fully imagine songs like "Colossal," "Unbleached," and "Poorly Coward" playing in the background of the Swedish bedroom or German private club where they lie in wait. – Adam Blyweiss
---
Tyler the Creator – IGOR
(Columbia)
If someone had said that in 2019 Tyler, the Creator were to release an album that more closely resembled Solange's recent releases or Frank Ocean's Blonde, well, most of us probably wouldn't have believed it. But Tyler Okonma has undergone a significant evolution over the past decade, essentially switching up the formula a little bit throughout his career so far up to 2017's Flower Boy, where he changed it up a lot. Here, he's pretty much not even making hip-hop anymore, but rather a psychedelic, sentimental, but still sufficiently weird and winking style of soul that's not just novel, but something he proves to be incredibly good at. He hasn't even turned 30 yet, but Tyler's already delivered a career's worth of fascinating-to-outstanding musical moments. And IGOR sits at the top. – Jeff Terich
---
Faye Webster – Atlanta Millionaires' Club
(Secretly Canadian)
Blending heavy country influences with dashes of R&B, Faye Webster's Secretly Canadian debut is a treasure trove of love songs. There's the rush of butterflies ("Come to Atlanta"), the pain of heartbreak ("Hurts Me Too") and all the confusing detours in between ("Right Side of My Neck"). On "Flowers," Webster branches out into a more electronic path, accompanied by Atlanta rapper Father, their voices full of dreamy cooings, the result an elevated version of bedroom pop. Webster's brand of groovy pop is a welcomed collection, offering up the perfect summer soundtrack, more importantly one that will keep us warm in the winter. – Virginia Croft
---
Weyes Blood – Titanic Rising
(Sub Pop)
Showing a behind-the-scenes look at the cover art to Titanic Rising, Natalie Mering revealed on social media how the underwater scene was made: A bedroom was essentially reconstructed at the bottom of a swimming pool. It's a beautiful image, but an unsettling one. That's ultimately the gist of her latest album, a set of gorgeously arranged and sung ballads about a world that's on its way to an inevitable collapse, or rather the intimate and familiar feeling of trying to get by while knowing that's the case. It's not a bleak album, or even a hopeless album, but one that faces and acknowledges the darkness. And even with so much gorgeous music surrounding it, that might be its most beautiful quality of all. – Jeff Terich
---
Jamila Woods – LEGACY! LEGACY!
(Jagjaguwar)
The idea of "originality" is one that's often overvalued in music—an artist without influences is a shallow one, and a culturally incurious one is an artist that isn't worth listening to. It also ignores the fact that, whatever it is, someone else did it first, and they often had to struggle to do so. Jamila Woods dedicates her second album to this idea, honoring artists of color throughout the past 100 years—Miles Davis, Muddy Waters, James Baldwin and Frida Kahlo to name a few—while putting her own spin on where their art has led us. It's both emotionally and lyrically rich, telling their stories while offering Woods' own interpretations of their art in a 21st century context. It's heavy on groove, too, for that matter, which makes the experience one that's fun to revisit repeatedly. It's not a straightforward tribute, but a conceptual work that casts icons as a cast of characters in an interconnected concept. In the end, what Woods has created is something altogether—yes—original. – Jeff Terich
---
Support our Site—Subscribe to Our Patreon: Become one of our monthly patrons and help support an independent media resource while gaining access to exclusive content, shirts, playlists, mixtapes and more.