Vampire Weekend : Modern Vampires of the City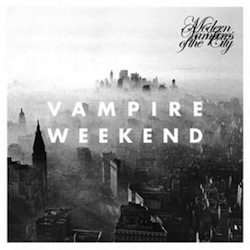 Vampire Weekend's 2008 debut, as well as their 2010 follow-up, Contra are both landmark indie rock albums — in fact, both appeared on Treble's best-of lists for their respective release years. Each one found the New York-based foursome subject to critical raves, and, even more elusive for an indie pop group, commercial success. Contra sold 124,000 copies in its first week, and went gold a year later. However, despite these facts, I have always been a rather reluctant fan of Vampire Weekend. When their self-titled debut dropped in 2008, I was attending a small, private, liberal arts college in the middle of Kentucky, and that album (and the band itself) seemed to represent everything that bothered me about that environment.
Admittedly, the band's musicianship is beyond impressive, and Ezra Koenig's vocals felt charming and refreshing. But the perky reappropriation of world music, peppered with carefree, sometimes trivial lyrics (and one too many forced Lil Jon references) seemed pretentious, elitist, self-important. Contra came two years later, showcasing another great collection of songs and expanding the group's musical influences, but keeping the same fresh-out-of-school attitude in both composition and lyrical content. As a sucker for anything even tangentially connected to Afrobeat, and as a general fan of what VW were striving for, I kept both records around, but as a sort of guilty pleasure, rarely dusting the tracks off in the company of others. Still, I held faith that, as Vampire Weekend grew up, their music might reach a level of maturity that would put their talent in an even more satisfying context.
Let me be the first to tell you, it feels really nice when that kind of patience pays off. Modern Vampires of the City doesn't completely back off from the post-collegiate atmosphere of albums past, but instead, it seems Vampire Weekend has finally enrolled in grad school, ditching their broad interests and striving for a more specific and serious sound that ultimately has a much more rewarding payout. Taking a cue from many of indie rock's Third-Record Hall of Famers (OK Computer, The Suburbs, etc,) Modern Vampires develops on the band's previously established sound, while simultaneously changing their game in two important ways: Taking drastic (and rewarding) risks with composition and production, and more honest and natural lyrical development.
In this case, that lyrical development meant abandoning the surface-level satisfaction of quick references and obvious wordplay for a more subtle and revealing form of poetry. While Koenig is still coy in the execution of his ideas, this time around he is dealing with serious and surreal subject manner, and his tone adjusts accordingly. The record opens with pessimism on "Obvious Bicycle," the narrator urging one to "listen" and "spare your face the razor, because no one's gonna spare the time for you." And from that quiet, ambient opener onward, the tempo might pick up, but the mood is consistently deep and self aware. The band that once focused on what often translated as an ironic self-awareness of the privilege and advantage that comes with prestigious academic experiences has now turned its eyes towards more universal ambitions. And this is where the 'graduate studies' truly begin, with VW taking a deep plunge into questions about religion, existentialism, aging and life experience. In spite of this, Modern Vampires avoids any troubling 'purpose of life' narratives, instead leaving questions wide open for the listener to engage with.
And this openness is reflected with even more success by the band's more expansive display of their true musical palette. Having used Contra to display the stretch of their influences, VW now displays their ability to execute complicated musical concepts with what seems like an effortless stroke. Turning their inner-Animal Collective on full blast, Vampire Weekend hit the studio with newfound dedication and precision. While past albums were documentaries of sort, capturing VW's unique sound, this album feels more like a laboratory experiment, with the band tinkering with production techniques until arriving upon a perfect mixture of warm, driving, and alienating. Every track displays wonderful creativity, with the band warping vocals, instrumentals and drum tracks in all the right ways, but "Step," "Diane Young," "Finger Back," "Ya Hey," and "Hudson" are true examples of how the band is pushing indie rock forward in subtle but game-changing ways. And mid-record groover "Hannah Hunt" might be one of the best ballads released in a long time, sizzling and popping in ways that surprise the listener yet correspond naturally with a story of young and waning love.
In retrospect, this switch of pace and mood should have been evident by the cover art alone. While previous Vampire Weekend albums embraced nostalgic images showered in yellow glows and highlighted by thick, Futura font, Modern Vampires of the City uses an elaborate cursive to accent a haunting black and white image of the smoggiest day in New York City. The imagery couldn't be more fitting — Vampire Weekend has truly plunged into a sublimely ethereal fog, using its thick gases to sculpt delicate emotions into a form that's as alluring as it is enigmatic.
Similar Albums:


Phoenix – Bankrupt!


Animal Collective – Merriweather Post Pavilion


Local Natives – Hummingbird