10 Albums to hear if you like Stereolab's Dots and Loops

Stereolab's stunningly eclectic, playfully psychedelic Dots and Loops is 25. In its time there was little that sounded quite like it, outside of some of the kitschier corners of electronic music (Dimitri from Paris, Air), and today there's still nothing close to a carbon copy. A blend of lush post-rock instrumentals, samba rhythms, IDM electronics and a luxurious lounge/exotica aesthetic, Dots and Loops makes serious business out of kitsch and finds joy in unusually cerebral arrangements.
If you're anything like me, you've probably been seeking out other records like it for the past two-plus decades and found only occasional success. As a public service to our readers, I'd like to help guide you in the right direction by providing 10 albums that each feel connected to Dots and Loops in a way—early influences, kindred spirits, peers and collaborators and newer artists carrying the torch.
For the purposes of this list, we skipped some of the usual suspects—Broadcast, Yo La Tengo's I Can Hear the Heart Beating As One—in favor of a more diverse selection of records to hear. (Besides, you're already listening to those records, right? Right?!) Nonetheless, any devotee of the Stereolab catalog should find plenty to love here—10 must-hear albums for fans of Dots and Loops.
---
Astrud Gilberto & Walter Wanderley – A Certain Smile, A Certain Sadness
Just a couple years after her breakthrough appearance on 1964's Getz/Gilberto, which saw American jazz and Brazilian bossa nova making a commercially successful crossover, Brazilian-born vocalist Astrud Gilberto found an inspired collaboration with prolific lounge organist Walter Wanderley. Their 1966 album A Certain Smile, A Certain Sadness is a similar merging of sounds, but one with a touch more electricity and kitsch. The seeds for Stereolab's eventual experiments with electronics, post-rock and exotica are planted here, a set of vocal jazz and samba standards given a spark that radiates throughout. It's subtle, tasteful, but electric in more ways than one.
---
Antena – Camino del Sol
Isabelle Antena worked as an au pair for Yes keyboardist Rick Wakeman, and supposedly lived next door to members of post-punk noir outfit Tuxedomoon. None of which explains the breezy and effortlessly beautiful sound of Camino del Sol. The 1982 EP by the Belgian/French outfit recontextualizes samba and bossa nova through an early '80s lens, the results at times feeling a bit like Suicide sipping an Aperol spritz and at other times like the best tropical holiday you've ever heard. With its French-sung vocals juxtaposed against warm synth tones and the rhythms of Brazil, it brings to mind a sort of prototype of Stereolab's considerably more elaborate lounge-tronica fusion, but all great ideas start somewhere.
---
Tortoise – TNT
John McEntire of Tortoise co-produced Dots and Loops with Stereolab, as well as providing extra instrumentation, such as percussion, marimba and vibraphone. So it shouldn't come as too much of a surprise, then, that the album shares some textures in common with his own band's full-length album from the following year, TNT. They're kindred spirits in sound if not in composition, Tortoise often preferring more slowly unfolding soundscapes that often feel more like film scores, whether on the Morricone-inspired Western drama of "I Set My Face to the Hillside" or Jeff Parker's sublime guitar riffs on opener "TNT." Think of it as the early morning or after-hours version of Dots and Loops' stylish night out.
---
Jim O'Rourke – Eureka
Jim O'Rourke isn't the sort of artist where you know quite what to expect solely on name alone. He's made abstract noise and electronic music that can be a bit abrasive, he's been a member of Sonic Youth at their most melodic, he produced a couple records with Wilco, and he's also made some stunning American primitivist folk albums. He also, on occasion, makes a pop record, and this is one of those. Eureka leans toward a lounge and Bacharach influence (including a cover of a song Bacharach wrote, "Something Big"), and it happens to align with a Stereolab album that O'Rourke actually produced, 2000's First of the Microbe Hunters. While Eureka isn't as bright and ecstatic as that record (or Dots and Loops), it carries a similarly rich palette, with "Movie on the Way Down" and "Through the Night Softly" exploring similarly genre-amorphous, epiphanic art pop.
---
Mouse on Mars – Niun Niggung
Mouse on Mars contributed to the arrangements of several of the songs on Dots and Loops, and if you're wondering which ones, you might actually be surprised to learn the truth (i.e. not the ones with the sputtery IDM beats). The German IDM duo had previously made a number of ecstatic, giddy and glitchy records that didn't always make logical sense but frequently sounded like a hell of a lot of fun. Niun Niggung, released in 1999, finds a little more groove and jazz-flecked breeziness in their Rube Goldberg beat contraptions, which suggest that their collaborators might have actually rubbed off on them. It's in many respects their most purely melodic album, though there's a rainbow of peculiar effects, strange instruments and synthetic soundalikes. Everything here is bizarre, otherworldly and glorious.
---
Bruno Pernadas – Those Who Throw Objects At the Crocodiles Will Be Asked to Retrieve Them
Portuguese composer Bruno Pernadas has a similar set of reference points as late-'90s Stereolab—lounge, jazz, bossa nova—but they take a much different shape. More specifically, there's an undercurrent of progressive rock and jazz-rock of the Hot Rats variety in Pernadas' music. It shimmers with sparkling guitars, warmly luxurious analog synthesizers and the slightest undercurrent of spy-movie theme intrigue. Those Who Throw Objects At the Crocodiles Will Be Asked to Retrieve Them is often as whimsical and surreal as its title suggests but even more complex, a labyrinth of delights both kitschy and sophisticated.
---
Ghost Funk Orchestra – A Song for Paul
A New York funk/soul outfit affiliated with celebrated groove outpost Colemine Records, Ghost Funk Orchestra arrive in the pocket through a lounge detour. Their strut is wallpapered with midcentury cool, Brubeck-ian time signatures, John Barry suspense and David Axelrod cinematics. A Song for Paul isn't traditional funk revisionism but something more lush and psychedelic, a product of omnivorous musicians who likely have a lot of crossover in their record collections as the members of Stereolab. But with a little more Stax between the Neu! and Esquivel.
---
Soundcarriers – Wilds
British psych-pop outfit Soundcarriers are kindred spirits of Stereolab in a sense, carrying similar musical influences like early psychedelia, French yé-yé pop, tropicália and John Barry, though the results sometimes veer into scruffier indie pop or deeper grooves. Their latest album Wilds is a great and long-awaited new entry in their catalog, comprising seemingly all of their eclectic directional impulses in one concise LP. It doubles as their most accessible album, perhaps not their most wildly psychedelic but with every element in perfect balance—hooks, rhythm and experimental whimsy.
---
Sessa – Estrela Acesa
Brazilian singer/songwriter Sessa taps into several decades of tropicália and MPB in his contemporary psych-folk sound, which achieves a lush new peak on his latest album, Estrela Acesa. Carrying as much Serge Gainsbourg art-pop groove in its sonic swirl as Caetano Veloso or Os Mutantes, Estrela Acesa is rich in crate digger appeal, though there's far more to his stunning songwriting than pastiche or aesthetic cool. These are beautifully written songs, concise but potent, evoking a vast spectrum of emotion.
---
Charles Stepney – Step on Step
A newly released collection of home recordings from producer Charles Stepney (Minnie Riperton, Earth Wind & Fire), Step on Step finds an immersive and rich swirl of sounds between jazz, funk and R&B. Stepney, who died far too early at the age of 45 in 1976, captures the groove of some of the artists he worked with and even presents entirely different arrangements of songs they performed ("Black Gold," for instance, which took wildly different form and time signature as Rotary Connection's "I Am the Blackgold of the Sun"). But even as a homespun passion project of sorts, there's a luxurious and loungey quality to many of these instrumentals, which when I hear them I can't help but be reminded of the soft focus glow of Dots and Loops at its best. The connection is probably coincidental, but one Stereolab fans should still seek out.
---
Support our Site—Subscribe to Our Patreon: Become one of our monthly patrons and help support an independent media resource while gaining access to exclusive content, shirts, playlists, mixtapes and more.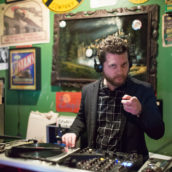 Jeff Terich
Jeff Terich is the founder and editor of Treble. He's been writing about music for 20 years and has been published at American Songwriter, Bandcamp Daily, Reverb, Spin, Stereogum, uDiscoverMusic, VinylMePlease and some others that he's forgetting right now. He's still not tired of it.