10 Essential Bronx Albums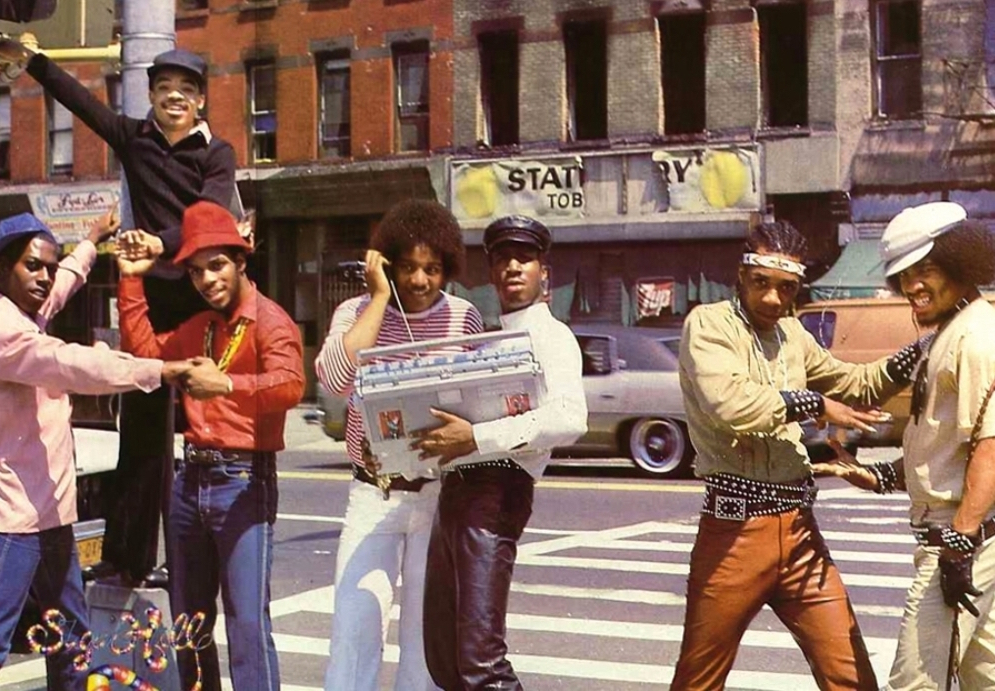 Welcome back to the Treble World Tour, a series of Top 10s covering albums that best represent certain locations—cities, states, territories, even entire nations. We consider representative releases on three levels: They were made by artists from a place, they contain music about or inspired by the place, and/or they were made in that place. Last week we began the monumental task of parsing great music related to New York City one borough at a time, starting with Manhattan. This week we move north to the Bronx, where wide spectra of income and culture color decades of artistic output.
The Bronx is forever enshrined in history as the birthplace of hip-hop, and not just in terms of actual hip-hop pioneers like KRS-One and Grandmaster Flash. The Bronx also was at one time the home of influences such as Gil Scott-Heron and ESG. That, of course, only tells part of the Bronx tale, which includes '70s-era singer/songwriters, jazz innovators, salsa and contemporary R&B. The sound of the Bronx is a melting pot, much like New York City itself, and to suggest otherwise wouldn't represent the kind of diversity of Bronx music. Queue up these 10 albums and get to know the rhythms and soul of this NYC borough.
---
Bobby Hutcherson – Dialogue
(1965; Blue Note)
Bobby Hutcherson isn't a Bronx native—he hails from the other side of the country, having been born in Los Angeles. But his jazz career took off once he relocated to The Bronx, where he rented an apartment on 165th Street and took a job as a cab driver. Just two years later, he'd release his strongest and best-known album, Dialogue. Arriving after Hutcherson left a (literal) impact on albums by the likes of Jackie McLean and Eric Dolphy (his playing on Out to Lunch! could be described as "violent"), he found his own groove with his second album, a cool, atmospheric and at times eerie post-bop record that incorporated Latin jazz influences and themes connected to the Civil Rights movement ("Les Noirs Marchant," which translates to "The Blacks' March"). It's an album that's earned its place in the jazz canon, easily among Blue Note's strongest full-length releases, and a moment in which Hutcherson truly came into his own as a bandleader. – JT
---
Laura Nyro – Eli and the Thirteenth Confession
(1968; Columbia)
Born in the Bronx, singer-songwriter Laura Nyro once said she was inspired during her teenage years by the encompassing social consciousness. On her second album, Eli and the Thirteenth Confession, the women's movement is an evident influence on her work, as well as her father's jazz experience. From the title track, "Eli's Comin' " to "Emmie" to "December Boudoir" there is a sense of exploring identity in conjunction to an inner self and to an external space. Lyrically strong, vocally tender and simultaneously powerful, and instrumentally creative and catchy, Laura Nyro brilliantly emanates her idea of home and personal idea of music. – KR
---
Gil Scott-Heron – Pieces of a Man
(1971; Flying Dutchman)
A native of Chicago, Gil Scott-Heron's cultural awakening came during formative teenage years spent at some of the best schools in the Bronx, where his writing blossomed beyond rote English class observations. It propelled him to follow his muse Langston Hughes to Lincoln University, to associate with The Last Poets, and to a multifaceted life as a Washington, D.C. college lecturer and a New York author and performer. The momentum of Scott-Heron's lyrics gathered swiftly on his second album, where he broadly rapped about white haves and black have-nots ("The Revolution will Not be Televised") and bravely sang about artistic icons ("Lady Day and John Coltrane") and the scourge of drug addiction ("Home is Where the Hatred is"). Hip-hop's rhyme schemes and promise of a party first came from DJs in the Bronx. The enlightened jazz of Pieces of a Man suggests its politicization was born here, too. – Adam Blyweiss
---
Willie Colón – Lo Mato
(1973; Fania)
New York City is known for being the birthplace of punk rock in the U.S. in the '70s, an epicenter of jazz in the '50s and '60s, and in general a hub for American popular music. It also helped to establish and popularize a number of styles created by Cuban and Puerto Rican communities, including boogaloo and salsa. Bronx-born Willie Colón is one of the most important artists in salsa music, along with Panama's Ruben Blades (with whom Colón collaborated), having released numerous gold records featuring his signature trombone playing and lyrics relating to the experience of the Puerto Rican diaspora. Lo Mato, which features a pretty hardcore looking cover depicting Colón with a gun to a dude's head (the title translates to "I kill him"), is actually one of his most joyous and animated sets of songs. A true salsa classic, and a strong starting point for those looking to explore some uniquely Nuyorican sounds. – JT
---
Grandmaster Flash and the Furious Five – The Message
(1982; Sugar Hill)
Grandmaster Flash was born Joseph Saddler in Bridgetown, Barbados, but his formative years were spent in the Bronx, where he learned to fix electronics in vocational school and became obsessed with his father's record collection. These two fascinations ultimately led to a career in DJing where he revolutionized the art by developing scratch techniques, the backspin technique and punch phrasing. And with tracks like "Grandmaster Flash on the Wheels of Steel," he helped popularize turntable as a genre unto itself for that matter. The Message was Flash's first proper full-length with rap crew the Furious Five, and it's a groundbreaking LP, even if by today's standards it's fairly peculiar for a rap record. Take the smoother soul tracks "You Are" and "Dreamin'," which don't necessarily square with the early electro jam "Scorpio" or the monster single "The Message," which served as a prototype for what Public Enemy would dub "the black CNN." Hip-hop would evolve into further innovations and developments over the next 35 years, but this is a necessary early document of hip-hop as not just a fresh art form, but a necessary one. – JT
---
ESG – Come Away With ESG
(1983; 99)
Emerald, sapphire and gold—one is the birthstone of Valerie Scroggins, one that of her sister Renee, and finally to the record sales certification that the band never actually received. All the same, ESG carved out a unique niche and created a long-lasting legacy that both set them apart among the no wave and post-punk scene and inadvertently played a massive influence on hip-hop in the years to come. The Scroggins sisters (which also included Marie and Deborah), along with conga player Tito Libran, built a minimal disco-funk sound out of little more than bass, drums and vocals, but the groove they crafted was undeniable—enough to catch the attention of Factory Records' Tony Wilson, who released one of their EPs, and noted fan Robert Palmer. To hear Come Away With ESG is to hear not just unfettered creativity but to hear a band sounding like they're having an absurd amount of fun in the studios, and later on their songs would end up being sampled by pretty much everyone. Not that they were necessarily satisfied with that—in 1992, ESG released an EP titled Sample Credits Don't Pay Our Bills. Message received? – JT
---
Boogie Down Productions – Criminal Minded
(1987; B-Boy)
The Bronx is the birthplace of hip-hop. That much should be apparent by how much of this list of regional essentials is dominated not just by rap records, but significant early releases that would forever change the shape of its sound. KRS-One and DJ Scott LaRock, the core of South Bronx-based group Boogie Down Productions, helped to develop hardcore hip-hop into a harder, heavier and more aggressive form of rap. And they mean business (just not quite as literally as EPMD). On the cover art of Criminal Minded, the duo can be seen packing pistols, while KRS drops one of the earliest first-person crime narratives with "9mm Goes Bang," and uses "South Bronx" as an opportunity to both pay tribute to early Bronx rap pioneers like Grandmaster Flash while antagonizing MC Shan as part of a Bronx-Queensbridge rivalry that came to be known as The Bridge Wars. Add in some James Brown samples, dancehall influence and you've got the template —and a case in point—of a rap record that goes hard AF. – JT
---
Ultramagnetic MCs – Critical Beatdown
(1988; Next Plateau)
If Critical Beatdown did nothing else aside from introducing listeners to the lyrical talents of Kool Keith, it'd still be an all-timer. But the Bronx-based crew offers one of the strongest front-to-back hip-hop sets of one of hip-hop's most crucial years. A gritty, high-energy hybrid of imaginative lyrical dexterity, street science and unstoppable, ahead-of-their-time beats, Critical Beatdown is the rare '80s-era hip-hop LP that feels as if it's lost none of its freshness after more than three decades. That's hard to do, but the Ultramagnetics were on their own level. – JT
---
Mary J. Blige – What's the 411?
(1992; Uptown)
Such a significant sequence of The Bronx's musical DNA comprises hip-hop that one could very easily just survey the best rap albums of the borough, and there'd still be plenty of honorable mentions. But that's not to overlook The Bronx's ability to turn out some outstanding talent in R&B and soul, which includes Luther Vandross and, of course, Mary J. Blige. Her debut, What's the 411? Is a gem of the New Jack Swing era, an LP where every track is a banger, where few moments aren't bolstered by a bit of digital funk, and which launched the career of an absolute legend. Come for "Real Love," stay for bumpin', grindin' highlights like "I Don't Want to Do Anything." – JT
---
Pete Rock & CL Smooth – Mecca and the Soul Brother
(1992; Elektra)
When Pete Rock and collaborator CL Smooth became friends and musical partners, they were students at Mount Vernon High, in the New York City suburb just outside The Bronx. But Rock himself is a Bronx native, with something of a hip-hop superhero origin story taking place there. The son of Jamaican immigrant parents, Rock would go to a cricket club with his father who'd play records for patrons. As the cliche goes, like father, like son, and a game-changing DJ was created. Rock and Smooth had a musical relationship as innovative as it was volatile, and though they've been on-again off-again collaborators over time (sometimes with a little shade thrown in between), they released two utterly essential Golden Age LPs. This is the first of them, a set of songs that fused lyrics addressing everything from the Nation of Islam ("Anger in the Nation") to the death of their friend Trouble T Roy ("They Reminisce Over You (T.R.O.Y.)") with some of the best beatmaking in hip-hop history. It's maybe also a Mount Vernon album, and technically a Manhattan album for being recorded in Soho, but Mecca is still a crucial album in Bronx music history. – JT