Celebrate the Catalog: Nick Cave and the Bad Seeds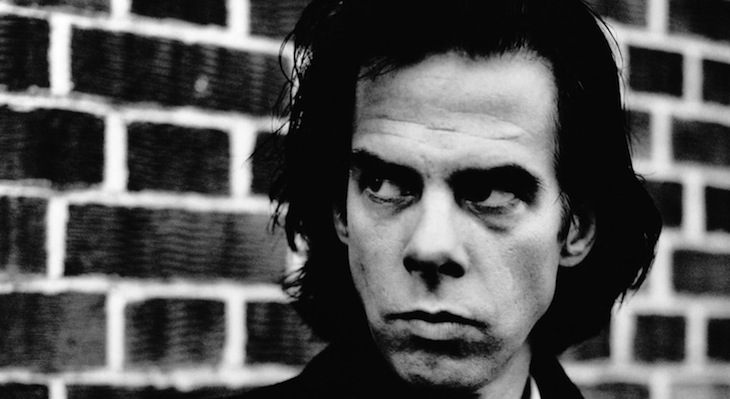 "Some of us rock stars, or whatever, we tend to have a need early on to be someone that we are not and to be someone different – to feel different from the way we actually feel, especially when we are young. And I think the good ones ultimately give themselves over completely to the process and there is no going back. I am Nick Cave and there is no going back to what I was."
Nick Cave isn't a performer or a songwriter — he's an unstoppable force. Ever since his earliest days fronting Australian punk band The Boys Next Door, and on through his tenure with The Birthday Party and eventual three-plus-decade run with The Bad Seeds, Cave has been in an elite league of musicians defined as much by their longevity as they are by innovation and idiosyncrasies. There's not a single piece of music in his catalog that he half-assed. Some might not succeed as greatly as others, but even that seems dismissive of his willingness to take risks and dive into territory that few are willing to explore. Nick Cave's music is born of a unique vision, and that vision is of a truly fucked-up — if occasionally romantic — slice of humanity.
One of Australia's most enduring artists, Nick Cave began his career in the late '70s, fronting The Boys Next Door, which in 1980 became the bluesy horror-punk band The Birthday Party. By all accounts — and based on a thorough listen to their catalog — The Birthday Party were an intense and terrifying presence in popular music. Their free-jazz influence made them abrasive and cacophonous, but it was in the performance-art-like destruction of frontman Nick Cave that the band took on an entirely new level of musical terror. When that band dissolved in 1983, Cave and bandmate Mick Harvey formed The Bad Seeds in its wake. And for 31 years, Nick Cave and the Bad Seeds have been slowly building up one of the most consistent and chilling discographies ever recorded — as much as "consistent" applies to an artist that's never stopped evolving.
If Nick Cave proved himself early as a rabid dog in performance mode, it's his keen observations and witty manipulations of human kindness and depravity that have made him a legendary songwriter. It should come as little surprise to newcomers hearing any of his albums for the first time that he's also penned novels and screenplays. His influences came not only from the likes of Johnny Cash and Leonard Cohen, but in Cormac McCarthy novels and The Bible, with a healthy dose of American blues tradition. When he assumes the role of his characters, he can either be a Don Juan or a murderous fiend — an emotionally exposed poet, or a right bastard. And though they might often be fictional creations, everyone who populates a Nick Cave and the Bad Seeds album is born of the same brilliantly dark mind.
Nick Cave and the Bad Seeds is an artist I've been wanting to tackle for Celebrate the Catalog for a long time, and only held back because it required a bit more attention than usual (though not more than Miles Davis or David Bowie, which took a while). Now that Mute is reissuing the band's catalog on vinyl, it seemed appropriate to finally take the journey. The thing about Nick Cave and the Bad Seeds, however, is that their discography is remarkably consistent. You'll find that most of the scores for the albums in this feature are separated mostly by a few scant decimal points. There are no bad albums, just those that don't quite rise up to be as profoundly stunning as the others. I should note that this doesn't include the albums by The Birthday Party (Prayers on Fire is 9.something, and Junkyard is a perfect 10), or Grinderman (the first and the second are each a mid-8). This feature strictly focuses on the Nick Cave albums with The Bad Seeds, which is already an embarrassment of riches as it is.
Listen to our Essential Nick Cave playlist while you read, or whenver.
Buy these albums at Turntable Lab
---
Part One: Six Strings That Drew Blood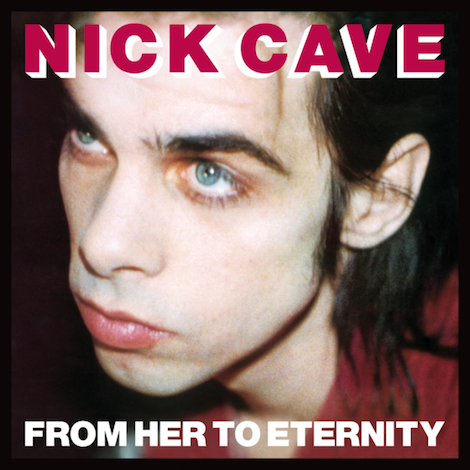 From Her to Eternity
(1984; Mute)
The Birthday Party hadn't been broken up even a year when Nick Cave and The Bad Seeds released their debut album From Her To Eternity. So it makes perfect sense that a new band featuring two of that group's key players would end up recording an album that sounded very much like The Birthday Party. The noisy post-punk approach echoes the gothic blues of Mutiny/The Bad Seed (note the title), and Cave gives some reasonably familiar vocal performances. When he shrieks "Right!" in "Cabin Fever," it's remarkably similar to his "Bite!" from "Release the Bats." But Cave chooses to mark this new phase by starting it off with an eerie cover of "Avalanche," the opening track from Leonard Cohen's epic bummer, Songs of Love and Hate. It's a cool, if portentous beginning, leading the way toward some of the most fucked up sounds of any album credited to Nick Cave and the Bad Seeds (plus some great basslines from ex-Magazine member Barry Adamson). "Cabin Fever" is a manic cabaret-punk nightmare; "Saint Huck" drops Huckleberry Finn into a harrowing, white-knuckle narrative; and the title track remains one of the best songs Cave ever wrote, depicting one man's growing obsession with his upstairs neighbor in homicidal detail, the electrified arrangement of the song growing in intensity with each of the narrator's unholy pangs. If only all debut albums left such an impact.
Rating: 9.0 out of 10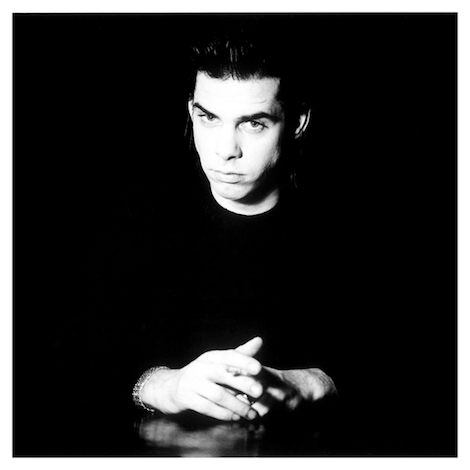 The Firstborn Is Dead
(1985; Mute)
Blues runs in Nick Cave's veins. It doesn't always come out sounding so straightforward, or even recognizable, but just as much as Cave is informed by the energy of punk, or the darkness of post-punk, his music is built on a foundation of the real soul and emotion that comes straight out of the American blues tradition. The Firstborn Is Dead is the most explicit example of this, sounding a bit like a slowed-down version of The Birthday Party, which sounds sort of like a mutated, feral version of American blues music. It's also the album in which Cave makes this thematic element abundantly obvious. From the incredible opening track, "Tupelo," The Bad Seeds are clearly stepping into new territory, which is in fact very old territory as popular music goes. "Tupelo" is based on a John Lee Hooker song about a flood in Mississippi, incorporates a reference to a Lead Belly song, and nods to Elvis Presley. The title of the album, however, is a reference to Presley's stillborn brother Jesse, who would later become the subject of "Jesse" on Scott Walker's The Drift — easily one of the most terrifying songs ever recorded. The rest of the album is similarly raw and soulful as "Tupelo" is, but no song actually matches it in terms of its sheer power and strikingly singular sound. Still, "Tupelo" is such an immortal track that most of the other tracks didn't have good odds of living up to it. Doesn't mean it's not a fine piece of the Bad Seeds collection, just not necessarily the most consistent.
Rating: 8.5 out of 10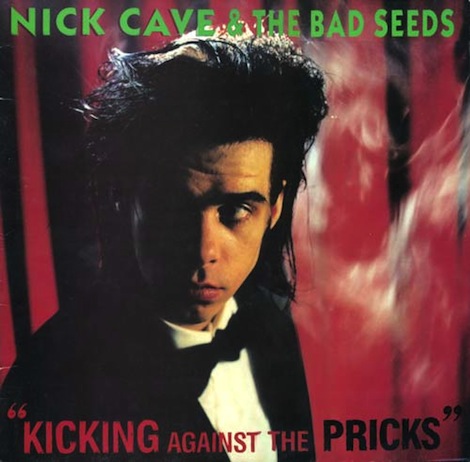 Kicking Against the Pricks
(1986; Mute)
This is The Bad Seeds' covers album. And as covers albums go, it's pretty damn solid. Cave's song choices here are both exceptional and revealing — it runs the gamut from classic Delta blues and country songs to Velvet Underground, Tom Jones and folk murder ballads (a motif that would come to be a constant in his repertoire, even ending up the concept of one of his most celebrated albums of the '90s). It's a look at Cave's roots, basically, and a fairly strong one at that. By and large, there's nothing here that doesn't already fit in with the dark, bluesy style that Cave had already cultivated and developed since his Birthday Party years, even if he didn't write any of it. There's a lot of material here, some of it treated fairly delicately in terms of re-interpretation. But the covers work best when treated through the Bad Seeds meat grinder, like the eerie version of "Hey Joe," or the cacophonous orgy that "All Tomorrow's Parties" becomes. It's definitely fun, and certainly a strong set of tunes. That doesn't mean it's essential listening, but it's solid.
Rating: 7.8 out of 10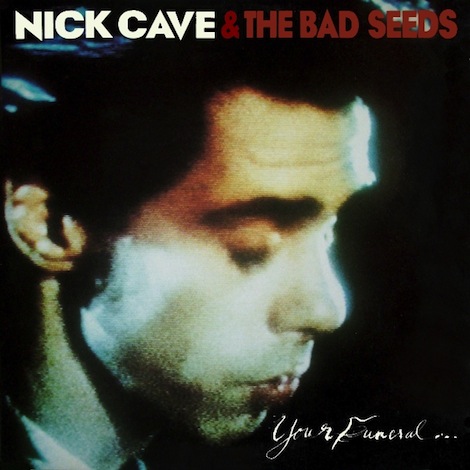 Your Funeral… My Trial
(1986; Mute)
"It's as hot as hell in here!" moans Cave in "Hard on for Love," the steamy, sweaty, libidinous snarl toward the end of Your Funeral… My Trial. It's a moment that echoes the unhinged ferocity of The Birthday Party as well as the humor and rawness of later group Grinderman. In a sense, this is Nick Cave fully formed — still holding on to the menace and feral howl of his younger, more punk-informed days while opening the door to the more darkly romantic persona he'd represent well into the present day. Your Funeral… My Trial is not necessarily the first album of Cave's to balance these extremes, but it's the one, at this point, where he really begins to explore how deep he can dive into them. Where a song like "Hard on for Love," or the similarly intense and awesome "Jack's Shadow" echo early triumphs like "From Her to Eternity," it's actually a ballad that opens the album — the jangly, gorgeous "Sad Waters." From there, Your Funeral twists and turns into some of the most darkly beautiful territory Cave's ever tread, be it in the scarily epic tale of "The Carny," or the subtly haunting beauty of "Stranger Than Kindness." It's rightly heralded as one of The Bad Seeds' finest hours, and Cave, himself, agrees, having said that it's one of the favorite albums he's ever recorded.
Rating: 9.3 out of 10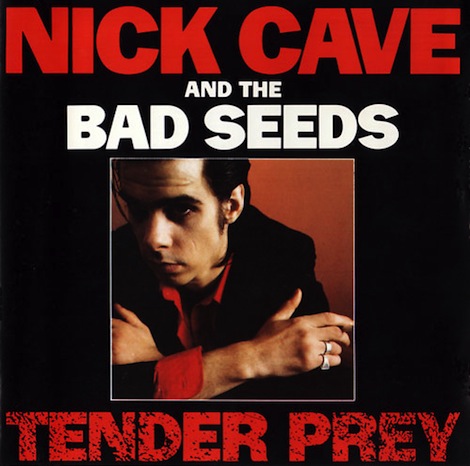 Tender Prey
(1988; Mute)
Nick Cave and the Bad Seeds started off strong with From Her to Eternity in 1984, but it was with Your Funeral… My Trial that the band really upped its game, which resulted in a decade-long winning streak of easily a half-dozen contenders — in a row — for their best album. Tender Prey, in particular, stands out as the strongest distillation of their post-punk darkness and bluesy theatrics into a cohesive, thrilling ride into oblivion. It's also the first Nick Cave and the Bad Seeds album to solely comprise original compositions, almost all of which boast some of the most abrasively colorful arrangements of the band's career. More than ever, The Bad Seeds embrace pop, albeit their own skewed and barbed version of it: "Deanna" was their catchiest song to date, though it's also about a couple going on a murder spree — mainstream radio fare this isn't. But then again, darkness is Cave's primary instrument. He plucks its strings and tickles its keys, and out comes hellish gems like the mournful "Mercy," or the fiendishly campy "Up Jumped the Devil." And then there's "The Mercy Seat," wherein Cave's talent for penning narratives both affecting and horrifying collide in one triumphant and tragic story told from the perspective of a man about to be executed. It's one of Cave's all-time top-five tracks, and that includes everything he did with The Birthday Party as well. One of Cave's own personal heroes, Johnny Cash, covered it on his American III album in 2000. There's just so much happening on Tender Prey, and all of it so dynamic and thrilling, it's pretty much essential. Curiously enough, while Cave held its predecessor in high esteem, he's quick to point out the flaws in this one, not to mention the personal troubles he was going through — including heroin addiction — when it was made. It's a raw album, certainly more so than anything he's done since the late '90s; it's that rawness that makes it feel so alive.
Rating: 9.4 out of 10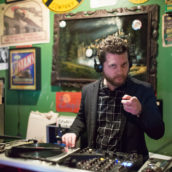 Jeff Terich
Jeff Terich is the founder and editor of Treble. He's been writing about music for 20 years and has been published at American Songwriter, Bandcamp Daily, Reverb, Spin, Stereogum, uDiscoverMusic, VinylMePlease and some others that he's forgetting right now. He's still not tired of it.