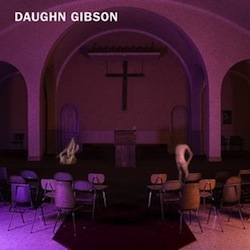 Daughn Gibson kicked off his 2012 debut, All Hell with a loop of dusty guitar twang, and ended it with a metaphorical trip to Hell. With his powerful baritone and a suitcase full of samples, Gibson spent the remainder of the eight tracks on the album exploring the space between these two poles, finding an unlikely marriage of outlaw country, trip-hop and dark ambient. A recent Guardian interview sheds a little light on this dichotomy; at one point Gibson says he's cried in his truck to Kenny Chesney songs, and at another, that he likes being scared. This juxtaposition bears out in Gibson's music, the connecting thread in all of the Pennsylvania-based singer-songwriter's various noir permutations being the unfiltered darkness at the center of it. Real-life desperation and loneliness can lead a person either to write a country song or go on a killing spree, and Gibson's songs sit comfortably in the center of that venn diagram.
Newly signed to Sub Pop and turning his efforts to a mixture of looped and full-band arrangements, Gibson expands the eerie bedroom pop of his debut to an epic, widescreen production on second album Me Moan. No longer tied exclusively to his sampler, Gibson belts his alternating tender and terrifying tales before an ensemble of musicians that includes Brokeback's Jim Elkington and Baroness' John Baizley. The expanded approach allows Gibson to cast various filters and colors across his evocative verses, giving his protagonists and anti-heroes a broader and more spacious world to inhabit, well outside of the dive bars and studio apartments of his debut album.
As a whole, Me Moan takes on a vastly more diverse approach than its predecessor. A broader range of instruments and a bigger budget will do that, but even beyond the obvious, Gibson allows for a number of left-field production choices that amount to a more intriguing path. Right off the bat, "The Sound of Law" arrives as a more dynamic piece of music than Gibson's earlier tracks, with reverb-heavy surf riffs ringing out over a sputter of drums and an ominous bassline, quickly exploding into a chorus fit for a Hollywood opening credit sequence. "Mad Ocean" juxtaposes its rumbling Western dub with bagpipes, and "Kissin on the Blacktop" beckons the listener to clap hands along with its plunderphonic robot rockabilly.
Yet what brighter flourishes arrive throughout Me Moan don't overtake the sinister nature of the album, which is something like Bruce Springsteen's Nebraska fed through a gothic electronic filter. The album's cover, depicting supernatural-looking nudes in a scary-ass church, as well as the stained linoleum floor tiles and chilling exit sign on the insert all give a warning as to what kind of twists lurk inside. The guy that likes to be scared is returning the favor. He often does so in the form of ominous and moody soundscapes, like the intense whirr that opens "The Right Signs," or the driving pulses on standout "You Don't Fade." But when Gibson extends that sense of horror to his lyrical portraits, the results are even more chilling. "Phantom Rider" has more of a coolly dark groove than an outright scary one, but its tone grows colder and harsher as ghostly voices back Gibson's serial killer narrative ("Dreamin' of a killer while he dances on your door/The phantom rider took a family then decided to hold you down"). And with the added knowledge that "The Pisgee Rest" is about forced underage prostitution in a small town, lines like "Someone shouted out, 'Gather around if you're feelin' fine'" make that punch to the gut hurt a little bit more.
But, see, the guy that cries in his truck to Kenny Chesney songs? He's here too, and he prevents the album from entirely being an (amazing sounding) endless pit of despair. Of course, this version of Gibson still rarely finds time for happy endings. One of the more poignant of his ballads, "Franco," is no doubt a sad one, built around a couple whose love is unquestionably doomed, though Gibson strips away the harsh atmospheric elements to leave a spare, aching guitar melody. Likewise, "Won't You Climb" juxtaposes a nostalgic melancholy against '60s easy listening strings and slide guitar riffs. And the spectacular "Into the Sea" finds its protagonist making the journey its title implies, against soulful touches of piano and a standout solo from Baizley.
Without a solid foundation behind them, the varied sounds and styles that Gibson and his collaborators cram into Me Moan would still sound good, but they'd be all style. More than a soundscapist or an experimentalist, Gibson is, first and foremost, a songwriter, and there's reason to believe that if he traded all of the bells and whistles on the album for just a guitar, all of the songs would hold up just as well. It's his knack for sonic detail that puts the album over the top, providing its songs the depth to make the desperation and terror behind them all the more palpable.
Similar Albums:


Dirty Beaches – Drifters/Love Is the Devil


Matthew Dear – Black City


Portishead – Third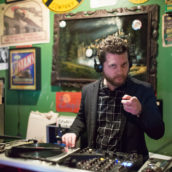 Jeff Terich
Jeff Terich is the founder and editor of Treble. He's been writing about music for 20 years and has been published at American Songwriter, Bandcamp Daily, Reverb, Spin, Stereogum, uDiscoverMusic, VinylMePlease and some others that he's forgetting right now. He's still not tired of it.