Treble at 10: Greatest Hits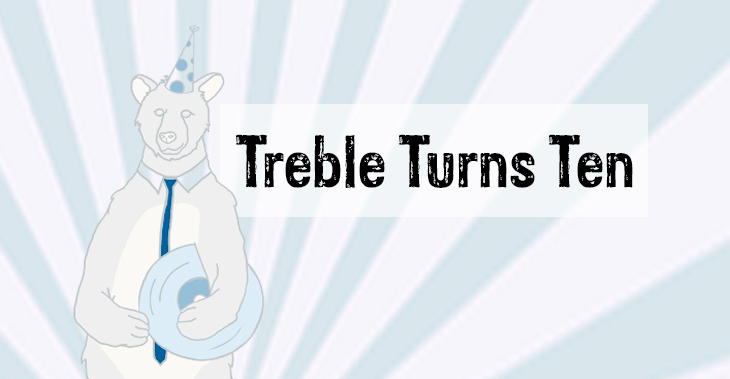 This month, Treble is celebrating its 10th anniversary, and to celebrate, we're putting together a series of articles that look back on the last 10 years, not just on our site, but in music, and for that matter, how we experienced it. First up, we're assembling our own "best of" collection, looking at a series of different articles that stand out to us, both for being some of our best material, and also to show our progress as writers and as a community. There's more good stuff coming this week and beyond, but first, let's take a look back into our past.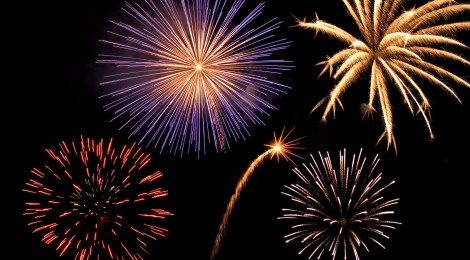 The Early Years
When Treble debuted in 2003, it was a much looser, far less polished website. And it wasn't even entirely focused on music. Here are a handful of curiosities that show us in more innocent, less… uh, focused, days.
Of Lilys and Remains: An interview with Lilys
The first interview that ran on the site, this feature on Lilys frontman Kurt Heasley showed how unprepared our (at the time) college-aged Editor in Chief was for such a bizarre, meandering interaction. It came together pretty well in the end though.
…Where At Least I Know I'm Free
Ken Smith wrote only two or three articles for us, but they were doozies, one of them being this paean to the 4th of July. Let 'er rip!
The Finer Things In Life: Road House
After watching Road House, one of Patrick Swayze's classic films, our editor in chief was inspired to pen a tribute to its subtle charms.
For those who don't remember, 2004 was a pretty politically inflammatory year, and we got into it in a few ways, but one of them was this lengthy article on Michael Moore's Fahrenheit 9/11.
In the beginning, our news column was mostly a vessel for snark, and what fine snark it was! Of course, most of those news items didn't make the transfer over to the site once we redesigned earlier this year, but this is a reminder of those golden days.
Go Long
People talk about "long form" articles these days like they're in danger of being swallowed whole by clickthrough slideshows. If true, that's a shame, but at the very least, we have an ample archive of articles that dive deeper into genres and artists that have inspired us to let the ink bleed freely.
Never Trust a Big Butt and a Smile: The lessons of New Jack Swing
An infamous article because the search term "big butt" landed a lot of (we imagine) disappointed people on this page, this article is also collectively one of our favorites because it's also one of the funniest, and features prominent use of the term "jimmy hats." Plus, you just might learn something about love, and yourself.
True to the headline, this article looks at the phenomenon of misinterpreting songs, particularly love songs, and how cringeworthy it can be to mistake anger or more sinister messages for something more sentimental.
Siamese Dreaming: An essay on alternative rock
Alternative rock was a rite of passage for most of us, but it's also become a bit of a frustrating self-parody over the years. Jeff Terich takes a trip back to the '90s and reflects on why it seemed so novel at the time, and why it doesn't anymore.
Chris Brown and the Question of Offstage Behavior
Sometimes people disown an artist for reprehensible behavior, and sometimes people defend them tooth and nail. This article is a look at complicated personal behavior, how it affects our perception, and whether or not it should. Also: Chris Brown still the worst.
Melon Collie's Trip To the Moon
Another Smashing Pumpkins-inspired article, this one looks at the band's biggest album and discusses why it's both a rousing success, and still not as good as it could have been.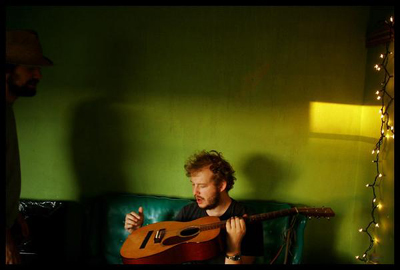 Notable Interviews
We've interviewed a fair amount of interesting artists over the years, had some good conversations, and learned more about them than their albums alone might have told us. But a few stand out for being particularly interesting profiles.
Haircuts and Trainers: An interview with Los Campesinos!
First and foremost, this is a really entertaining read, thanks to Tom Lee's conversational style. Second, this is a true story: Tom Camepsinos!, guitarist in the band, once sent us an inquiry about writing for us. It didn't work out, since — surprise! — he got really busy with his band, which turned out to be Los Campesinos!
Out of the Bungalow: An Interview with Bon Iver
Dustin Allen had a long chat with Justin Vernon back in 2008, four years before he won a Grammy (note: we're pretty sure this is our only interview with a Grammy winner). It's also one of our most enduring features, partially because Vernon reveals some of his recording methods, and partially because of the "Cabin in the Woods" legend.
When we were at SXSW this year, we did some video interviews with artists at the festival, and when we talked with Canada's KEN Mode, they seemed to be angling for an endorsement deal.
The longest interview we've ever run, this feature on Washington post-hardcore legends Unwound gave a look back on their life as a band, their final album Leaves Turn Inside You, and final year together.
Paul Pearson spoke to Sean Nelson, formerly of Harvey Danger, at length about his music, which led to a choice quote paraphrased from a Neil Young biography, with the revelation that "Down by the River" is about, ahem, "blowing your thing in a chick."
Next: Fanboys, Team Spirit and Pet Grief