The Best Albums of October 2020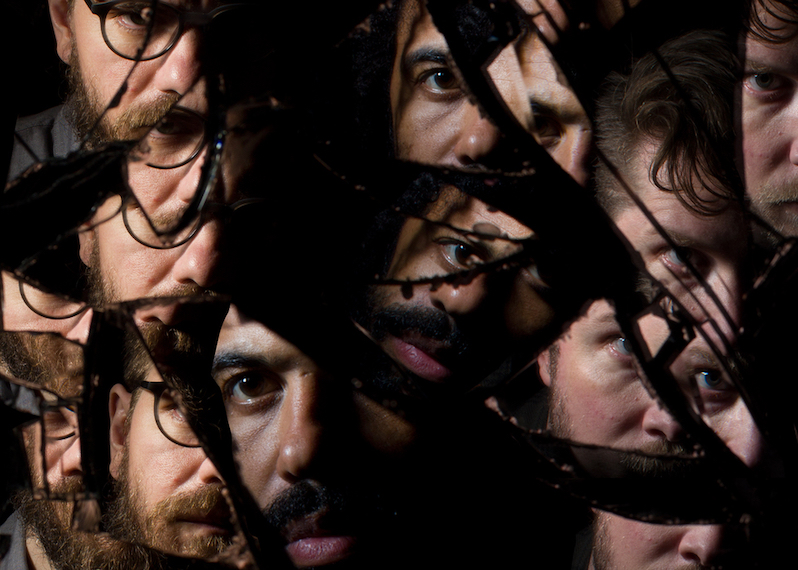 Cristina Bercovitz
In the couple of years that we've been doing regular roundups of our favorite music of the month, the tradition has been to do our last monthly best-of in October—nothing against November, but generally by that point we're already into our year-in-review, and well, there's not a lot of logic in doing the best of a month a couple days before we do the best of the year.
So this is the last one of these you'll see in 2020—a year that we're ready to forget, even if there's this big consequential thing happening on Tuesday that we can't really skip over. (Deep breaths.) But we can take a moment to go over our favorite music of the month, and remind ourselves of this hefty batch of great albums before we start putting our heads together to summarize this year in music. Here are our favorite albums of October.
---
Bartees Strange – Live Forever
(Memory Music)
What We Said: It feels like a project that's been a long time in the making, the sum of a talented singer/songwriter's strengths captured in just a little over a half hour. – Jeff Terich
---
clipping. – Visions of Bodies Being Burned
(Sub Pop)
What We Said: Visions of Bodies Being Burned sounds like a group having an awful lot of fun getting their hands bloody in delivering something truly nightmarish, and it's infectious even in its most confrontational moments. – Jeff Terich
---
Helena Deland – Someone New
(Luminelle)
What We Said: By the time they reach their conclusion, each of her songs has gone through a climactic journey, but it's easy to simply get caught up in the gorgeous layers of atmosphere. – Jeff Terich
---
Eartheater – Phoenix: Flames Are Dew Upon My Skin
(PAN)
What We Said: No Eartheater record has revolved so heavily around Drewchin's singing as Phoenix does. It's a welcome shift, one that comes along with a guitar-forward sound that creeps into conventional beauty more than a few times. – Ben Cohn
---
Fleet Foxes – Shore
(Anti-)
What We Said: These songs are intricate, but never untidy or overstuffed, always leaving adequate space for light and air to filter in. – Jacob Nierenberg
---
Gunn-Truscinski Duo – Soundkeeper
(Three Lobed)
What We Said: Approachability isn't always or even often a factor when it comes to psychedelic freakouts of this caliber, but Soundkeeper is as much about its melodic allure as it is the sheer power of the duo's expressions. – Jeff Terich
---
Jay Electronica – Act II: The Patents of Nobility (The Turn)
(Equity)
This is a banner year for anyone who's been waiting on music from Jay Electronica. After leaving an early impact via breakthrough singles like 2009's "Exhibit C," The New Orleans-born rapper made good on a decade-long promise of a new full-length with the spring release of A Written Testimony. Seven months later, his long shelved mixtape—Act II: the Patents of Nobility (The Turn), originally slated for release as early as 2012—finally surfaced on streaming services. Remarkably, the eight years that have passed in that time haven't dulled its edge, its quick moving edits, ear-perking art-rock samples (Serge Gainsbourg, King Crimson) and moments of boom bap bravado ("Shiny Suit Theory") as refreshing a sound in 2020 as you're likely to hear. Though Act II was delayed for a number of reasons, one of them being sample clearance, it's finally here, and it was worth the wait. – Jeff Terich
---
Mary Lattimore – Silver Ladders
(Ghostly)
What We Said: There are sensations of angles and curves, dangerous prickly balls and swooning gusts of air; this is a lush and living landscape, a hybrid of flesh and machine, moss and metal. – Langdon Hickman
---
Adrianne Lenker – songs/instrumentals
(4AD)
What We Said: The subject matter, personal histories and boxes of family photos, is familiar for Lenker, but she's telling it all with extraordinary visual detail, the kind of stuff that flies by like signs on the highway despite managing to paint museum-worthy detail in a few words. – Ben Cohn
---
Aquiles Navarro & Tcheser Holmes – Heritage of the Invisible II
(International Anthem)
What We Said: Navarro & Holmes, recording as this power free-jazz duo, at times feels like the dub version of their other unit—Irreversible Entanglements—doubling down on the chaos, and infusing their own cultural heritage rhythmically, celebrating their own kinfolk. – John-Paul Shiver
---
Pallbearer – Forgotten Days
(Nuclear Blast)
What We Said: Forgotten Days finds them sounding more like a band (ironically) locked in to live-performance mode—loud, taut and letting the riffs fly. – Jeff Terich
---
Emma Ruth Rundle & Thou – May Our Chambers Be Full
(Sacred Bones)
What We Said: It's a celebration of a collision of ideas, and a highly compelling argument that heavy music is often at its best when exploring its contrasts. – Jeff Terich
---
Songhoy Blues – OPTIMISME
(Fat Possum)
There's a long tradition of powerful, psychedelic, intricate guitar-driven music from Mali, from Ali Farka Touré to Tinariwen, a line of descent that includes the Bamako-formed, London-based Songhoy Blues. But the thunderous rock 'n' roll riffs of OPTIMISME opener "Badala," owing to the proto-metal anthems of Deep Purple and AC/DC, offer a taste of the band's unique spin on Songhai music. There's a remarkable amount of depth and stylistic versatility in Songhoy Blues' music, bridging desert blues with funk, psychedelia and rock through an approach that's neither genre-agnostic nor entirely faithful either. On OPTIMISME, they cover a lot of ground and find endless territory to explore, but above all the group prove their capabilities as a boundlessly creative and instrumentally unstoppable rock 'n' roll band. – Jeff Terich
---
Spirit Adrift – Enlightened In Eternity
(20 Buck Spin)
What We Said: This trip through a more vintage heavy metal aesthetic is lighter on the doom elements they've employed in the past. They're still here, but they come across more in the melodic spirit of the music, less so in droning and moody atmosphere. – Michael Pementel
---
Sumac – May You Be Held
(Thrill Jockey)
What We Said: From sporadic shifts in tempo, bombardments of instrumentation, to minimal wails calling out through silence, these compositions reward more attentive listening. – Michael Pementel
---
Support our Site—Subscribe to Our Patreon: Become one of our monthly patrons and help support an independent media resource while gaining access to exclusive content, shirts, playlists, mixtapes and more.