The 20 Best Metal Albums of 2017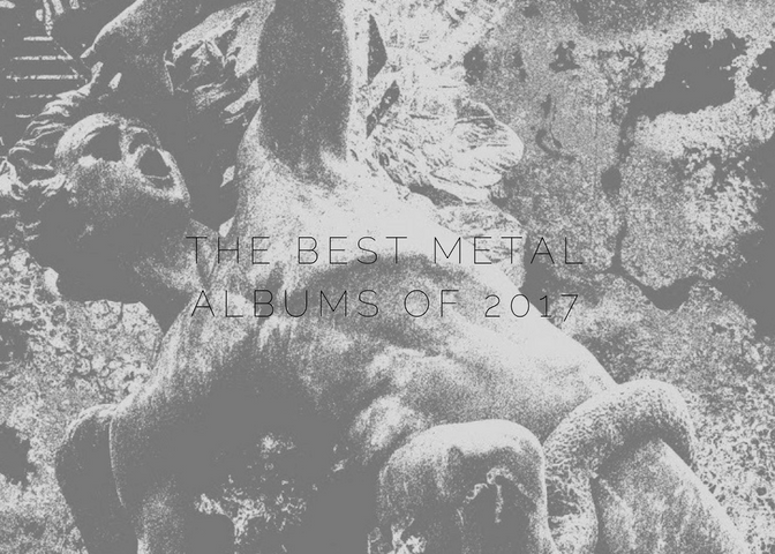 Just about every year is a good one for those who love metal. Even if it's a year rife with disappointment, there's always more to dig through—so much to discover and unearth. The sheer overwhelming number of metal albums that surface means that there are some crushing riches to be found (and some underwhelming stuff or bad records, too, which is fine). In fact, this year seemed especially overwhelming, so much that it warranted a change in approach. Where in past years I'd limit the best metal albums of the year to a lean 10 (which in hindsight does seem a little bit concise given all the music that's been released in the past five or six years), this year necessitated an expansion to 20. But even before narrowing it down, I had to make a decision on what actually counted; a lot of my favorite records this year were heavy, but were they metal? The debut album by Less Art destroyed like few others this year, though it's arguably more post-hardcore. The new Cloakroom album is massive, though it's somewhere between shoegaze, alt-rock and some less tangible other thing. And the epic dronescapes of Prurient's new three-hour set are as dark and heavy as anything I've heard this year, but they're noise or dark ambient. Ultimately, it came down to more of a feeling than anything, so some stuff just didn't feel right. But this isn't anything new for metal—the definition keeps changing, the sound keeps evolving, and we always have a new concept of what heavy is. The 20 albums that ended up making the cut aren't all heavy in the same way, and they represent some pretty diverse corners of heavy music in general. But their presence here denotes that they're among the best sounds in the metalsphere in what was inarguably a strong year for riffs and mayhem. So let's get on with it already: Here are my picks for the 20 best metal albums of 2017.
---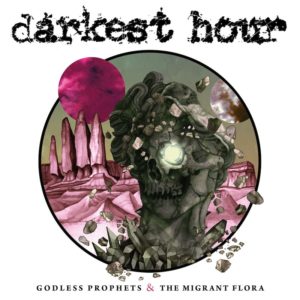 (Southern Lord)
It's not as if it's entirely unusual for a metalcore, hardcore or melodic death metal band to continue to make some of the best material of their career more than 20 years down the line. But it'd also be slightly dishonest to say I expected Darkest Hour to end up releasing one of the best metal albums of 2017. The Washington, D.C. band continues to roar with a relentless, melodic and blistering attack, yet the songwriting on Godless Prophets & The Migrant Flora is some of the best of their career. While the band mines vintage Gothenburg death metal for inspiration, there's a crusty, crunchy, unrepentantly aggressive element to Godless Prophets serving as a reminder that this streamlined brutality is American-made. Two decades in, Darkest Hour sound like they're just getting warmed up.
Listen: Bandcamp
---
19. Black Anvil
As Was
(Relapse)
Black Anvil hit the 10-year mark as a band this year, and for most of that decade they've been hammering out some righteously heavy black metal that shares a lot more in common with contemporary sludge than the grim lo-fi sounds of old-school Norway (or Sweden or Switzerland). Their blast-beats are backed by a furious, muscular sensibility that drives every barbaric riff and every explosive upswing in tempo. With As Was, however, they expanded their palette to a dramatic degree, incorporating prog-rock synths ("Nothing"), an Agalloch-like post-metal chant ("As Was") and an anthemic post-punk chant-along ("Ultra"). Black Anvil never abandon that brawny hardcore sensibility at the heart of their sound, but with As Was that sound encompasses so much more than before, boldly attempted and brilliantly executed.
Listen: Bandcamp
---
18. Spotlights
Seismic
(Ipecac)
Spotlights have only been a band for a few years, but their pace has seemingly only accelerated. Following the release of their debut album Tidals in 2016, married duo Mario and Sarah Quintero soar to new atmospheric heights on second album Seismic, an atmospheric sludge odyssey that lives up to the earth-moving implications of its title. The title track, which progresses for nearly four minutes before the presence of any vocals can be heard, is a powerful introduction to the kinds of ambitious, strangely beautiful shoegaze-metal the duo creates. The gorgeously dense atmosphere on Seismic almost seems to outweigh the heaviness of the sludge, making this just a few twinkles away from floating into another genre entirely—until the heaviness brings it back down.
Listen: Bandcamp
---
(Vendetta)
Philadelphia black metal band Woe earned my applause early this year in large part because of "Drown Us With Greatness," a driving melodic black metal anthem that satirized and condemned the spray-tanned, combed-over, fascist-friendly leader of the free world. That alone warrants at least an honorable mention (and it's a great song!), though the whole of Hope Attrition is outstanding black metal that puts the focus on strong songwriting rather than leaning too heavily on tired tropes or familiar imagery. It's visceral, powerful metal that reveals new, intricate details with each listen.
Listen: Bandcamp
---
16. Big|Brave
Ardor
(Southern Lord)
One of the enduring challenges of chronicling the best metal is determining where to draw the line between metal and not-metal. As I explained above, there is a line, it's just not always an easy one to discern. Big|Brave may or may not encompass the qualities that most of the band's on this list do, in addition to the graceful instrumental intricacies of post-rock, but the Montreal trio more than make up for those stylistic ambiguities with a sound that's utterly massive. Ardor is devastating in every sense, combining an exhausting emotional heft with a sound so noxious and beastly it puts most doom metal bands to shame. Yet there's a great amount of space and patience to their music that slowly reveals the beauty behind it. Meditation and annihilation aren't necessarily mutually exclusive.
Listen: Bandcamp
---
(Tankcrimes)
A solid chunk of the best death metal in recent years has come from the extended family of Bay Area bands that includes Acephalix, Vastum and Hammers of Misfortune (who aren't death metal but share some common musicians). Necrot is also a part of that group, and their debut LP Blood Offerings reveals that they're also arguably the most intense band of the bunch. With an ear for old-school death metal aesthetics and blood-curdling extremes, Necrot rarely ease off the throttle, letting their tremolo riffs and percussive gallop do much of the talking. Still, amid all the hack-and-slash ferocity are some excellent songs. This exercise in aesthetic destruction is too much fun not to revisit repeatedly.
Listen: Bandcamp
---
(Relapse)
Ex Eye's avant garde metal bona fides are well established, featuring members of Liturgy and Secret Chiefs 3 among their ranks. But while metal is part of what they do, so is prog, minimalism and art rock, driven in large part by the presence of saxophonist Colin Stetson. They're a fascinating band, and if I wanted to I could pick apart the various elements that go into the complex and tense sound that they create. But mostly I'd rather bask in the overwhelming sonic constructions that take up the two sides of their self-titled Relapse debut. It's powerful, technical and weird, and few other albums released in 2017 sound anything like it.
Listen: Bandcamp
---
(Nuclear War Now!)
One-third of the albums on this list are debuts, which speaks to how a strong a year 2017 was for up-and-coming metal bands. Expander's Endless Computer likewise, along with the latest from Power Trip, proved that the best thrash metal seems to be erupting out of Texas these days. A sort-of concept album involving biomechanical lifeforms and cybernetic warfare, Endless Computer is sci-fi dystopian thrash that might thematically tie in more closely to Voivod but sounds a lot more like Exodus, or even at times Converge, whose Kurt Ballou produced the album. Endless Computer is mind-meltingly great thrash that sacrifices none of its power while giving into the band's weirdest impulses.
Listen: Bandcamp
---
(Avantgarde)
Manchester black metal group Wode had a hell of an introduction last year with their outstanding self-titled debut, a ripper of an LP that was right on the cusp of last year's top 10. Its follow-up arrived within a year, and though the runtime was tightened up by about 15 minutes, Wode proved with Servants of the Countercosmos that a half-hour is really all a band needs to blow some damn minds. Countercosmos is a direct, visceral assault of black metal with atmospheric elements, a touch of post-hardcore melodicism and an ample dose of sludgy brawn. There's nothing simple about Wode, and black metal is essentially the most convenient thing to call them—they stretch those boundaries until they're fit to snap. Still, their songs hit hard and roar mightily, and on the title they flex their melodic muscles further, invoking the majesty of greats such as Mercyful Fate and Iron Maiden. It feels like a pretty remarkable progression for just one year, so the idea of just what kind of epic feats of heaviness they have in store for the future is exciting to say the least.
Listen: Bandcamp
---
11. Tchornobog
Tchornobog
(I, Voidhanger)
Given the sheer volume of releases in 2017 (remember, this used to be a top 10), it seems fairly audacious on the part of so many bands to be releasing particularly epic feats of metal. Not that long albums are a new thing, but the self-titled debut album by avant garde black metal band Tchornobog opens with a 20-minute track. It opens with that; suffice it to say that some Weakling comparisons are probably inevitable. Indeed, the atmospheric epics on the album do share certain progressive tendencies with the likes of Weakling or Krallice for that matter, but there's a melodic, experimental and psychedelic spirit that puts Tchornobog in a class of its own. For instance, the opening of "Non-Existence's Warmth," with its moody touch of saxophone, is both an interesting surprise and a textural touch that works brilliantly. It's metal that goes big and doesn't hold back on the intensity, but with elements of jazz, ambient and post-rock, it also has so much beauty to offer.
Listen: Bandcamp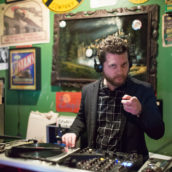 Jeff Terich
Jeff Terich is the founder and editor of Treble. He's been writing about music for 20 years and has been published at American Songwriter, Bandcamp Daily, Reverb, Spin, Stereogum, uDiscoverMusic, VinylMePlease and some others that he's forgetting right now. He's still not tired of it.