Treble's Top 50 Psychedelic Albums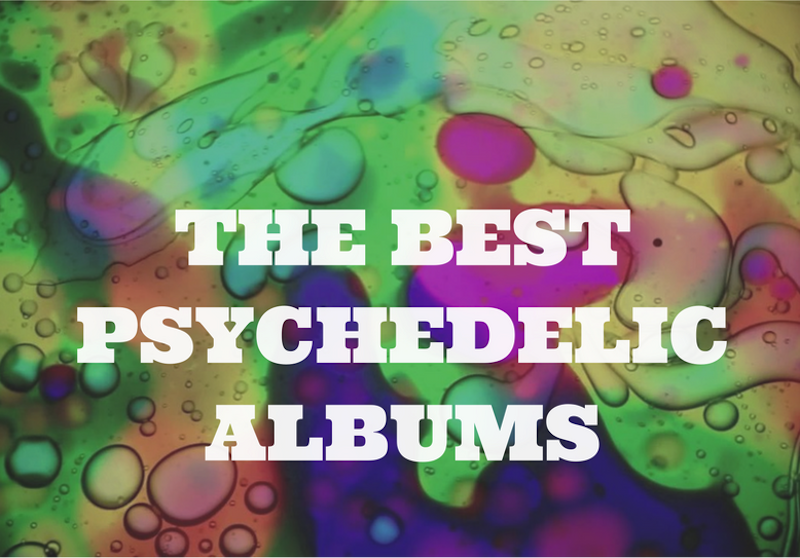 20. Yes – Fragile
(1971; Atlantic)
Eleven minutes into Fragile, the drugs start to kick in. What initially sounds like progressive rock for elves takes a trippy turn. The band lock into a groove when the commanding growl of the bass takes over, but it's a tug of war against going into more abstract jazz-influenced passages. Jon Anderson's fey tenor is a call to arms for all sprites and pixies to sail the surreal seas of bong bubbles. Without question, the musical prowess on this album stands above nearly everyone else in the progsphere except Frank Zappa's band or King Crimson. When it congeals, this is rock music that has a harder bite. Returning to Fragile is always rewarding in new ways. – Wil Lewellyn
---
(1998; Merge)
It might not seem so otherworldly for those strictly paying attention to the simple acoustic strums of Jeff Mangum's guitar, but Neutral Milk Hotel's second and final album, In the Aeroplane Over the Sea, essentially spiked indie's water supply with some pretty far-out stuff in 1998. Amid the burgeoning Elephant 6 collective that brought together various psychedelic-influenced artists from the U.S. (mostly in Athens, Georgia), Mangum's outfit was both the most accessible and the least conventional, creating raga hymnals to Jesus Christ, fuzzed-out instrumentals, surreal eroticism and bittersweet references to Anne Frank. Most psychedelic of all were Mangum's lyrics, which combined sexuality, tragedy and a sort of sentimental surrealism that could at times be affecting in ways that didn't always make sense. It's an album that's been written about time and again, with every possible interpretation exhausted, but In the Aeroplane Over the Sea endures because there's a beating heart at the center to anchor each disorienting vision. – Jeff Terich
---
18. Pink Floyd – Animals
(1977; Harvest)
Pink Floyd's 1977 concept album is also their creative best. The LP uses George Orwell's "Animal Farm" as its guidepost with a biting social commentary still relevant in 2018. "Pigs" might bring a few notable figures to mind. If you are high as hell, listening to the album with headphones is a spiritual experience. The nuances like the robotic recitation of the Lord's Prayer or the metallic barking of the dogs panned around you are subtly stunning layers of an impressive whole. This album isn't metal, but it's still heavy. The weight of its bleak message is crushing. – Wil Lewellyn
---
17. My Bloody Valentine – Loveless
(1991; Creation/Sire)
From the opening snare slams of "Only Shallow," My Bloody Valentine's magnum opus Loveless swallows the listener whole. Authentic, groundbreaking, and incomparable, the relentless studio tinkering from Kevin Shields has remained one of the strongest influences on modern indie rock to this day. With a two-year recording process and a production cost of nearly $300,000, Loveless remains a standalone record, a passion project reinventing and dismantling the concept of "guitar rock." As years pass, Loveless' sonic palette reveals itself as more versatile than any one genre could capture—though, sure, if you want to dumb it down, "shoegaze"—but Loveless really is a musical document flaring with psychedelic elements. And, although Loveless may sound spacious, warm and full of life and guitars, it's actually a quite minimal album, much more stripped down and sparse than most listeners assume. But perhaps that adds a mysterious element to it, the senses mistaking minimal for maximum, all because of Shields' insistent nature of re-recording, over and over again. – Timothy Michalik
---
(1968; Philips)
The Tropicália movement in Brazil in the 1960s wasn't just experimental, playful and prone to hallucinogenic forays, it was dangerous. That's how the country's ruling military junta of the time viewed it anyhow, a movement helmed by anarchists, who expressed political critiques through bizarre fuzzbox compositions that spoke to both sexual liberation and a campy embrace of stereotypical Brazilian identity. And while Caetano Veloso is often cited as Brazil's answer to Bob Dylan, Os Mutantes then are simultaneously its Beatles and Stones, with any number of other significant and obscure artists mashed into their LSD-spiked melting pot. The group's genre-defining debut album is constantly moving, always morphing into some new animated, vibrant permutation of Brazilian psychedelia, from the subversive sunshine march of "Panis et Circensis" to the garage samba of "A Minha Menina," and from the spacious French pop of "La Premier Bonheur du Jour" to the rock 'n' roll speak-and-spell of "Bat Macumba." What's more, the band's effects pedals were largely self-made, making the far-out sounds of the album something that essentially can't be replicated, because they very literally created them by hand. It's a volatile and unpredictable album that also spoke to a highly volatile and unpredictable era. – Jeff Terich
---
15. King Crimson – In the Court of the Crimson King
(1969; Philips)
The garish screaming face on the cover of King Crimson's landmark debut is a fairly accurate depiction of what to expect on the prog legends' debut. Or at least the first song, anyway. "21st Century Schizoid Man" is rhythmically intricate, abrasive, intense and aggressive, some of the most unsettling, saxophone-squealing instrumental excursions ever to be recorded in the 1960s. It doesn't represent the whole of the album, however, which is by and large a much prettier set of music than its leadoff track indicates. That being said, it's all pleasantly druggy, from its nonsensical nursery-rhyme lyrics ("Said the straight man to the late man/Where have you been?") to its copious use of flute and the orchestral grandeur of the (sort of) title track, "The Court of The Crimson King." It's all quite breathtaking, to the point that one might not even notice just how weird most of it is. But if that reminder is necessary, flip it back over to Side A and another needle drop on "Schizoid" should do the trick. – Jeff Terich
---
14. Sly and the Family Stone – Stand!
(1969; Epic)
While the content of this San Francisco group's fourth LP only briefly made any connection to drugs ("I Want to Take You Higher"), the band and the album each embraced multiple perceptions of reality in their own way. The Family Stone were one of the first successful modern acts integrated by both gender and race, and the varietal jams on Stand! were timed perfectly to explore and uplift politics ("Don't Call Me Nigger, Whitey"), community ("Everyday People"), art for art's sake ("Sex Machine"), and personal responsibility and liberation two years after 1967's Summer of Love. It was an intense, brief high: That autumn the band would start to use the harder stuff that turned their output dark and Sly Stone's behavior tragically chaotic. – Adam Blyweiss
---
(1967; Verve)
It is hard to underestimate the significance of the first Velvet Underground album. It revels in distortion, atonality and feedback, more fulsomely and insubordinately than any of their more successful contemporaries. It embraces, nay celebrates, lyrical themes of BDSM, prostitution and hard drug abuse and spins tales that have more to do with Burroughs and Ballard than Dylan or Lennon. Principal writer Lou Reed was bursting with material, having seen the inner sanctum of Warhol's Factory, while musical architect John Cale was brimming with the avant-garde class of the day, particularly La Monte Young and John Cage. With all of that in mind, it's remarkable that such an appealing, accessible selection of material was the end result. More remarkable still is its complete commercial failure, peaking at number 195 on the Billboard album charts. Fortunately for us, it triggered enough of the major players to come—Bowie, Iggy, Eno, to name a few—that its destiny was different, but it does lead one to wonder how many other such pearls might still lurk somewhere in the deep. – Max Pilley
---
12. The Jimi Hendrix Experience – Are You Experienced?
(1967; Reprise)
Unleashed in England exactly 14 days before Sgt. Pepper, Jimi Hendrix's debut dealt a fierce blow to any segment of popular music that still had the nerve to be soothing. Are You Experienced? is known for liberating the lead electric guitar through Hendrix's violent lyricism—it was as if he'd picked up a new instrument NASA invented but didn't know what for. But it also blew apart rock's stylistic range. Hendrix moved from the jarring drive of "Purple Haze" and "Foxy Lady" to the hard funk of "Fire" without any perceptible difficulty. He also struck psychedelia's rumored amiability with the lure of discomfort and death in "Manic Depression," "Hey Joe" and "I Don't Live Today," while still finding a sense of relief in "The Wind Cries Mary" and "May This Be Love." The rest of the Experience, bassist Noel Redding and drummer Mitch Mitchell, made falling apart and back together again sound way easier than it should be. – Paul Pearson
---
11. Alice Coltrane – Journey in Satchidananda
(1970; Impulse!)
Alice Coltrane dedicated her fourth album to a man who once said that when even one virtue becomes our nature, the mind becomes clean and tranquil. The titular journey was into the mind of Satchidananda Saraswati, and the results are as clean and tranquil as the late Swami prophesied. It's rare for jazz music to be as serene as it is on Journey in Satchidananda. Coltrane's typically harsh modal arrangements are pared down with Pharoah Sanders' soprano saxophone, the fusion created an album that occupied spaces for mediation and healing. As if sprinkling fairy dust across the entire composition there is Coltrane's endlessly balletic harp. Every arrangement, note and mood contained within Satchidananda serves as a pitch perfect tribute to its namesake. – Wesley Whitacre