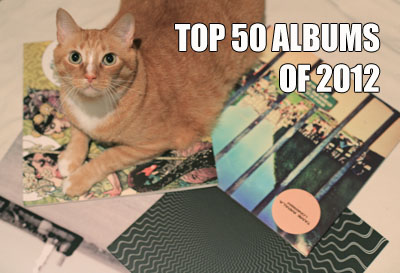 10. Kendrick Lamar – good kid, m.A.A.d. city (Top Dawg/Aftermath/Interscope)
Since gangsta rap's glory years, hip-hop has been having something of an identity crisis. Sure, there are talented rappers who often gain recognition through their prolific (Lil B), nostalgic (Joey Bada$$) or graphic nature (Tyler) and talented producers to give some pretty-good rappers the boost they need. But not many rappers have been able to uphold the ethos of hip-hop while giving it the facelift it needs.
I submit, Kendrick Lamar.
It helps his cred that he is from Compton, and that the record is graced by the headphone-slinging godfather of gangsta rap, Dr. Dre. But aesthetically, Lamar doesn't need any help. He employs one of the most diverse flows ever, shifting from reclusive ("Bitch, Don't Kill My Vibe") to aggressive ("Backseat Freestyle"), from crooner ("Sing About Me") to boozer ("Swimming Pools"). The end result stands as a new plateau for the genre, opposite last year's runner-up on this same list, Shabazz Palaces' Black Up. Whereas Black Up presented its own vision for the genre beyond limitations, good kid, m.A.A.d city is every bit as daring while coloring inside hip-hop's lines, reinventing the genre with colors all Lamar's own. – Justin Stephani
Video: Kendrick Lamar – "Swimming Pools (Drank)"
Review
---
9. Killer Mike – R.A.P. Music (Williams Street)
Two of the best rap albums of this year came nearly out of nowhere, from artists who well exceeded the popular expectations for them when they released their LPs. One of these was good kid, m.A.A.d. city and the other was Killer Mike's R.A.P. Music. It's not that people never believed that Killer Mike could create a great album; he just hadn't released an album that lived up to his potential up until this year. Twenty seconds into R.A.P. Music, it's already apparent that the album changes all of that. Intense and completely real, from his savage portrait of Atlanta in "Big Beast" to his conscious polemic against modern rappers in "Reagan," Killer Mike delivers his worldview along with his music to the listener in a remarkably straightforward but intellectually stimulating manner. The fact that he's backed by consistently outstanding production from El-P might help a little, too. – Connor Brown
Video: Killer Mike – "Reagan"
Review
---
8. Grimes – Visions (Arbutus/4AD)
There's a reason why Grimes has been so highly regarded this year, and it isn't just because she resembles a tiny pastel-haired pixie that you'd want to slip inside your pocket. It is, of course, all down to the music. While there may be a few hardcore fans able to say, hand-on-heart that they "knew her first," it's fair to say that most of the world became aware of Montreal's Claire Boucher once her third album was released. And what an album it is. After the whirlwind year of playing about a million festivals and releasing a stream of ambitious and visually delightful videos, it's all too easy to forget that Boucher arrived as a scrappy young bedroom pop artist with hooks to spare. To put it simply, Visions is 48 minutes of catchy, energetic electronic fun, and whether it's the singles "Genesis" and "Oblivion" or serene closing track "Know The Way," there's something here for everyone. – Grace Barber-Plentie
Video: Grimes – "Oblivion"
Review
---
7. Grizzly Bear – Shields (Warp)
With each new album, Grizzly Bear prove themselves adept at taking their sound someplace else without leaving behind what made their previous efforts successful both artistically and commercially. On Shields though, what is perhaps most worthy of remark is the novel way in which the record merges the minor psychedelia of Dan Rossen, and the cloistered pop that seems to most suit Ed Droste's voice. The two tendencies come together in "Half Gate," which shifts between whispered lament and swirling bombast. And while Droste carries the dour but bracing single, "Yet Again," the most memorable piece may well be Rossen's "Sun in Your Eyes," which closes out the album on an epic scale, breaching its sleepy verses with heatstroke-driven shots of hallucinatory grandeur. – Tyler Parks
Video: Grizzly Bear – "Yet Again"
Review
---
6. Converge – All We Love We Leave Behind (Epitaph)
In 2012, Converge reached their 22-year milestone as a band, which isn't too shabby as hardcore goes, but certainly doesn't break any records. The challenge for a band of their ilk isn't keeping up the same kind of energy that a group of 18-year-olds would, however. It's finding new and interesting places to go while remaining as true to creating something as crushingly heavy as ever. All We Love We Leave Behind, the band's eighth album, is essentially classic Converge — no guest musicians, no odd experimental production flourishes, just the sound of four lifers seasoned with nothing more than the blood and sweat of a career spent redefining heavy music. And yet, there's absolutely nothing tired or expected about what they've created here. From the basic framework of a guitar-bass-drums-screams hardcore/metal album, the Massachusetts foursome make leaps and bounds beyond the familiar, conjuring apocalyptic doom-sludge in "Glacial Pace," embracing soaring melody on "Coral Blue," and even cranking out a post-hardcore hit single of sorts in "Aimless Arrow," though I'm sure they'd never say such a thing. Though hardcore and punk are frequently thought of in terms of teenage angst, Converge show just how much devastation a little maturity can do. – Jeff Terich
Video: Converge – "Aimless Arrow"
Review
---
5. Fiona Apple – The Idler Wheel Is Wiser Than the Driver of the Screw and Whipping Cords Will Serve You More Than Ropes Will Ever Do (Epic)
There was a severe absence of brutal, uncomfortable, way-too-intimate honesty in the music world during Fiona Apple's seven-year hiatus from the limelight. But she finally blessed us with this humdinger of a mental meltdown. Everything about this record is unhinged and uncomfortable, and that's what makes it so good. It's the artist at her most raw and vulnerable, a fumble into midlife fraught with gorgeous insanity. Her words are at her most potent, whether she's offering up her heart of yolk for "a meal for us both to choke on" in "Every Single Night" or bracing herself for the "hot piss that comes through your mouth every time you address me" in "Regret." To call her a singer-songwriter these days is wholly inaccurate — she's a force of nature. – Melissa Bobbitt
Video: Fiona Apple – "Every Single Night"
---
4. Beach House – Bloom
(Sub Pop)
Beach House bring their lush dreamscapes to yet another level on Bloom, the Baltimore duo's fourth album. Fans of the band can revel in the ethereal ways Victoria Legrand's piano and Alex Scally's guitar blend to evoke a wistful sunshine, and newcomers — or those not converted by previous efforts — will enjoy how the more muscular nature of Bloom keeps it tethered to reality. Songs like `Wild" and "New Year" have a rhythmic heft absent on some of the group's previous work. Overall, Bloom is part and parcel of Beach House's entire catalogue, another step in the quest to capture the sound of the universe rushing past your ears. But it's a mighty step, and one of the band's best. – Liz Malloy
Video: Beach House – "Lazuli"
Review
---
3. Tame Impala – Lonerism
(Modular)
In 2010, Tame Impala released a monster of a psych-rock anthem titled "Solitude Is Bliss." In 2012, they followed it up with an insecure float of dreamy pop titled "Why Won't They Talk To Me?" Call it a case of `be careful what you wish for,' perhaps, but the loneliness has grown ever more afflicting on this year's aptly titled Lonerism. But Tame Impala's Kevin Parker, much like musical hero Brian Wilson, turned psychological lemons into magnanimous lemonades with an inward-looking collection that yearns for a bigger and brighter, and much friendlier world. Synthesizers billow and tube amplifier fuzz swirl in a paisley cloud that aims skyward, always reaching toward the sun. There are hooks, there are choruses, there are brilliant melodies, but what stands out most of all on Lonerism are the multi-layered, endlessly unfolding and rich sounds that Parker cooks up — the glam-rock wall of sound on "Elephant," the spare and reverb-heavy pianos on "Apocalypse Dreams," the Beatlesque kalediscopic crackle on "Feels Like We Only Go Backwards." Sure, loneliness remains at the heart of many tracks, but Tame Impala aren't interested in wallowing in it. There's a big beautiful world out there, and if that won't suffice, why not create your own? – Jeff Terich
Video: Tame Impala – "Feels Like We Only Go Backwards"
Review
---
2. Chromatics – Kill For Love (Italians Do It Better)
It's a shame that I can only listen to a song for the first time once. There's just no way to remember what it was like to hear "Back from the Grave" without anticipating the entrance of the post-punk bassline 51 seconds in, or the crystalized guitar licks at the 1:07 mark. While listening again from a blank slate would be fun, Kill For Love, like all critically acclaimed albums, greatly rewards each consecutive listen. But to say that Kill For Love merely gets better with time would be an oversimplification. The album is so dynamic and sprawling that the same stretch of songs may evolve from filler to climactic over the course of only a few spins. Producer Johnny Jewel creates the experience through a diversity of song types, each of which fall somewhere within the pop-melody-to-instrumental-mood-piece spectrum. Toward the pop end are entry point tracks like "Kill For Love," "Back from the Grave" and "The Page," but as the album progresses it moves into more loosely structured, aesthetic-oriented pieces that distill the ambience of the pop songs into a handful of carefully chosen tonalities. The subtleties of these songs delay their gratification, but with time, a certain level of familiarity even gives new dimensions to the pop tracks that never failed to allure. I may not be able to remember exactly what it was like listening to Kill For Love for the first time, but the fact that I can't imagine what it will be like on the 100th go-round makes it one of the most exciting and engaging albums of the young decade. – Donny Giovannini
Video: Chromatics – "Back From the Grave"
Review
---
1. Frank Ocean – Channel Orange (Def Jam)
R&B albums come with certain expectations. There will be relaxed, snare-heavy beats; keyboards subdued in deference to the voice; sultry lyrics slinking through the octaves. On Channel Orange, Frank Ocean delivers the goods, but not after shaking them up, turning them upside down and stamping them with his own unique style. In a genre where singers often show off their range to the point where singing becomes less an art than an Olympic sport, Ocean spends much of his time in a near spoken-word cadence. His gorgeous and elastic baritone brings home choruses, and turns up like another instrument embedded in the mix throughout the songs.
To say the songs on Channel Orange follow a structure as mundane as verse-chorus-verse does a disservice to the ingenuity of the album. Even more standard pop songs like "Sweet Life," "Crack Rock" and "Super Rich Kids" take their time unfolding, and often meander into tangents of trip-hop, soul and blues. On "Super Rich Kids," when Ocean starts singing an interpretation of the chorus from Mary J. Blige's "Real Love," it hammers home just how much evolution has occurred within the genre in the last 20 years, and how big a role Ocean plays in that.
Channel Orange is a crossover album based on the concept of changing channels. Lyrically, Ocean switches between feelings of love, loss, longing and even a little socio-political commentary with an honesty and specificity that's rare in any style of music, never mind Top 40 R&B. Channel Orange grabbed headlines upon its release when Ocean announced that the unfortunately titled (but fantastically guitared) song "Forrest Gump" is in fact — as the lyrics imply — a love song about another man. The move was hailed as bravely progressive in a notoriously homophobic corner of the music industry. That's true, but it also proved a distraction from the fact that Channel Orange itself is a brave a progressive milestone from one of music's most exciting minds. – Liz Malloy
Video: Frank Ocean – "Pyramids"
Review