Sub Pop Records: 20 Essential Albums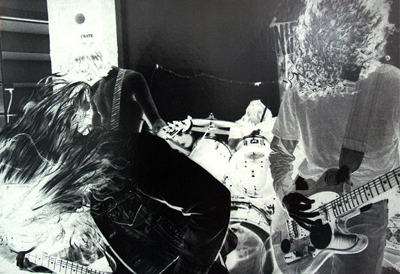 For a label that boasts a 75 cent Olympia beer vending machine in its office, Sub Pop still isn't quite old enough to drink. But since it's not actually a person, that's beside the point. This year, Sub Pop records turns 20 years old, and for an indie label of its caliber, that's quite an occasion to celebrate. In fact, the fine people at Sub Pop took it upon themselves a hell of a bash in Seattle, inviting damn near every band who has ever recorded an album on the Northwestern imprint to join in the festivities. (I mean, shit, they got Eric's Trip to play—how cool is that?)
To commemorate this event, I saw it only necessary to select 20 essential Sub Pop recordings to honor the work that they've been putting out over the years. Now, before you say "hey, wait a minute, (Blog/zine/newspaper) already did that!", keep in mind that Sub Pop has released hundreds of albums, all of them decent, many of them great, and at least 20 of them must-haves. Plus, this one is different. It's a bit more personal, and features a few surprises that some of the other tastemakers out there may not have chosen for their own. I mean, it still has Nirvana and the Shins on it, but if you can find a way to make a definitive list of Sub Pop's 20 best albums and not include them…well, I'll just assume you're lying.
Now sit back and enjoy while we gently take your skull for a ride:
Mudhoney – Superfuzz Bigmuff
It's probably best to start from the beginning. Mudhoney may not have technically been the first grunge band, but they're definitely one of the first, one of the most influential, one of the best, one of the most consistent and, last but not least, the longest running grunge band, as they're still cranking out fuzzbox anthems to this day. Superfuzz Bigmuff is pretty much the definitive grunge release, short but loud and chock full of great songs. And seeing as how Sub Pop re-released it as a double disc set just this year, you can now get it with all the trimmings, including a disc of live recordings, and early singles like the legendary "Touch Me I'm Sick."
Nirvana – Bleach
I think we can all agree that not including Bleach on a list of Sub Pop's best would be sacrilegious, if not illegal. Bleach wasn't necessarily Nirvana's best album, but considering what it started, it doesn't have to be. Recorded for $600 and a big distorted mess, Bleach showed hints of everything that Nirvana was about to become. There were punk-fueled rants such as "Negative Creep" and "School," meaty rockers like "Blew," catchy singles such as "About a Girl," and Sub Pop singles club debut "Love Buzz." Everybody knows this album front and back, and if they don't, well, sacrilege, illegality, etc. You get the idea.
Green River – Dry as a Bone/ Rehab Doll
On Sub Pop's website, the line above the tracklisting on Green River's Dry as a Bone reads: `before alternative sucked.' That pretty much well sums it up, though to the uninformed, Green River was essentially the flagship grunge band in Seattle. Featuring soon-to-be members of Mudhoney and Soundgarden (and a few later-to-be members of Pearl Jam) Green River played dense and meaty power chords and accessible melodies that ultimately came to be known as what we now (or at least in the '90s) recognize as `alternative.' But they're right, it did ultimately come to suck, and this band was doing it first.
Codeine – Frigid Stars
When introduced to the world in 1990, Frigid Stars revealed Codeine as the slowest of the slow. A glacial, dreamy rock band with big guitars but no particular hurry to get to wherever it is they're going, Codeine were something different. Chris Brokaw's guitars were distorted and reverberated (which would come to be a trademark in Come, as well), while songs rarely pushed past 50 bpm…if that. But this slow and steady pace left room for melodic crystallization. Where so many others rushed toward a finish line in each song, Codeine took their time, allowing scenery to unfold and space to open up. It's amazing just how breathtaking art can be when you don't rush through it.
Vaselines – The Way of the Vaselines
The Vaselines were reportedly Kurt Cobain's favorite band, often cited in interviews and covered not once, not twice, but thrice, by Nirvana. Though their music, aesthetically had little in common with Nirvana's, their sense of humor and knack for melody definitely spilled over into Kurt Cobain's artistic vision. A more contemporary reference point for the Vaselines' catchy Scottish pop would be Belle & Sebastian, and it would be of little surprise if I were to hear that Stuart Murdoch was a fan as well. Nonetheless, this collection of the band's work may not be a studio album proper, but each track is a gem, and it's easy to see what Cobain saw in this jangly pop group.
The Afghan Whigs – Congregation
The Afghan Whigs brought a couple of notable things to the table when the joined Sub Pop's ranks: 1.) ballads and 2.) nudity (both on album covers and in videos). But more importantly, they took the grungy sound that so many of the label's best bands fine-tuned and added a sexy swagger to it as well. Tracks like "Turn on The Water" and "I'm Her Slave" combined a dirty rock sound with funk and soul for a late night trip into intoxicated, sexual predatory darkness. It makes perfect sense that the band would sign to a major label shortly thereafter; after this record, who wouldn't want the Whigs on their roster?
Mark Lanegan – Whiskey For the Holy Ghost
I couldn't very well include one Gutter Twin and not the other, now could I? Didn't think so. While Lanegan was very much a part of the grunge scene as frontman for The Screaming Trees, his solo material was something very different altogether. He played a dark and ragged sort of balladry, equal parts Nick Cave, Johnny Cash and Tom Waits, which was a markedly different sort of project than that with his full-time band. He's since gone on to be a member of Queens of the Stone Age, among other various and diverse projects, but there's no denying the eerie power of Lanegan's tobacco-stained midnight laments.
Sebadoh – Bakesale
Sebadoh's had some great records in their day, and the peak of their creative output was this 1994 gem, which even found them a radio hit in "Rebound," and prime time cable exposure on the short lived `Live from the House of Blues.' Though some may side with Bubble and Scrape, seeing as how it was the last album to feature the band's original drummer Eric Gaffney, Bob Fay holds his own here, and Lou Barlow and Jason Loewenstein's best songs, pretty much ever, are on this very record. It's a lo-fi masterpiece, plain and simple, chock full of emotion, fuzz and snot. From peppy singles like the aforementioned "Rebound" and "Skull," to the high speed "Give Up" and intense "Not Too Amused," there's nary a bad track. Plus, I can also say this album opened me up to about 50 percent of what I listen to now, so that's something to be proud of.
Velocity Girl – Simpatico
Bringing yet another micro-genre to the label in the early to mid-90s, Washington, D.C.'s Velocity Girl played a shoegazer-meets-power pop sound that critics dubbed "bubblegrunge." That sound reached a new peak of glossy perfection with the John Porter-produced Simpatico. Tracks like "Sorry Again" and "Rubble" revealed just how deep this band's hooks sink in, and "Hey You, Get Off My Moon" found Sarah Shannon's sweet and sugary vocals awash in a dreamy ballad of sorts. Velocity Girl were one of the most unabashedly fun groups to have emerged from the Seattle imprint, and to date there hasn't been a band since with as much bubbly giddiness.
Six Finger Satellite – Severe Exposure
A silvery reflective album cover, a CD with two sides that look exactly the same, hardly any liner notes—just what, exactly, were these guys trying to pull? Once the correct side of the disc makes its way into the player, then everything comes into focus. This synth-punk foursome wielded Moogs and noise like nobody's business, churning out a snotty and inhuman noise rock brand, equally inspired by Devo and Chrome. Pre-dating the dancepunk movement by a few years, 6FS didn't exactly make music you could groove to, but rather music you could squirm, write and flail to. That's a form of dancing, right?
Spinanes – Arches and Aisles
Portland's Spinanes were one of the more unusual bands signed to Sub Pop in the '90s, originally consisting of Rebecca Gates and Scott Plouf, and playing minimal, but gorgeous indie pop, sans bass. After Plouf left the band to play in Built to Spill, Gates continued on with the Spinanes as a solo project, turning in the sexiest and arguably best album in 1998's Arches and Aisles. While Manos and Strand both were wonderful in their own rights, the third in the series was a bigger sounding, more sparkling affair. Pop rarely achieves this level of elegance.
Sunny Day Real Estate – How It Feels to Be Something On
Sunny Day Real Estate released three stellar albums on Sub Pop in the '90s, and each one most certainly deserves to be here, if for no other reason than that they all boast some incredible songs. But instead of opting for the influential Diary or fan favorite LP2, I had to select my own favorite, How It Feels to Be Something On. In a manner of speaking, this was their OK Computer. It was a bolder, more ambitious record, with the distortion turned down just a bit, and ten powerful tunes that showed just how far this band's creativity could stretch. I still get a rush hearing "Pillars."
The Shins – Oh, Inverted World
Ask me on a different day and I would probably tell you that Chutes Too Narrow is my favorite Shins album. Actually, I'm almost certain it is right now; no matter. By that point I still knew what to expect. On debut Oh, Inverted World, the then Albuquerque-based foursome seemingly arrived without warning, showing up with eleven magnificently crafted pop gems that almost certainly came from a different era. In fact, I would have bet money that "New Slang" was a cover of some great, lost song from the `60s. I would have lost that money, but it wouldn't have mattered as its sweet, innocent melodies would have kept me from getting too upset anyhow. Though that may be the song most frequently mentioned, and listened to, from this set, it has more than a few stiff competitors for one's attention, namely opener "Caring is Creepy," "Pressed in a Book" and the amazing closer "The Past and Pending."
The Postal Service – Give Up
Maybe I'm a big dork for loving this album. Maybe I'm a sentimental goofball. But there's a certain warmth and intimacy about The Postal Service's debut. When Ben Gibbard and Jimmy Tamborello came up with the idea to collaborate via mail on an electronic pop record, it was an intriguing concept, with proof of its potential for success in prior collaboration "(This is the Dream of) Evan and Chan." Not only were there three outstanding singles—"Such Great Heights," "The District Sleeps Alone Tonight" and "We Will Become Silhouettes"—but between those tracks are seven more impeccable gems, from the symphonic disco of "Nothing Better" to the hypnotic "Natural Anthem" and the 8-bit surge of "Brand New Colony." And, for my money, it's one of the only electronic albums that sounds good while you're curling under a blanket on a rainy day.
Iron & Wine – The Sea and the Rhythm
When Sub Pop signed Florida cinematography professor Sam Beam, a.k.a. Iron & Wine, in the early '00s, it introduced us all to a truly special and unique musician. His entire recorded output is pretty spectacular, to the point that it became particularly difficult to select an album to be represented here. The Creek Drank The Cradle was his stellar, home-recorded debut; Our Endless Numbered Days revealed higher fidelity and even some percussion here and there; and The Shepherd's Dog even found Beam rocking out. But for a sole representative, I chose to go with an EP, The Sea and the Rhythm. It's short, certainly, but gorgeous, among the most beautiful music Beam has made. If for no other reason than for hearing the title track and "Jesus, The Mexican Boy," this record is a necessary addition to any collection.
Constantines – Shine a Light
D.C. post-hardcore intensity, blue-collar earnestness and punk rock snarl made The Constantines' second album, and debut for Sub Pop, an instant classic upon its release. While they've made a reputation as an explosive live act through the years, the one album that actually came close to capturing that inflammability was Shine a Light, the kind of album that surges at full steam at almost every turn. And even at its quieter moments, one can easily feel the tension about to break at any second. Everybody shout along: "Nighttime, anytime…it's alright!"
Comets on Fire – Blue Cathedral
In the label's 20 years, Sub Pop put out quite a few records by bands who drew influences from Led Zeppelin and Blue Cheer, but by the time they came around to signing Comets on Fire, most of them had been long disbanded. Of course, when Comets rolled in, with new fifth member Ben Chasny in tow, they brought with them tons of noise, an Echo-plex that could destroy planets, and some of the heaviest, most insane psychedelic rock music to have ever been slapped with that black and white logo. Not that there weren't lighter moments—"Pussy Foot The Duke" rode a playful groove and "Wild Whiskey" is a folky delight—and they're certainly needed after such a mind-warping experience as "The Bee and the Cracking Egg."
Sleater-Kinney – The Woods
Before even landing on Sub Pop, Sleater-Kinney had already released six albums, most of them essential, or at the very least, awesome. Yet after making the label shift and spending some quality studio time with producer Dave Fridmann, the three ladies from Portland summoned a mighty rock `n' roll beast from within, creating their most intense and muscular album to date. The Woods is like listening to Led Zeppelin, Sonic Youth and Television all at once, with a feminine touch. The vinyl version is particularly wonderful, as the red and green LPs are not only gorgeous, but the sound contained therein is an even greater leviathan. It was sad to see the trio split after this release, but at least they went out with a bang.
Wolf Parade – Apologies to the Queen Mary
Once Isaac Brock started doing some headhunting for Sub Pop, some truly interesting acts began to emerge on the label's roster. The best band he brought to the table, however, was Montreal's Wolf Parade. With Apologies to the Queen Mary, these four Canadian miscreants unleashed a fuzzy and fun M-80 packed full of unshakable melodies, buzzing guitars and organs, and an earnest but fun spirit. The two-headed songwriting beast of Dan Boeckner and Spencer Krug created a scruffy rumble of sound that, at its rowdiest, barked mercilessly, and at its most serene, could bring a tear to one's eye (see "I'll Believe in Anything").
No Age – Nouns
While it may seem a bit premature to lump a two-month-old album in with a list of the 20 best Sub Pop albums of all time, No Age certainly deserves the honor. As a matter of fact, several artists that have released albums on Sub Pop this year—Gutter Twins, Ruby Suns, Fleet Foxes—actually were competitive as well. But No Age is just so damn invigorating. Nouns is a kick in the ass to punk rock, fired up and drenched in noise and feedback. Like a bite-sized Sonic Youth, a sneering My Bloody Valentine, or a slightly less brutal Hüsker Dü, No Age is making punk worthwhile again.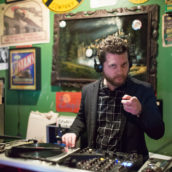 Jeff Terich
Jeff Terich is the founder and editor of Treble. He's been writing about music for 20 years and has been published at American Songwriter, Bandcamp Daily, Reverb, Spin, Stereogum, uDiscoverMusic, VinylMePlease and some others that he's forgetting right now. He's still not tired of it.