Treble's Top 100 Guitarists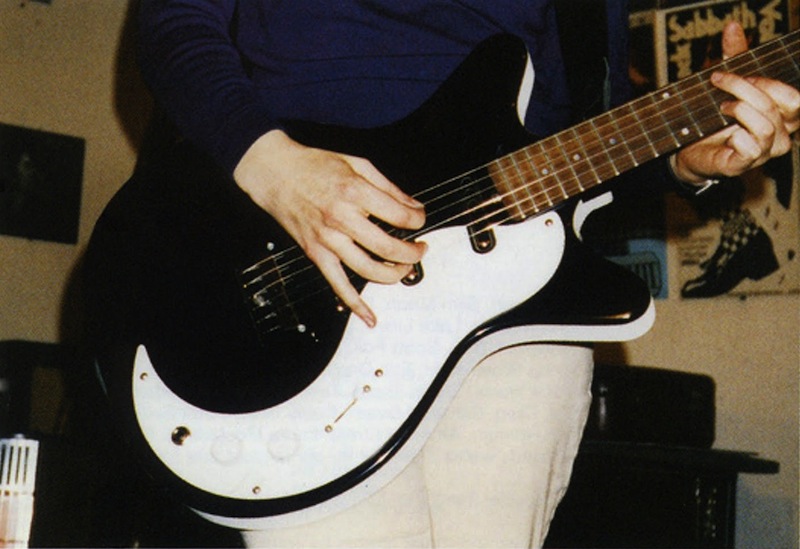 First we honored our favorite drummers, assembling a round-up of those who bring intensity, pacing and danceability to the songs that move us. And then we honored our favorite vocalists, whose emotive or powerful pipes brought gravitas to some of those very same songs (and quite a few different ones, come to think of it). So it eventually had to come to this: Our favorite guitarists.
It's no secret that we like music made with guitars. Indie rock, punk and metal comprise at least 50 percent of what we cover—maybe even more than that—and who among us doesn't like to hear a badass guitar slinger rip a righteous solo? We're only human! So this time, we're diving in with a list of what we consider the 100 best guitarists. We whittled them down from a longer list, and some favorites did end up being cut as a result of the democratic process—think of it like a simultaneously civil and chaotic primary. Before we dive into the full list, however, Paul Pearson has written a dissenting opinion on those who, well, wank:
***
Upon final tabulation of this list of Treble's top guitarists of all time, our quality control department noted that our collective had neglected to nominate even one guitarist renown for his or her—how do we put this amicably—let's say, excessive abilities at fretboard velocity.
We hope you get the sense of who we're talking about. That coterie of guitarists, most of them having bloomed in the 1980s, whose primary qualities in the realm of musicianship consisted of rushing headlong in rapid fire—32nd notes or quicker, for those of you into the lingo—often towards the upper frequencies of their chosen instrument, producing skittish wails of piercing ululation whilst contorting their visages into expressions of extreme discomfort.
You know—Yngwie Malmsteen. There, I said it. Better than that, I actually spelled it. Thanks, Google! I can't speak for the entire Treble voting bloc of course, but I can tell you why I left those celebrated figures off my list in hopes that it coincides with the general group-think here:
Look. Dexterity is nothing to sneeze at. We admire it. It's a great skill to have when you're rushing towards a closing bus door and your backpack's come loose, and you manage to grab onto a vertical pole while swinging your backpack away from human contact, pivoting and correcting the center of your body weight so you don't hit anybody or take a tumble yourself, and arrive at stasis as the bus moves forward. Or when you're running from DFA agents, or whatever kind of obstacle-based activity you might amuse yourself with. We applaud your lithesome, gazelle-like grace of movement.
No doubt, guitarists who take an athletic, peel-squeal-and-release approach to their instruments have spent years perfecting their craft. They have locked themselves in squalid chambers with their axes, their amplifiers and their steel wills. I do not for a second make light of their muscular development, nor their single-minded determination. Neither do I mock fans of theirs whose emotional cores are fully sated by the breakneck rushes and constant acceleration of their heroes' digits. Well, we mock them a little, but try to keep it at mumble level.
However, the mind-swell of Treble, for our economic benefit or drought, force ourselves and more inconveniently our families and friends to consider context as much as possible when evaluating our musical favorites. And more often than not, the speed demons who have willed themselves into the express checkout lane of artistic accomplishment produce work that's only really about itself. The finish line is the statement. Although you'll find a lot of virtuosos on this list, the elements that we considered when tallying our final results included a hefty dose of what the guitarists actually conveyed in a narrative sense with their efforts. Regretfully or not, "Squeeeeeeeee-jibba-jibba-jibba-jibba-jibba-nuhnuhnuhnuhnuhnuhnuhnuhnuh-squeeeeee" was not a message I considered of great import, although now that I just typed it out I'm kind of fond of it.
Anyway, I hope that explains it to some degree. Let's face it: There are much cheaper, quicker, manhour-effective and more consistent ways to achieve orgasm, so just leave me some napkins and take Mr. Vai with you. We apologize for the inconvenience.
Cheers! – Paul Pearson
(Editor's note: Listen along with our Treble's Top 100 Guitarists playlist on Spotify!)
---
100. Vini Reilly
One of the most underrated guitarists of his era, Vini Reilly is used to being overlooked. His creative work on Viva Hate remains uncredited except as a session musician—which, when taking Moz's and Stephen Street's degree of ego inflation into account, should come as no surprise—and his Factory Records masterpiece, The Return Of The Durutti Column, was largely overshadowed by a-certain-black-album-with-white-radio-waves-in-the-center. But his playing went beyond the confines of the post-punk scene, inspiring even the likes of John Frusciante and Brian Eno. – JM
Air guitar moment: Dreamy fingerpicking on The Durutti Column's "Sketch For Summer."
---
99. Nancy Wilson
It's hard to imagine what rock music would be without "Barracuda," though while Roger Fisher's familiar riffs are enough to get a crowd moving, it's just one aspect of the ridiculous amount of musicianship at Heart's disposal. Nancy Wilson, primarily employing an acoustic guitar to showcase her skills, has no shortage of her own shining moments on record, be it "Crazy On You," with its ridiculous plucking acoustic intro, or "Magic Man," which gives a peek into Wilson's talent in a mostly male-dominated genre. Wilson's playing is unparalleled and it certainly has to be considering her fancy fretwork matches the thunderous voice of her sister Ann. – GM
Air guitar moment: Wilson's acoustic alchemy on Heart's "Crazy on You."
Correction: We incorrectly credited Wilson for the lead riff on "Barracuda." It was played by Roger Fisher.
---
98. Angel Olsen
Angel Olsen garners attention for her siren-like alto and striking lyricism, but don't let that distract you from her ridiculous finger-picking chops. After all, before her illustrious solo career, Olsen spent some time as a player for Bonnie "Prince" Billy. On acoustic and electric alike, Olsen combines a delicate hand, obvious influences from indie-folk heroes like Elliott Smith and James Mercer with less obvious aspects borrowed from country and folk legends spanning the years. – ATB
Air guitar moment: The restrained twang of "Lights Out".
---
97. Gemma Thompson
A student of the gothic rock guitar school of players like Daniel Ash, Gemma Thompson's eerie, abrasive style is as much about crafting a mood as it is delivering a melody. She layers on the reverb and delay in lethal amounts, building up a cloud of ghostly ambience that gives way to powerfully punchy riffs with seemingly no warning. Though vocalist Jehnny Beth is the most animated of Savages' members, Thompson's intense sonic creations more than make up for a subtle onstage presence. – JT
Air guitar moment: The catchily creepy riffs of Savages' "She Will."
---
96. Norman Westberg
Having played on almost every single full-length to date, Norman Westberg's guitar sound more or less defines the Swans sound, from the brute, uncompromising no-wave of their early years to the monolithic grandeur of their mid-late period. And yet, the lead guitarist for Swans doesn't even consider himself to be that skilled of a musician—at least classically speaking, anyway. That being said, don't take Westberg for granted, because his guitar will crush you—whether that's emotionally or physically, or better yet— both. – BB
Air guitar moment: Swans' graceful gothic psychedelia on "Love Will Save You."
---
95. J Robbins
J Robbins' guitar shrieks, scrapes, pierces and punches—you'd almost think his aim was to find the most roundabout, physically demanding way of making those six strings produce a melody. And yet with bands such as Jawbox and Burning Airlines, Robbins' barbed-wire jangle is almost invariably just a subtle camouflage for some of the strongest hooks of the post-hardcore era. His performance is less about shred than sound, of finding something beautiful amid a cleverly deceptive chaos. – JT
Air guitar moment: The bends, crashes and feedback during the solo of Jawbox's "Savory."
---
94. Nels Cline
Cline had been lending his vast-ranging mad scientist talents to musical projects from every corner of the map for over 20 years before Wilco came calling in 2004. Whether as part of his own free jazz band The Nels Cline Trio, or alongside the folk pop of Rickie Lee Jones, or the proggy post-punk of fIREHOSE, his presence always changed the tone of the finished product. He has brought all of these experiences to Wilco for 10 years, and he, like the band, continues to shape-shift. – MP
Air guitar moment: The light psychedelia of Wilco's "Impossible Germany."
---
93. John McGeoch
Having influenced the likes of Radiohead's Jonny Greenwood (compare "Shot by Both Sides" with "Just") and being dubbed the "Jimmy Page of new wave"—no doubt as a result of his penchant for titanic riffs—it's a wonder John McGeoch didn't rise higher than 93 on our list. High on melody and serrated at the edges, McGeoch's post-punk performances were transformative, lending a blazing heroism to a genre better known for rhythm and atmosphere. With a resume that includes Magazine, Visage, Siouxsie and the Banshees and Public Image Limited, it's only a slight exaggeration to say that all of the best post-punk riffs were played by him.  – JT
Air guitar moment: The escalating opening riff of Magazine's "Shot by Both Sides".
---
92. Marc Ribot
Playing sideman to a singer/songwriter like Tom Waits means being able to understand directions such as "play it like a midget's bar mitzvah" and transform it into something you can actually hear. The resulting translation on Waits' 1985 album Rain Dogs led to a 30-year working partnership and seven albums recorded together. His bluesy, Afro-Cuban-inspired jazz guitar style is what he's best known for, both with Waits and his Prosthetic Cubans, though he's done forays into free jazz and no wave as well. That's about as versatile as it gets.  – JT
Air guitar moment: The noir-jazz solos throughout Tom Waits' "Jockey Full of Bourbon."
---
91. Andy Larocque
If Mercyful Fate, the band that made King Diamond metal icon, is partially credited with the creation of black metal by the tone and symbology of their records and shows, Andy Larocque finally matched them with sound. Blending shred, prog, neoclassical and metal playing together wasn't new even in his time, but bending them towards a sustained, developing mood was, and was one of the first signs that showed metal, especially extreme metal, was an artistic space that had something to say. – LH
Air guitar moment: King Diamond's dark metal grandeur on "The Invisible Guests".