Treble's Top 100 Guitarists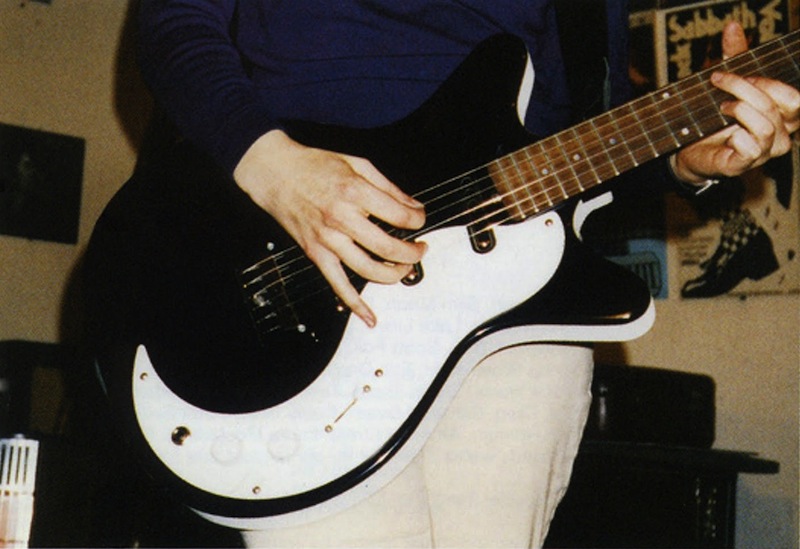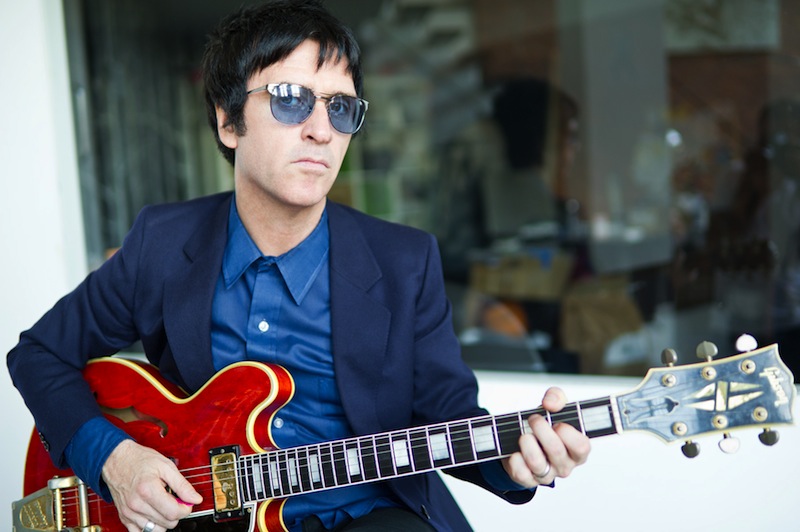 10. Johnny Marr
In 1983, guitar heroes did not look or sound like Johnny Marr. A scrawny, fop-haired kid from one of Manchester's least reputable areas declared his arrival with the jangled sirens that open "This Charming Man"—a riff that had more to do with West African highlife music than it did with Jimmy Page. Twinned with the working class romanticism of Morrissey's lyrics, the axis that defined The Smiths was so unfamiliar and original that 30 years of poor imitations have not diminished it.
Marr's set out to embody the antidote to rock god posturing, just as The Smiths' aesthetic was a response to the pretensions of the New Romantic fluff bands. Most Smiths songs make more sense if you consider Marr's guitar parts to take the role of the lead vocal, whilst Moz's parts become more of a choral backing, or string section. And The Smiths are a more eclectic band than most—the rockabilly of "Rusholme Ruffians," the funk of "Barbarism Begins at Home," and whatever you describe the majesty of "How Soon Is Now" as.
When internal friction finally cracked The Smiths apart, Marr continued to indulge his eclecticism. He brought a new dimension to every great group he played with—Talking Heads, Pretenders, The The, Modest Mouse, the list goes on. In recent years, he finally pursued the solo career that he had been resisting, and on 2013's The Messenger, he released "New Town Velocity," perhaps the pinnacle of his songwriting career. Long may it continue. – MP
Air guitar moment: Manchester post-punk set against a Bo Diddley beat on The Smiths' "How Soon Is Now".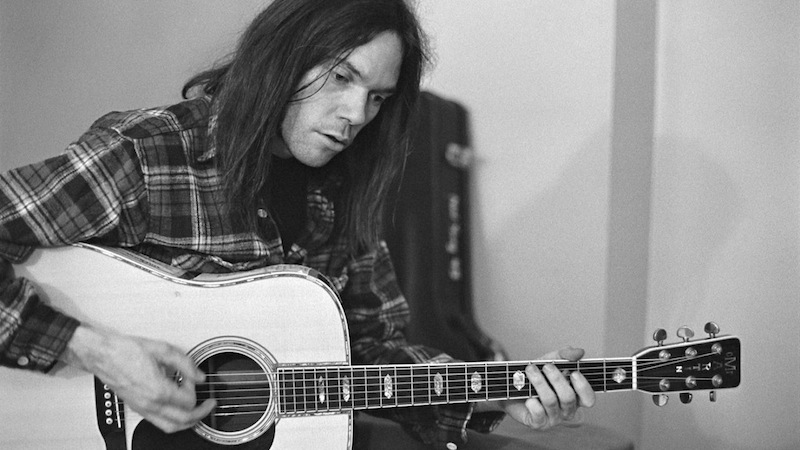 9. Neil Young
Blown down from Canada like a cutting cold front, Neil Young embraced and came to embody folk- and country-influenced acoustics, as well as harder electrified rock that's at home in both barrooms and protest stages. If you forgive them their polar-opposite politics, you could call Neil Young rock's Clint Eastwood. Each spent decades building up a critical following and artistic reputation until, in the 1980s and 1990s, they earned enough cachet to really beginning picking and choosing their projects, critics be damned—although those critics usually came around anyway to deliver many-star reviews and occasional trophies. They're grizzled veterans, each as likely to tell a tale of longing and history as they are to wag a finger and chase you off the lawn, each comfortable with trial-by-fire mentorship of a new generation. (With Eastwood it's daughter figures such as Hilary Swank and Amy Adams, with Young it's the prodigal sons he saw in Pearl Jam.)
Because his wheedling vocals make him never your first choice for a singer, it's really Young's guitar playing and arrangements that define his career. He cycles through sounds and players with ease, almost at will—an oldies mainstay with Buffalo Springfield and Crosby Stills Nash & Young, a fan of the squeals of psychedelia, metal and grunge with Crazy Horse, and owning his versatile solo output without apology. This is a man whose individualist principles led him to fuck with the Geffen and Reprise labels through the 1980s, releasing an album focusing on synths instead of guitars (Trans) and then delving into rockabilly (Everybody's Rockin'), country (Old Ways), and blues (This Note's for You), before the rejuvenating diptych of Freedom in 1989 and Ragged Glory in 1990. It's a microcosm of almost 50 years littered with milestones ranging from "Cinnamon Girl" to "Rockin' in the Free World" to "Who's Gonna Stand Up?". – AB
Air guitar moment: Neil Young and Crazy Horse throw down some ragged glory with "Fuckin' Up".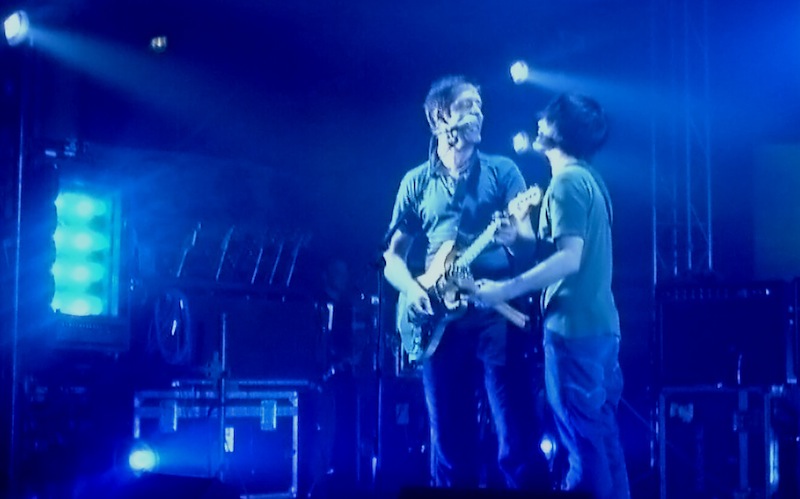 8. Jonny Greenwood/Ed O'Brien
Since they hail from a band of multi-instrumentalists, it's unfair to give O'Brien and Greenwood credit for every great guitar moment in Radiohead history, just as it's not right to confine them to the role of guitarists alone. But fuck do the two play well together, Greenwood's increasingly classical-influenced style intertwining beautifully with O'Brien's effects-driven approach. Even when Radiohead was mounting a three-guitar attack, their interplay was so intricate that the playing was never redundant or un-enjoyably over the top. And after 30 years of innovation, the duo only continue to impress with what they're able to conjure up. Take, for instance "2+2=5", which starts with O'Brien's twisted, echo-enhanced tapping underneath Greenwood's comparatively straightforward playing. As the song builds, they build layer after layer of unbelievable sounds to expand into the song's hard rocking finale. And while Yorke certainly pulls his weight on the track, it's the weird little moments in the background—many of which you might not even recognize as guitar at first—that have helped Radiohead to stand out from the crowds of weirdo alt-rock bands over the years. O'Brien and Greenwood would have undoubtedly made this list as individuals. Together, they are unstoppable. – ATB
Air guitar moment: "2+2=5"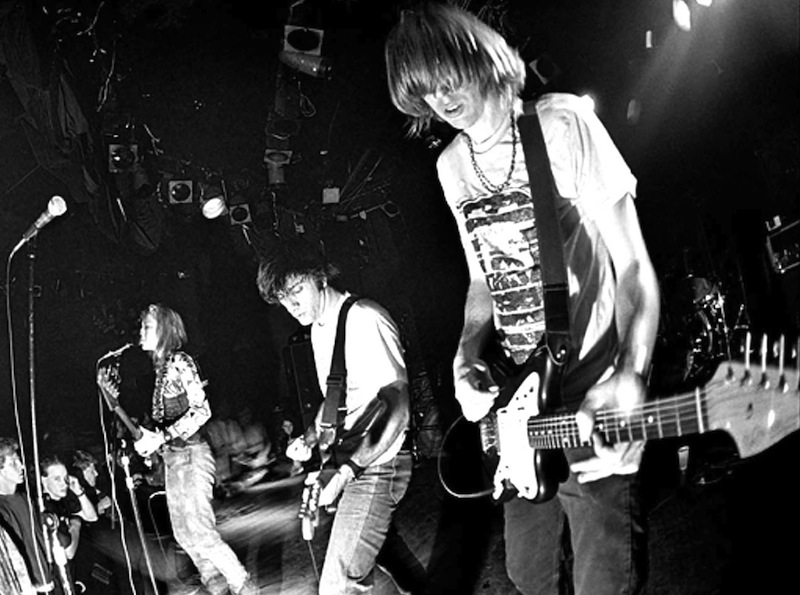 7. Thurston Moore/Lee Ranaldo
If no guitarists can play a sounds quite like that of Sonic Youth's founding axemen, Lee Ranaldo and Thurston Moore, it's at least partially because no actual guitars sound quite like theirs. In their early years, the New York no wavers and avant garde punks employed various alternate tunings, amassing an ever-growing arsenal of cheaply made, uniquely tuned and prepared guitars—sometimes with pieces of metal under the strings or on the pickups. Sometimes they employed drumsticks as percussive devices in an effort to make a sound like church bells, though regardless of the desired outcome, their gnarliest experiments could often end up strangely heavenly.
For Sonic Youth, playing conventionally was rarely part of the plan and it showed. There are few moments in their career that aren't fraught with feedback or fucked effects, moments of Branca-inspired dissonance or spacious drone sequences. Even arguably their most immediate track of the '90s, "100%," has as much noise as actual chords. To innovate, Thurston Moore and Lee Ranaldo burned down everything we knew about guitars. The strange, alien structures they built on top of the ashes made them both icons and iconoclasts. – JT
Air guitar moment: The increasing intensity and tortured beauty of "Expressway to Yr Skull."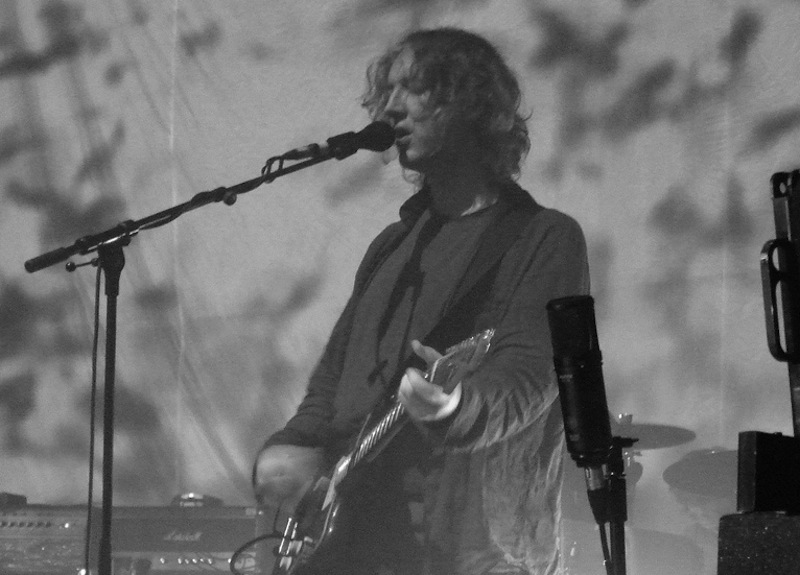 6. Kevin Shields
The renowned "glide guitar"—a technique aptly christened by the man himself in a 1990 interview—has been emulated ad nauseam over the course of last two and a half decades. Shields single-handedly crafted a new genre overnight after the November release of Isn't Anything in 1988, and since then, even their shoegaze cohorts have admitted to playing catch up. But what further cemented his discordant sonic ambition was Loveless, an insular head-rush of wavering fuzz and reversed reverb pushing back onto itself. What makes Shields so great isn't his choice of pedals, or even the chord shapes he chooses (some will say that they are laughably simple, and even he admits that he uses alternate tunings to prevent tendonitis in his hands), but his attention to what those swirling tempests of noise could convey. Who else would drench a melancholy acoustic ballad in a molten bath of distortion, as it the case in their seminal track "Sometimes"? While everyone else that he inspired cowered behind multiple studio tracks, whispery vocals, and delay pedals to elicit a dream state, Shields' setup has remained relatively simple, and his playing aggressive even. At the end of the day, he is more Poison Ivy or Ron Asheton than he is Robin Guthrie or Spacemen 3; a perfect balance between the Dionysian acts of later post-punk and noise rock, and the Apollonian sensitivity of bands like The Wake or Galaxie 500. And rather symbolically, he showed a generation of musicians that creativity, not virtuosity, defines the greatness of a guitarist. – JM
Air guitar moment: The crunch and drift of My Bloody Valentine's "Only Shallow."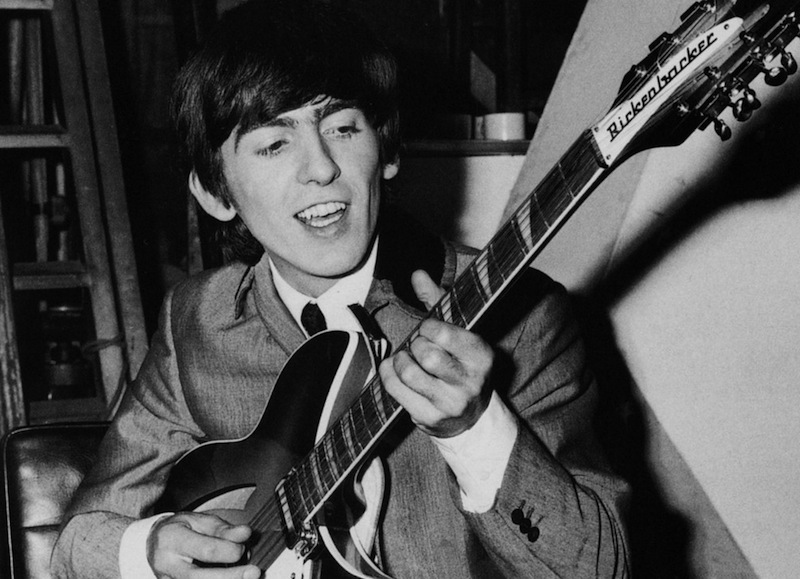 5. George Harrison
By virtue of playing in a band whose music is here, there and everywhere, George Harrison would by default be a world-best guitar everyman. But let's not forget that his contributions to The Beatles' blues and ballads are among their most beloved—"Something," "Taxman," "While My Guitar Gently Weeps"—and that it was his embrace of Eastern philosophies and instrumentation that helped transform the Fab Four from mod scoundrels to unrepentant hippies. The influences of Hare Krishna, Hinduism and transcendental meditation would be felt and heard long into his solo career. Sitar, slide guitar and the keys and progressions of Indian classical music quietly opened the eyes (and ears) of Harrison's fans within Beatlemania and beyond it.
Harrison would also sign on to pluck strings in sessions for his Beatles bandmates (including "Instant Karma" by John Lennon's Plastic Ono Band), their friends (Billy Preston), contemporaries (The Rolling Stones' Ron Wood), and inspirations (Ravi Shankar), as well as a broad list of other big names as the decades rolled on (Hall and Oates, Belinda Carlisle, Jeff Healey, Carl Perkins). And his time with The Traveling Wilburys wove a seemingly endless web of guitar parts for him and his "brothers": Dylan, Orbison, Petty, Jeff Lynne. He held a philosophy of unending consciousness and permutations of experience; his catalog of sound is manifest evidence of that belief system. Put bluntly, George Harrison's legacy will never die. – AB
Air guitar moment: Harrison's joyfully intricate acoustic riffs on The Beatles' "Here Comes the Sun".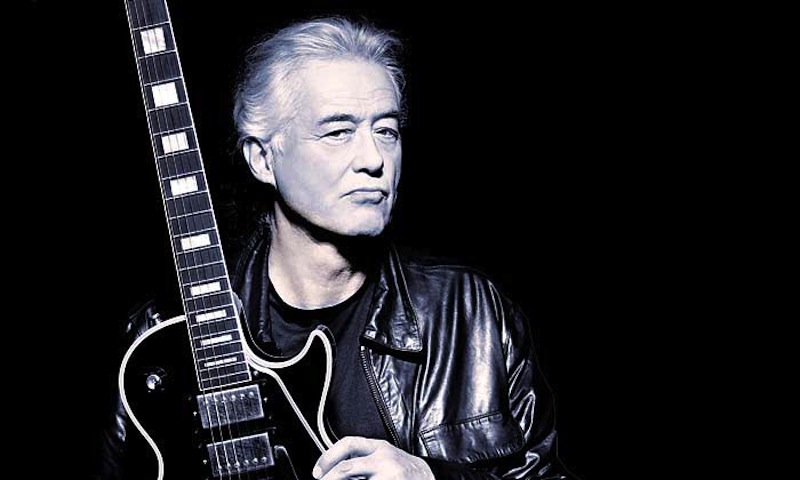 4. Jimmy Page
Jimmy Page is a goddamn thief who owes much of his best work to robbing multiple bluesmen wholesale, from Willie Dixon to Muddy Waters. He also may be the greatest thieving guitarist of all time. What Page built from those blues foundations would itself become essential to most rock music that followed. You can easily argue that "Whole Lotta Love," "Black Dog," "Immigrant Song" and "Kashmir" belong on a list of the 20 best rock riffs ever, and that the first and third of those are top-five material. The influence of Led Zeppelin and Page is audible in metal, alternative, punk, post-rock and more.
Page's work for Zeppelin is epic in scope and nearly limitless in its variety. The band featured a rhythm section and singer who were themselves all-time greats, but if you subbed in even a pretty good guitarist, it'd lose nearly half of its power. Songs like "Dog," "Love" and "The Lemon Song" are the purest form of cock rock and the most enjoyable—comparable machismo-laden bands like AC/DC and Aerosmith don't have the same appeal because their shit lacks the depth and ambition of Page's axe work. He could create moods of abject terror on "No Quarter" and "Dazed and Confused," utter beauty on "Going to California," "Thank You" and "That's The Way," reggae-lite euphoria on "D'Yer Maker," lovelorn melancholy on "Tangerine"… I could go on but I have a word-count limit. – LG
Air guitar moment: Riffs, solos and some nice panning on Led Zeppelin's "Whole Lotta Love."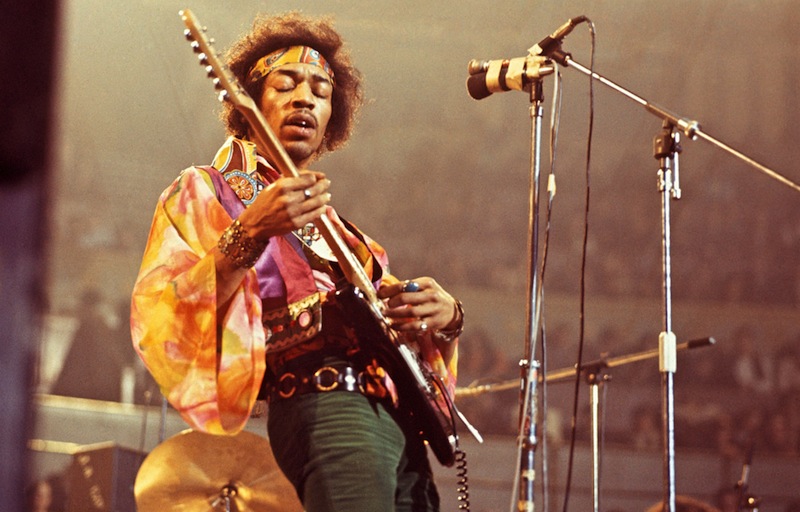 3. Jimi Hendrix
All our ideals and conceptions of rock guitarists as they exist started with Jimi Hendrix. He was the first rock star to share frontman duties with an instrument. He unlocked the six-string's potential as a conduit for uncompromising expression. Hendrix's guitar could be a weapon of utmost lethality or a bright, soothing source of divination. He was so open-minded about guitar that he knew when he had to set it on fire.
What Bob Dylan did for rock lyrics, Jimi Hendrix did for rock guitar: quadruple its vocabulary. He took the suppressed rage of a thousand Delta blues players and exploded it onto the stage, far before many listeners were ready. With the chords behind the verses of "Purple Haze" Hendrix essentially invented funk, and his blinding storm throughout much of his Electric Ladyland album set the tone for almost all rock, metal and blues playing for the following 20 years. Under Hendrix's hands the guitar could be both a chalice for holy ritual and a blowtorch for mowing down urban landscapes. His enraged solos as on "Voodoo Child (Slight Return)" were the only acts of war the hippies could embrace, and his lyrical bliss as on "Little Wing" was the only peaceful resolve most hard rockers could endorse.
The impossible scope of the body of work Jimi Hendrix left behind makes it hard to picture what other creations he might have made if he'd lived longer. But it's almost certain some of them still haven't been invented yet. – PP
Air guitar moment: Fiery psych-blues on Jimi Hendrix's "Voodoo Chile (Slight Return)".
2. Robert Fripp
Some might consider it unfair that Robert Fripp's best-known guitar work isn't with the band he devoted decades of his life to, King Crimson. It's on David Bowie's "Heroes": The reverb-heavy leads on the title track alone are ingrained enough in the consciousness of popular music to guarantee that Fripp will never be unheard. Even if he'd just been a session legend and invented the Frippertronics tape-loop system of ambient sound creation, Fripp would have a place on this list. But, of course, he did so much more.
Plenty of post-rock and avant-garde musical artists owe a considerable sonic debt to King Crimson or Fripp's various collaborative efforts—particularly the haunting sounds he provided to Brian Eno on songs like "Here Come The Warm Jets" and "St. Elmo's Fire." His style on the essential Crimson albums isn't much different from what he'd provide in his best-known sidework: improvisation-heavy, sharply distorted, influenced by free jazz and classical as much as blues and psychedelia. Although the riffs and leads on "21st Century Schizoid Man" are some of rock's most iconic, Fripp had little to no interest in conventional ideas of how to use the guitar, introducing the folk crosspicking style to the rock canon and often eschewing traditional tones and time signatures for unpredictable arrangements that would baffle many guitarists attempting to emulate them. – LG
Air guitar moment: Fripp sustains a truly heroic riff on David Bowie's "Heroes."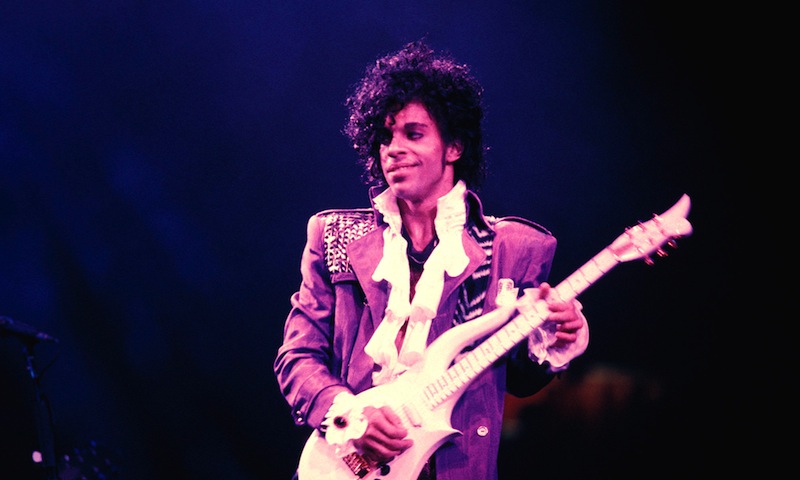 1. Prince
On Prince's legendary 1984 album and soundtrack to his debut (semi-autobiographical) feature film, Purple Rain, there's at least one moment of unflinching, immodest shred. Prince lets out a brief but impeccably performed solo during the opening moments of "When Doves Cry." He surges into a fiery trail of fretboard pyrotechnics on "Let's Go Crazy." And you better believe there's one hell of a guitar solo during the epic title track. And this is just on one album—before the legend of Prince grew into the enduring one we know today. The Prince that upstaged the Super Bowl during a rain-soaked halftime show. The Prince that dropped an emotional, psychedelic bomb of a solo on "While My Guitar Gently Weeps" at a Rock and Roll Hall of Fame tribute to George Harrison. The Prince that Eric Clapton happily deferred to as the "best guitar player alive" once in an interview.
Now, Prince was definitely a showman—you wouldn't improvise a significant portion of every live show if you weren't—but as a songwriter he reined in excess. His four-minute pop songs were pretty consistently better than most, particularly in the '80s when his writing credits were all over the charts. Even more than that, Prince proved repeatedly to be an all-around musical talent, having played 27 instruments on his debut album alone. Twenty-seven. Even among the talent throughout this list, Prince holds an almost mythical talent and seemingly superhuman ability. Guitar was just one aspect of his talent, but given that it was his chosen instrument throughout his career, it's a pretty important one. When Prince passed away earlier this year unexpectedly at age 57, the world seemed to stop for a couple days. During his life, Prince had few if any peers. To date, we're still waiting on a worthy successor. – JT
Air guitar moment: Prince and the Revolution punch a higher floor on "Let's Go Crazy."