Treble's Top 100 Guitarists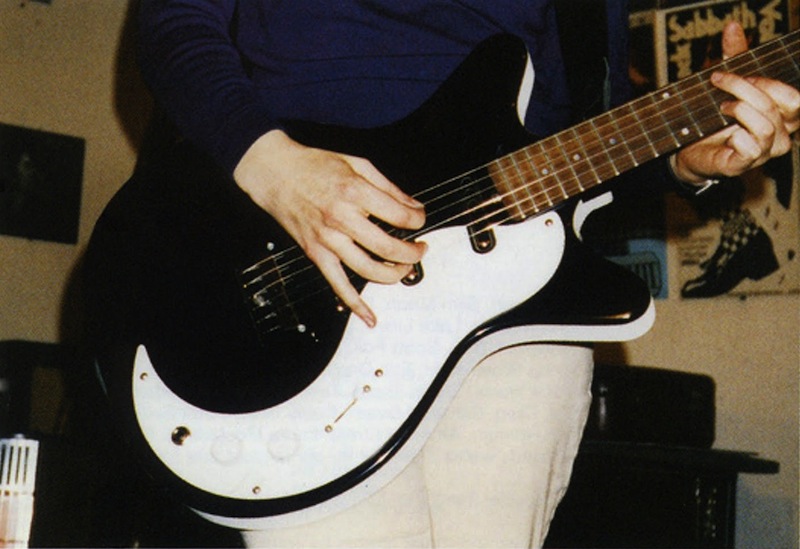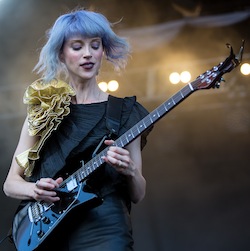 30. Annie Clark
From delicate singer-songwriter to indie-pop weirdo to the likely inheritor of David Byrne's funk-punk empire, Clark (aka St. Vincent) has a curious knack of of bringing mind blowing guitarmanship to any genre she touches. Hell, she even managed to make guitar a centerpiece of orchestra-pop band Polyphonic Spree's rather underrated 2007 album The Fragile Army. Even on a record like Strange Mercy, which is often driven by loops and synths, she manages to let her guitar sing. Just let yourself bathe in the solo on the back end of "Surgeon" and try to convince me you aren't in the presence of an otherworldly talent. – ATB
Air guitar moment: "Surgeon"
---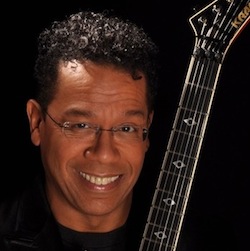 29. Carlos Alomar
Carlos Alomar's skill as a guitarist was never contingent on standing out—the guy made a career out of falling gracefully into the background, laying a nuanced foundation for pioneers such as David Bowie and Iggy Pop to take center stage. The funk stabs on a track like "Sister Midnight," which he penned instrumentally, typify his idiosyncratic approach: a kind of sleazy pentatonic groove, trumpet-like and fluid, yet liable to ascend into harrowing strums of desperation at any moment. But on the occasion that Alomar steps into the metaphorical foreground, he does not disappoint. Take, for example, his cutting lead on "Breaking Glass," which parallels Bowie's threadbare vocal neuroses while linking the underlying, cut-up rhythm section together, all without interfering with either of them. The 65-year-old musician was, and remains, an absolute musical chameleon—criminally overlooked, but championed by the few who know his name. – JM
Air guitar moment: Off-kilter melodies and sideways skronk in David Bowie's "Breaking Glass."
---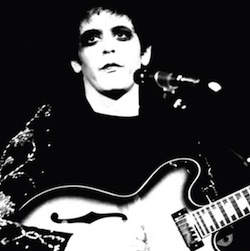 28. Lou Reed
Complemented by John Cale's droning viola, Lou Reed's moody riffs helped solidify the Velvet Underground's evocative, yet gloriously pop-oriented sound, especially on The Velvet Underground & Nico. "Sunday Morning" is all self-conscious nostalgia and carefree romanticism (though "Pale Blue Eyes" from the band's self-titled album is even better), while "Heroin" is a more ominous advance, with memories of past love in the rearview mirror. However, it's the surreal "Venus In Furs," with Reed's famous "ostrich tuning" (in this case, every string tuned to D) that perfectly captures the brazenly off-putting quality of VU. While Reed would go on to start a highly prolific and successful solo career ("Coney Island Baby" is essential), he would never make anything quite like the first three VU records ever again. – BB
Air guitar moment: Ostrich tuning and avant garde jangle on Velvet Underground's "Venus in Furs."
---
27. Keith Richards
When arguing that technical mastery isn't an essential signifier of guitar greatness, look no further than Keith Richards. Are the riffs and solos in "Gimme Shelter" particularly complex? No, but you've never forgotten them once you've heard them. Many of the truly iconic Rolling Stones guitar licks, including "Satisfaction" and "Honky Tonk Women," are his, despite always working with a second guitarist, be it Brian Jones, Mick Taylor or Ronnie Wood. If you need evidence of his versatility, go right to Beggars Banquet, on which he plays sitar, slide guitar and tanpura in addition to his usual acoustic and electric, and the more subtle, haunted work on ballads like "Sister Morphine" and "Angie" is some of his best. – LG
Air guitar moment: Blues, twang and badassery on "Honky Tonk Women."
---
26. Mick Ronson
A guitarist whose skills are often shadowed by the magnitude of the albums he worked on, Mick Ronson is most noted for his work with David Bowie. He helped write the blueprint for punk rock with his jagged style of playing on the Ziggy Stardust album. He started with Bowie just before they began the sessions for The Man Who Sold the World and later became the centerpiece of Bowie's Ziggy-era backing band, which he played with until Ziggy's farewell show. His psychedelic garage rock roots gave sonic strength and raw power to the cosmic sound Bowie was looking to create at the time. His guitar solos had a sense of melody that you can sing every note to. As if playing with Bowie wasn't enough, he went on to work with other legends such as Bob Dylan, Ian Hunter, Lou Reed, John Cougar Mellencamp and Morrissey. – WL
Air guitar moment: "Moonage Daydream" and the solo from Mars.
---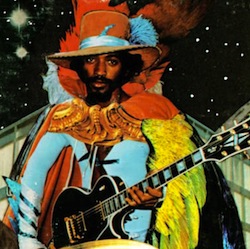 25. Eddie Hazel
George Clinton will forever be known as the leader of Parliament-Funkadelic and the godfather of funk, but Eddie Hazel helped give his music the extra power. As a result of working in the shadow of Clinton, a lot of Hazel's contributions are overlooked. All of Maggot Brain has his name written all over it. Not surprisingly, the guitar parts are better on that album: From the awesome shredding on the title track to the fucked up solos on "Hit It and Quit It." His contributions to Parliament's Chocolate City likewise have outstanding merits. Unfortunately, Hazel's membership was short-lived as he parted ways with both groups due to a falling out with Clinton over royalty payments. Simply put, without Eddie Hazel there would be no funk. – GM
Air guitar moment: "Maggot Brain." Goddamn.
---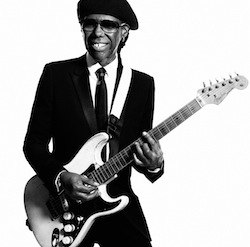 24. Nile Rodgers
The story of Nile Rodgers' guitar, "The Hitmaker," is akin to the origin story of Roy Hobbs' "wonderboy" in The Natural. Rodgers assigns to it almost supernatural powers, the 1960 Fender Stratocaster sounding like no other guitar in the world, according to his autobiography Le Freak, An Upside Down Story of Family, Disco and Destiny. He's maybe on to something there: When you hear Rodgers' smooth glide and funky scratch, you identify it immediately, be it on any of Chic's disco classics, David Bowie's Let's Dance or Daft Punk's Random Access Memories. Inspired by the likes of both Roxy Music and onetime producer Luther Vandross, Rodgers' style is as much about carving out a memorable hook as it is about being in the pocket. The sound might come directly from "The Hitmaker," but the style is born of The Hitmaker within. – JT
Air guitar moment: Disco funk utopia on Chic's "Le Freak."
---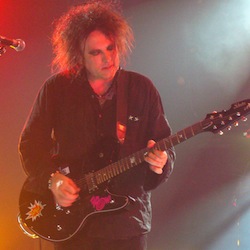 23. Robert Smith
The Cure have always been about creating a particular world with their sound—a world of curious cats and spidermen feasting for dinner, of disintegrating forests and funeral parties. It's not necessarily surprising then that so much of The Cure's darkly intoxicating music is about layers, rather than furiously performed showpieces. Robert Smith, the sole permanent member of the band throughout the years, is the one whose riffs and chords have always shaped that sound-world, evolving from the rhythmic post-punk chugs of early singles like "Primary" to the later alt-rock epics like "From the Edge of the Deep Green Sea." Robert Smith is less a guitar hero than a hero who plays guitar: a reluctant goth-rock godfather subliminally tearing it up at the heart of even a somber dirge. – JT
Air guitar moment: The gothic rock exploration of The Cure's "A Forest."
---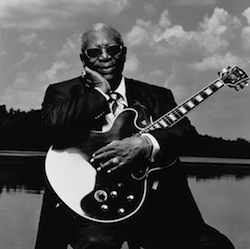 22. BB King
The man who wielded the Gibson named Lucille used the instrument to speak with greater clarity and emotionality than his voice. Live albums such as the unearthed bootleg Live/Fillmore East or the much-celebrated Live at the Regal are the best showcases of his power, and throughout them he often eschews singing and lets his acrobatic picking do the heavy lifting for long stretches. The solo was another melodic tool for him, not an exercise in wankery (OK, maybe a bit of the latter), but his songwriting chops shouldn't be dismissed—songs like "Please Love Me" are worthy of recognition as blues standards. – LG
Air guitar moment: If you want to hear him shred mercilessly, "Worry, Worry, Worry" is essential.
---
21. Django Reinhardt
On the strength of his perseverance alone—losing three fingers in a fire, nervously co-existing with Nazi occupiers in France—the gypsy jazz guitarist would merit mention in almost any list of important pre-rock musicians. But Django Reinhardt's aptitude, range and impulsive grace make him the most important European jazz musician in the idiom's history. In developing "hot jazz" guitar playing, Reinhardt worked off the Dixieland song form and brought it to a smaller space where his more rhythmic instrument could stand out. Within that sphere Reinhardt's deft, quick and sweetly-toned solos play out in full form. Even in recordings over 75 years old you can hear the complexity of Reinhardt's attack and the crying bend of his strings. His full-fledged rhythm runs in transition—furious bursts of flamenco strumming, patched with unexpected notes and comic danger—survive in contemporary rock players. Reinhardt even produces chills when he's just comping behind other soloists. He was as complete a jazz man as his era ever produced. – PP
Air guitar moment: Gypsy jazz licks on "St. Louis Blues"