Treble's Top 100 Guitarists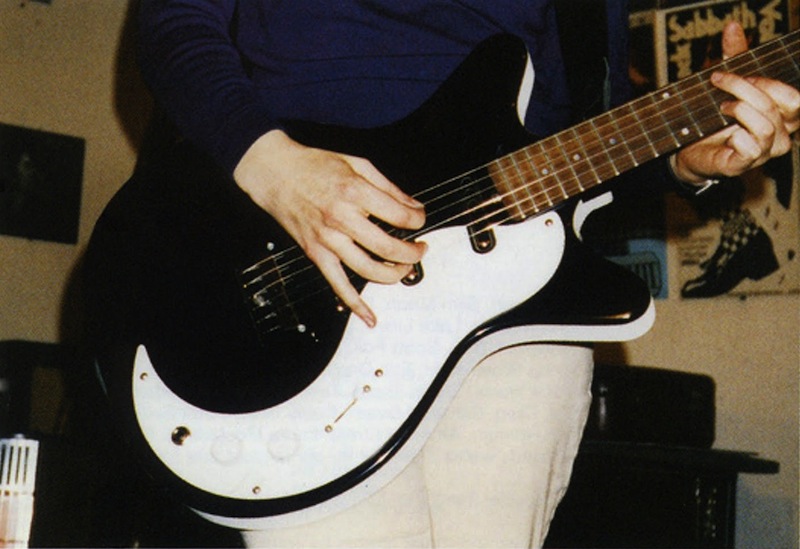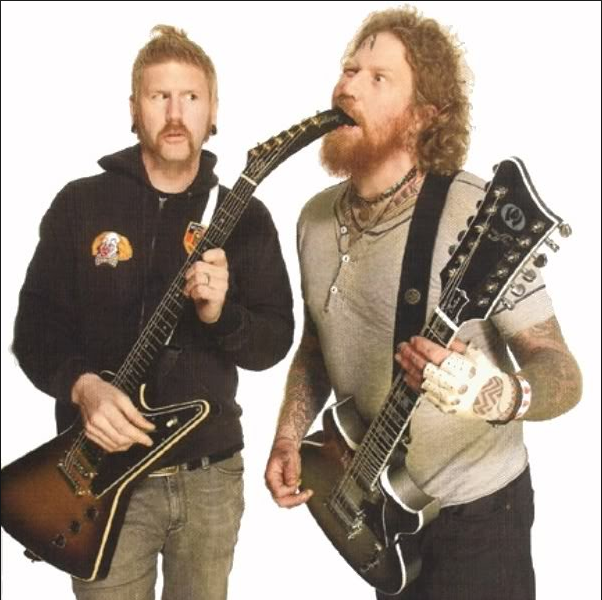 90. Brent Hinds/Bill Kelliher
The dynamic duo of Atlanta's Sludge titans, Mastodon, has combined blues, thrash, and progressive elements into their guitar riffs. Throughout their hefty, storied discography Hinds and Kelliher have displayed massively diverse talent from album to album that keeps every installation refreshing and unique. No two riffs sound alike—see Kelliher's riff to "Mother Puncher" against the blues rock vibes of Hinds in "Halloween." Of course, the synergy they display is when Mastodon shines brightest.- CD
Air guitar moment: The progressive excursion of Mastodon's "Sleeping Giant".
---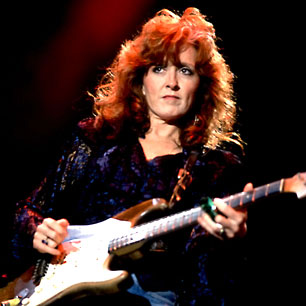 89. Bonnie Raitt
A roots rocker that has been laying down licks since the '70s, singer/songwriter Bonnie Raitt found the most success (and a Grammy for Album of the Year) with her 1989 album Nick of Time. While her vocals are melancholic and warm, her slide guitar playing is powerful and carries her ballads right along. When she tours, Raitt plays on a customized Fender Stratocaster—more notable is the fact that Raitt was the first female musician to receive a signature Fender line. – VC
Air guitar moment: Feelgood blues in Bonnie Raitt's "Something to Talk About."
---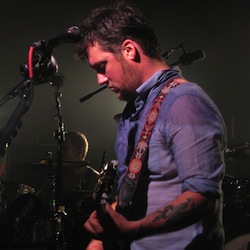 88. Isaac Brock
While the earliest Modest Mouse records felt simultaneously claustrophobic and intimate, This Is A Long Drive… and The Lonesome Crowded West brought to mind images of sprawl and lackadaisical summer days, extreme humidity eventually giving way to existential anxiety. And although the songs on The Moon and Antarctica are, arguably, even better, Brock still hasn't written a riff quite like the one from "Teeth Like God's Shoeshine" (Lonesome). There's an immediately surreal quality to it, like a masochistically pleasurable fever dream. – BB
Air guitar moment: Nauseous tremolo and atmospheric dirge-dreaming on Modest Mouse's "Teeth Like God's Shoeshine."
---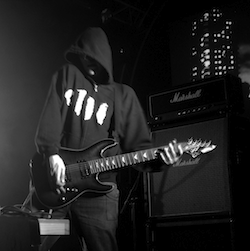 87. Justin Broadrick
Typing Streetcleaner over and over about 75 times probably would have done the trick here, but to elaborate, Justin Broadrick brings crippling industrial guitars are hypersonic feedback to Godflesh. What Broadrick also achieves is immersive and dreamy tones in his albums as Jesu. The shoegaze yin to his industrial/experimental yang, Broadrick plays both sides of a guitarist's coin. His most recent works A World Lit Only By Fire (Godflesh) and Everyday I Get Closer to the Light from Which I Came (Jesu) showcase his dynamic range of talent and understanding of how wonderful a guitar truly is. – CD
Air guitar moment: Broadrick's crushing grind on Godflesh's "Shut Me Down".
---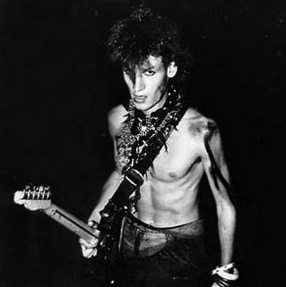 86. Daniel Ash
There's an art to guitar effects. Lots of players use them, but only so many fully understand how best to manipulate them. Set against a backdrop as rhythmic and dub-inflected as the dark pulse of Bauhaus (not to mention Tones on Tail and Love and Rockets), Daniel Ash's pedalboard shriek streaked like Jackson Pollock splatter. Each riff a cacophonous blur of high-on-the-fretboard noise and melody, Ash's style makes the act of playing guitar less about chords or scales as it is about channeling something abrasively otherworldly. – JT
Air guitar moment: Ash's escalating squeals on "In the Flat Field."
---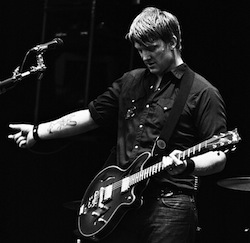 85. Josh Homme
If Josh Homme went down in history simply as a trash talking motherfucker with a cool haircut, he'd still have left his mark, but those acts are secondary to the accessibly heavy wizardry he pulls off with six strings. Early on in his career he deepened the distortion as Kyuss' guitarist, but as frontman to Queens of the Stone Age he's leavened that bong-rattling fuzz with hooks that only look easy to pull off. When the most impressive thing on a rock album isn't Dave Grohl's drumming, you're doing something right. – JT
Air guitar moment: Homme pulls off a series of fretboard aerials in "No One Knows."
---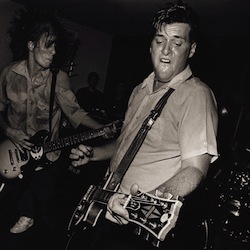 84. John Reis
A pillar of the San Diego music scene, John Reis is known as much for his extracurriculars—running Swami Records, being part owner of a kitschy dive bar, producing bands such as Ceremony and The So So Glos—as he is for performing. That seems a little backward given his versatilty, whether playing crunchy power chords (Rocket from the Crypt), surf licks (The Blind Shake), abrasive post-punk (Hot Snakes) or the tortured post-hardcore of Drive Like Jehu. Under most circumstances, he keeps it simple and clean, but when given the space to run free, Reis delivers nothing less than jagged-edged wizardry. – JT
Air guitar moment: A menacing churn on Drive Like Jehu's epic "Luau." – JT
---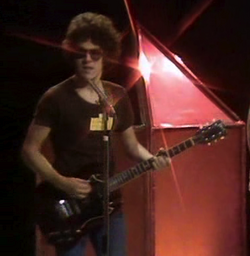 83. Michael Karoli
The krautrock king of the blues scale: Michael Karoli. At the outskirts of Damo Suzuki's guttural shouts and Jaki Liebezeit's inimitable, ticky-tack traipse of the hi-hat, often lay his strange and angular hits and punches, waiting to soar above the relative cacophony. His classical training, which informed his approach to guitar on albums such as Tago Mago and Future Days, seems almost antipodal to his loose improvisation and pot-smoke-tinged solo technique. But this internal ambivalence is what makes him so interesting—a constant sense of unpredictability, yet cool control. – JM
Air guitar moment: Karoli's plume of smoky space funk on Can's "Halleluwah."
---
82. Andy Gill
It feels technically accurate to say that Andy Gill is, in fact, a percussionist. The intensity and primal brutality through which he bashes his Stratocaster is like a particularly cathartic therapy session. It's to the credit of Gang of Four's rhythm section that his scratchy, deceptively tuneful jabs and jerks actually come across as accessible—even funky. From the beginning, Gang of Four were post-punk's political provocateurs, so it only makes sense that their guitar slinger treated his instrument with little reverence. – JT
Air guitar moment: Delay, squeak and scratch on the dancefloor in "At Home He's a Tourist."
---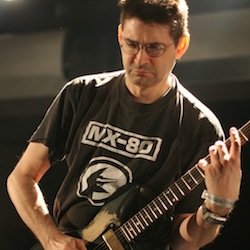 81. Steve Albini
Over the years, Steve Albini's guitar style has come a long way without veering too far from its roots. Always a rhythmic player, the Big Black and Shellac frontman's evolution didn't focus so much on scales or arpeggios. Instead, Albini mastered the art of grinding out complicated, repetitive rhythms with stunning precision and learning exactly when to give his songs more gravitas. For these reasons, we'll always be able to recognize an Albini riff, regardless of project or era. – ATB
Air guitar moment: Shards of scrape on Big Black's "Passing Complexion".