Warp Records: 20 Essential Albums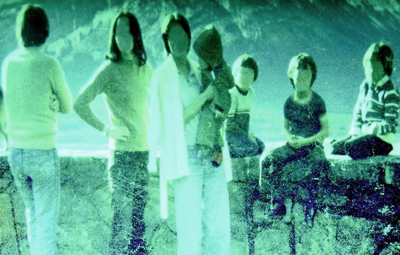 We recently celebrated the 20th anniversaries of both Sub Pop and Merge Records by compiling a list of our 20 favorite albums from each label. Well, as it turns out, yet another one of our favorites, Warp Records, is hitting the 20-year mark. The label is undergoing its own massive celebration, with live performances, film screenings and a gigantic box set, which features not only rare tracks, but a 'hits' compilation of sorts featuring both tracks selected by fans and those chosen by the label.
As a pioneering label in electronic music, we saw fit to highlight a good number of Warp's IDM releases. Yet as the UK imprint progressed, it began to incorporate other sounds, from indie rock to hip-hop, and we've got those represented here as well. And while this is no means an exhaustive or comprehensive list of everything Warp has to offer, we offer what we consider the 20 best Warp albums.
---
LFO – Frequencies (1991)
One of the earliest full-length releases on Warp, LFO's Frequencies embodied the label's pioneering spirit in electronic music. Mixing acid house and techno in one bass heavy monster of a record, Frequencies is a relic from the rave era that has aged much better than most. It's a dance record, certainly, dropping massive breakbeats and elements of hip-hop in all the right places (which could have been one reason why it was picked up by Tommy Boy), though one can easily hear little hints of IDM in chrysalis. – Jeff Terich
---
Boards of Canada – Music Has the Right to Children (1998)
Scottish brothers Michael and Marcus Eoin Sandison loosely fit under the IDM umbrella, but Boards of Canada created something altogether innovative and eye- and ear-opening with Music Has the Right to Children. A woozy and warm, static-ridden blend of Autechre-like beats and melodies seemingly plucked from 1970s educational filmstrips (which is how the group got their name), Music is an electronic album like no other. There's something distant and melancholy about it, yet at the same time, it's absolutely gorgeous, and quite inviting. Songs like "Eagle In Your Mind" phase melodies in and out between harsh beats, while "Turquoise Hexagon Sun" has a bittersweet, nostalgic tone to its soft trip-hop landscape. And then there's "Roygbiv," which, true to its name, has a full spectrum of color within its two and a half minutes. A masterpiece. – Jeff Terich
---
Autechre – Confield (2001)
Confield is generally not considered Autechre's finest album. The favorite of the collective masses tends to be Tri Repetae++ or LP5—highlights from the electronic group's mid-`90s foray into warmer ambient territory à la Aphex Twin. Confield is alienating and impenetrable, forgoing Autechre's previous flirtations with melody for a harsh metallic soundscape. This album is viciously dissonant, abstract, and unforgiving. With a pair of headphones and a lot of patience, however, its subtleties begin to reveal themselves. Confield is brilliant, but it will never be an album to enjoy in the way music is normally enjoyed. To fault it for that would be like criticizing a thesis on quantum electrodynamics for not being fun—entertainment was never the purpose. The joy is derived from engaging with the album's dense sonic equations, and maybe—a century or so from now—our minds will have evolved enough to enjoy the music, too. – Eric Friedman
---
Squarepusher – Go Plastic (2001)
Squarepusher can be impressively indulgent- with free jazz in tow. Go Plastic saw Tom Jenkinson's knack for invention filtered into streamlined immediacy. Ten songs crib from frantic jungle, glitch, radiophonic garage and slanted ambience. It's a joyfully sardonic and compelling fifty minutes. "The Exploding Psychology" whirls and chimes through five genres in minutes like the work of some sort of vitamin C enhanced mad scientist. "I Wish You Could Talk" takes Autechre abstraction and creates something propulsive and immediate. "Tommib" is emotionally arresting and spares the embarrassment of saying anything. The likes of "Boneville Occident" and "Go! Spastic" brim with manic intricacy, while "My Red Hot Car" is a genuine anthem. Reviews of this sort of thing often come across as highly referential (I'm by no means an expert) or sink like embarrassing fiction. My appreciation of a lot of leftfield electronica is rather detached and akin to an aquarium bound fish looking at the interesting primates' outside- mightily impressed but unscathed. By contrast, Go Plastic plays as easily as Definitely Maybe for me. It can induce laughter, ridiculous movement and watery eyes alongside open-jawed awe. I would recommend it to anyone baffled and intrigued by Warp. – Tom Lee
---
Aphex Twin – Drukqs (2001)
There's something funny about Richard D. James' last album with Warp. When Drukqs was released in 2001, it was met with everything from rapturous praise to indifference to disappointment. But what do you say about a sprawling thirty track double album that may or may not have been a way to finish up his contract with Warp? Double albums are tough – just ask any band that attempts to do one, hello cohesion! It didn't help that it had been five years since The Richard D. James Album, which Pitchfork extravagantly proclaimed to be "43.5 minutes of pure electronic genius." Yet Drukqs still stands as a solid Aphex Twin album. It's not a game changer the way Selected Ambient Works, Vol. II was, nor is it going to convert non-Aphex Twin fans, but what Drukqs does do is bring us some of James' stripped down piano pieces – a whole new side that were unlike anything he had produced before. Songs like "Avril 14th," "Nanou 2" and "Kesson Dalef" are simple, beautiful and reminiscent of Erik Satie. On the other side of the spectrum, "54 Cymru Beats" might be one of James' best songs: abrasive, mining drum 'n' bass yet eerily mechanical. Drukqs is not perfect – there's a lot of different styles in these 30 tracks and at times it does sound disjointed but it does remind us why Richard James is so good at what he does and why fans wait with bated breath for his next release. – Jackie Im
---
Tortoise – Standards (2001)
Released in the United States through Thrill Jockey, Tortoise's Standards was the first album the Chicago group released through Warp in the UK, and it should only make perfect sense that they should begin their relationship with Warp by issuing their most IDM-influenced album to date. Previously, Tortoise's post-rock sound owed more to jazz and improvisation (with some electronic flourishes, of course), but with Standards the group took a more dense, textured and glitchy approach, sounding more like Mouse on Mars or Aphex Twin than any of their instrumental rock peers. They've since revisited the ideas on this album a few times, but it certainly was a dramatic shift upon its release, and for that remains one of the group's most interesting albums. – Jeff Terich
---
Antipop Consortium – Arrhythmia (2002)
Warp's first foray into hip-hop came with Antipop Consortium's sophomore album Arrhythmia, a set just quirky and avant garde enough to fit in with the label's futurist M.O. while still technically sounding like a hip-hop album. Sort of. On the one hand, the New York City trio dishes out playful, effects-laden throwdowns like "Ping Pong," an accessible and fun track that utilizes the sound of ping-pong balls being smacked back and forth. On the other hand, it features throbbing electronic bangers like "Ghostlawns," pulsing and flashing with epileptic weirdness. It's a sort of curious meeting place between the heads and the laptoppers and damn if it doesn't sound advanced to this day. – Jeff Terich
---
Nightmares on Wax – Mind Elevation (2002)
Smokers Delight and Carboot Soul are (justifiably) acknowledged classics, but 2002's Mind Elevation deserves as much praise as anything in George Evelyn's canon. It transplants some of the commercial clarity of long-term collaborator Robin Taylor-Firth's previous Olive project onto influences and sounds more readily associated with N.O.W. A breezy, sky blue freshness permeates the entire album-inducing contentment rather than slumber. The arrangements are exquisite vehicles, displaying the potency of Soul II Soul style elegance ("Humble"), melting-pot trip hop ("Know My Name"), sun drenched Brit-reggae ("70s 80s") and blatant pop ("A Date With Destiny"). This is easy listening in the most complimentary sense. – Tom Lee
---
Prefuse 73 – One Word Extinguisher (2003)
The big deal surrounding One Word Extinguisher upon its release was that it was an "emotional" electronic album, which certainly comes through its complex melodic textures and sonic strata. Of course, there were certainly emotional electro albums already in Warp's catalog, but this one was different. Guillermo Scott Herren created a buzzing, clicking, sputtering instrumental hip-hop record that sounded like infatuation and heartreak, and even more than that, just sounded damn cool. Its little bits of vocal samples and dialog gave it the right old school tone, while its choppy, strange structures sounded straight out of the future. The meeting place, of course, is the present, and six years later it remains Herren's most cohesive and dazzling work. – Jeff Terich
---
Broadcast – haha Sound (2003)
When Warp welcomed Broadcast to the roster at the end of the '90s, it signaled a new direction of sorts for the label. The Noise Made by People became the first of a long series of adventurous pop albums, many of which are found in this list. But Broadcast perfected their sound, and pretty much conquered music in general with their mind-blowing second album haha Sound. Though their influences were numerous—Neu!, Joe Meek, Françoise Hardy, Lee Hazlewood, John Barry—the sound they created was beamed from an entirely different planet. It's a big swirling collection of glorious, space-pop, seemingly bred in the '60s but ultimately coming across as something very modern. It's a record that reveals new layers with each spin, and it can't be said enough just how damn cool it is. – Jeff Terich