The Most Anticipated Albums of Winter/Spring 2022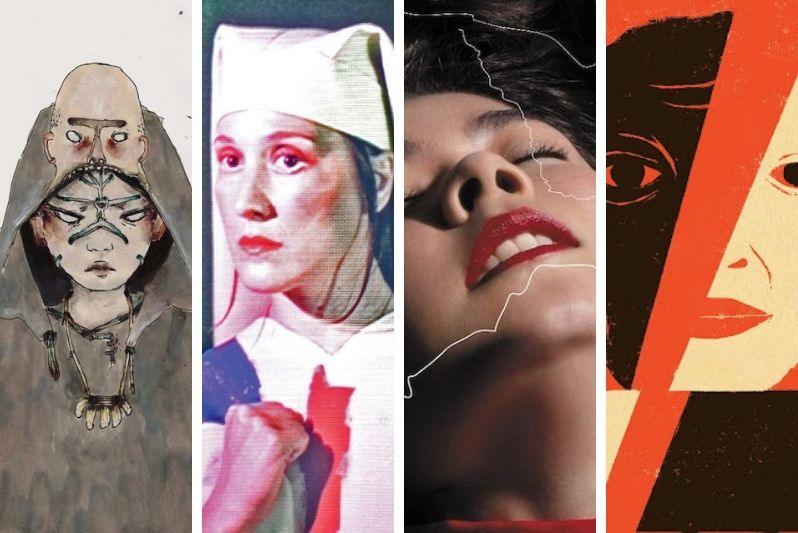 The ball's dropped, a new calendar is on the wall, and it's still early enough for our new year's resolutions to not be shrugged off entirely. But more than anything it's the promise of a year of great new music that makes us most hopeful for the new year. No doubt about it, musicians will have a complicated year ahead of them, navigating everything from tour cancellations due to omicron to the vinyl pressing backlog. But even at this early in the game, there's already a lot of music to be excited about. Here are our picks for the 25 most anticipated albums of spring 2022.
---
Burial – Antidawn
(January 6; Hyperdub)
Burial hasn't released a new full-length LP in 14 years, though in that time the enigmatic UK producer has released over a dozen singles and EPs, including collaborations with Thom Yorke and Four Tet. The mere announcement of a new Burial EP is noteworthy enough, even though he's yet to release any tracks from it, though we've gotten another rare photographic glimpse of the man behind the atmospheric electronic project, reminding us that there's a real—if elusive—human being behind it all.
---
Earl Sweatshirt – Sick!
(January 14; Tan Cressida)
Earl Sweatshirt has managed to drop a handful of albums right at the end of the year—just in time for best-of-year honors—first with Some Rap Songs in 2018 and then Clay Feet in 2019. In 2020 and 2021 he made a handful of guest appearances on other artists' records, including 2021 MVPs such as Armand Hammer's Haram and Boldy James' Bo Jackson (both produced by The Alchemist), but with Sick! he finally returns with a new full-length album, his first new LP in over three years. The first single, "Tabula Rasa," finds Earl in the company of Armand Hammer once again, and though the new set features only 10 songs, any new music from Earl is worth putting at the top of the queue.
---
Mizmor – Wit's End
(January 14; Gilead Media)
A.L.N., the songwriter and artist behind one-man doom/black metal project Mizmor, is responsible for some of the most emotionally affecting heavy music in recent years (most recently 2019's Cairn), tackling religion not from a place of cheap shock value but in a sincere examination of how superstitious belief can truly damage people. Wit's End is a further examination of this idea, and how it's led us to a particularly dangerous moment in society—through two lengthy compositions. Though A.L.N. to date has only released a 30-second teaser of the album, it's enough to know that this has potential to be an epic set of transcendent doom.
---
Boris – W
(January 21; Sacred Bones)
In 2020, Boris delivered one of the best pandemic-era surprises with NO, an album of hardcore and thrash metal that revealed what the prolific and often conceptually bound group could do with a little fury and spontaneity. With W, the group's follow-up to that album and first for Sacred Bones, the Tokyo trio are pulled in yet another direction, as first single "Drowning by Numbers" finds them embracing dream-pop and post-rock, with elements of industrial, and just like the rest of the album (and 2011's Attention Please), the track finds guitarist Wata handling vocal duties. Boris have made sharp left turns their signature for over two decades, so when they offer up another change of course, it's best to simply enjoy the ride.
---
Cloakroom – Dissolution Wave
(January 28; Relapse)
Indiana shoegazers Cloakroom balanced contrasting aesthetics of heavy, doom-inspired grunge with a more atmospheric guitar sound on their excellent 2017 album Time Well. And with Dissolution Wave, their third album, the band continues to explore the space between those two seemingly disparate poles, with some contributions from members of Hum and Sweet Cobra. It's also their first album with drummer Tim Remis, whose chemistry with the group sounds remarkably tight on early singles "Lost Meaning" and "A Force at Play."
---
Combo Chimbita – IRÉ
(January 28; Anti-)
New York's Combo Chimbita create music that they call "tropical futurism," which is an appealingly succinct way to describe their blend of psychedelic rock, pop, cumbia and electronic sounds. (Though they recently said they no longer use that terminology, even if it still makes sense as a listener.) Their third album IRÉ has been nearly half released already, with a series of pre-release singles arriving throughout 2021 that each carry many different sonic influences, some of them honoring their Colombian and Puerto Rican heritage and some of them born of the endless curiosity of crate diggers. It's music informed by history that seems to see into the future.
---
Animal Collective – Time Skiffs
(February 4; Domino)
Outside of solo projects and film scores, Animal Collective's members haven't come together for a new album since 2016's Painting With. But the first new music they've released together for a proper album, including singles "Prester John" and "Walker" (inspired by Scott Walker), finds them in a richly layered psychedelic space, less overtly weird than some of their most celebrated albums but gorgeously melodic and atmospheric in all the best ways. Given that they've been making music together for over two decades, it's thrilling to hear them still offer some surprises after all this time.
---
Black Country, New Road – Ants from Up Here
(February 4; Ninja Tune)
Black Country, New Road's sophomore album will arrive only a year after their debut, but it's worth noting that a handful of those songs had already been released in some form by the time that LP finally hit shelves. So that likely gave them enough time to get a headstart on the next set of songs (well, that and the lack of touring due to the pandemic). Either way, music this intricate and progressive certainly sounds like something that takes time to incubate, but BCNR are a particularly inspired sort of art-rock band, and the three singles they've released thus far—"Bread Song," "Concorde," and "Chaos Space Marine"—promise an album with soaring highs, melodic climaxes and just as much instrumental intricacy.
---
Cate Le Bon – Pompeii
(February 4; Mexican Summer)
Welsh singer/songwriter earned a Mercury Prize nomination for her outstanding 2019 album Reward, an album that often felt as disorienting and gleefully odd as it was beautiful. Le Bon, more than any artist in recent memory, has a knack for molding absurdities into profundities, bending conventions and playfully rewiring pop music to function outside its normal parameters. But songs like early singles "Running Away" and "Moderation" only prove just how adept Le Bon is at arranging these quirky parts into a glorious whole, something like a 21st century update of Berlin-era Bowie fed through a filter of colorful, psychedelic animations.
---
Mitski – Laurel Hell
(February 4; Dead Oceans)
Mitski's previous album Be the Cowboy only came out three years ago, but her absence on social media has made the gap seem that much longer (not to mention the fact that a new Mitski album is just the ray of hope we could ask for in years as frustrating as the ones we've just been through. And it seems that sentiment is widespread—most of the dates on her upcoming North American tour sold out in minutes. But hearing blockbuster new singles "Working for the Knife" and "The Only Heartbreaker," it's easy to understand why.
---
Saba – Few Good Things
(February 4; Pivot Gang)
Chicago emcee Saba's 2018 album Care For Me became one of that year's most highly acclaimed albums, its songs depicting grief in a deeply affecting and true to life way that made it both a necessary and emotionally heavy listen. Anticipation for its follow-up, as a result, has run high, though the Pivot Gang rapper hasn't released that much information about the album outside of a handful of singles, including most recent track "Stop That," built around an ominous clarinet loop and a trap beat, featuring Saba delivering a more positive message of self-confidence. He'll also be touring behind the album through 2022.
---
Thank – Thoughtless Cruelty
(February 4; Exploding in Sound)
Leeds noise rock outfit Thank delivered a beast of a debut EP with 2019's Please, a sharp blend of social critique and blistering, cacophonous rock music. With Thoughtless Cruelty, their first proper full-length LP, Thank offer up a more comprehensive statement of their twisted approach, with early singles "Good Boy" and "Paris Syndrome" balancing their more direct applications of low-end churn with a more effects heavy wall of disorientation. We haven't yet heard everything that Thank has up their sleeve, but we're definitely ready for it.
---
Author & Punisher – Krüller
(February 11; Relapse)
San Diego's Tristan Shone, aka Author & Punisher, is the only musician who makes crushing industrial metal from self-invented drone machines—a creation that gives his sound a uniquely crushing yet atmospheric sensibility. And with his first new album since 2018's Beastland, Shone returns with a new set of machines, as well as guest contributions from members of Tool. The first single, "Drone Carrying Dread," is a stunning, industrial-gaze single, with an equally mesmerizing animated video, showcasing a new frontier of depth in Author & Punisher's unique machine-metal sound.
---
Beach House – Once Twice Melody
(February 11; Sub Pop)
Beach House have a pretty ample catalog of seven excellent dream pop albums thus far, but Once Twice Melody finds the Baltimore duo doing something a little different—releasing four songs at a time every month until the album's street date. Thus far, Alex Scally and Victoria Legrand have released eight songs from the album, including the title track and our best of 2021 favorite "Superstar." The songs they've shared thus far draw a heavier influence from '60s psychedelia than before, though half the album is still yet to be unveiled. And while that might remove some of the surprise when it's released, there are more rewards for the anticipation as we're along for the ride.
---
Big Thief – Dragon New Warm Mountain I Believe in You
(February 11; 4AD)
Big Thief have technically been rolling out their new album Dragon New Warm Mountain I Believe In You (that's a mouthful!) for a full year, releasing a string of singles throughout 2021 that will be featured on their follow-up to 2019's Two Hands. Those include "Spud Infinity," a campfire jam session, "No Reason," a gorgeously dreamy pop gem, and "Little Things," which was one of our favorite songs of the past year. Produced by drummer James Krivchenia, the album is the band's attempt to showcase the breadth of their sound as a band as well as Adrianne Lenker's songwriting, and while there's still much more to hear, they've shown an impressive summary of their capabilities thus far.
---
Empath – Visitor
(February 11; Fat Possum)
Philadelphia noise-pop outfit Empath earned some well-deserved acclaim for their 2019 debut, Active Listening: Night on Earth. The group's follow-up to that album is their first to be recorded in a proper studio, with producer Jake Portrait (Unknown Mortal Orchestra). The new album is inspired by the likes of The Wicker Man and David Bowie's Low, and the mesmerizing, distorted and Sonic Youth-like indie rock of first single "Diamond Eyelids" only proves they're growing stronger as a band.
---
Spoon – Lucifer on the Sofa
(February 11; Matador)
This year marks the 20th anniversary of Spoon's outstanding fourth album Kill the Moonlight, and yet two decades later and here the Austin, Texas band still is, cranking out some of the strongest rock music in the game. You know a Spoon song when you hear it, and "The Hardest Cut"—the first single from their 10th album Lucifer on the Sofa—is definitely it. And yet it finds them rocking as hard as they ever have, the end product of frontman Britt Daniel listening to a lot of ZZ Top for two years (and definitely not Eric Clapton, as he points out). It's a hard-hitting preview of a band that hasn't lost any of their bite in over 25 years.
---
Zeal and Ardor – Zeal and Ardor
(February 11; MVKA)
Zeal and Ardor offered the first taste of their self-titled second album as far back as June with the industrial-leaning "Run," and the group's progressed quite a bit since Manuel Gagneux's first experimental hybrids between blues, spirituals and black metal. The style is unmistakably their own, though the band is more polished and hi-fi than they've ever sounded, even better primed for the kinds of festival stages they've been playing for the past few years. They've suggested the potential for crossover with metal's more mainstream contingent before, and this album might be the thing that makes them a household name. (Well, at least among metalheads.)
---
Hurray for the Riff Raff – Life on Earth
(February 18; ATO)
Singer/songwriter Alynda Segarra isn't a typical bluegrass artist, inspired as much by punk as traditional American music, and with an increasingly heavy influence from Latin pop music. Her 2017 album The Navigator was a big step forward for Segarra, and though new single "Rhododendron" is a relatively simple, straightforward and simple track—with a video that depicts Segarra as, among other things, a Lydia Deetz-lookalike goth riding a swan boat—their ambition only continues to rise with each new set of songs.
---
Bambara – Love on My Mind
(February 25; Wharf Cat)
Bambara's previous two albums, 2018's Shadow on Everything and 2020's Stray, are two of the strongest contemporary post-punk albums in recent memory, heavy on Reid Bateh's dark, compelling narratives and the band's tense, bluesy sound. Though technically an EP, this shorter set finds the group expanding their repertoire with horns and synths, as well as featuring guest appearances from members of Public Practice, Sunwatchers and Orville Peck's band/Frigs. Lead single "Mythic Love," though, is Bambara at their hard-driving best, propelled by a shuffling rhythm and big guitar riffs.
---
Huerco S. – Plonk
(February 25; Incienso)
Brian Leeds, the Brooklyn-based producer known as Huerco S., made a name for himself on stunningly atmospheric dub techno and ambient records like 2016's For Those of You Who Have Never (And Also Those Who Have). And with Plonk, he's delivering his first new full-length in five years, which based on early single "Plonk IV," finds him pushing toward similarly stunning IDM terrain, with a landscape of soothing tones and urgent pulses.
---
Spiritualized – Everything Was Beautiful
(February 25; Fat Possum)
Jason Pierce, aka J Spaceman, said in a press release—in reference to the pandemic—that he'd "been training for this [his] whole life." Which is to say, he had a productive year. But because Spiritualized albums are always more elaborate affairs, Everything Was Beautiful is much more than a set of home-recorded albums. In fact, it was captured at 11 different studios (in addition to his home), and finds Pierce playing 16 different instruments on his own, as well as inviting over 30 other musicians onto the album, including longtime collaborator John Coxon, Pierce's daughter Poppy, and a string section. First single "Always Together With You" is the kind of layered atmospheric psych-rock with a big climax that Spiritualized excels at, an epic in miniature.
---
Superchunk – Wild Loneliness
(February 25; Merge)
Every time Superchunk emerge from the studio with a new set of songs, it's reason for celebration. And despite a decade-long hiatus between the releases of Here's to Shutting Up and Majesty Shredding, the Chapel Hill indie legends have been pretty consistent in the past 12 years, releasing some of their best and most diverse sets of songs. But new single "Endless Summer" delivers all the hallmarks of a great Superchunk song: big hooks, a memorable melody and guitars galore.
---
Kristine Leschper – The Opening, Or Closing of a Door
(March 4; Anti-)
Singer/songwriter Kristine Leschper was previously known by the pseudonym Mothers, through which she released two excellent full-length albums, most recently 2018's Render Another Ugly Method. This year, she'll be releasing her first album under her own name, which finds her incorporating a vast array of sounds, from horns and strings to synthesizers and various percussive instruments. The droning, hypnotic "Ribbon" is the lead single, a song that's indentifiably her own but offering a glimpse into a new direction.
---
Drug Church – Hygiene
(March 11; Pure Noise)
It's been genuinely exciting to see Albany's Drug Church gradually evolve from a more traditional hardcore group into one that openly and enthusiastically embraces pop hooks and big, '90s-style alt-rock sounds. The group's fourth album was preceded by two singles that showcase the band's breadth—the jangly post-punk sound of "Detective Lieutenant" (a recent Essential Track) and the bombastic rock punch of "Million Miles of Fun." Few bands right now are making guitar based music that sounds as much fun, even as vocalist Patrick Kindlon highlights the infuriating absurdities of modern life.
---
Support our Site—Subscribe to Our Patreon: Become one of our monthly patrons and help support an independent media resource while gaining access to exclusive content, shirts, playlists, mixtapes and more.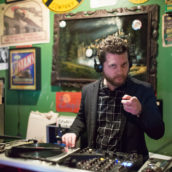 Jeff Terich
Jeff Terich is the founder and editor of Treble. He's been writing about music for 20 years and has been published at American Songwriter, Bandcamp Daily, Reverb, Spin, Stereogum, uDiscoverMusic, VinylMePlease and some others that he's forgetting right now. He's still not tired of it.