10 Essential '90s Alt-Rock Albums
There's a strong, almost assured possibility that if you're reading this list right now, you've already gotten your fill of how this year marks a noteworthy anniversary of one of the most important years in alternative rock. Artists like PJ Harvey, Liz Phair and Björk were making ripples with unconventional records just on the cusp of the mainstream, while Nirvana, Pearl Jam, Smashing Pumpkins and The Breeders each went from big to huge. Alternative rock wasn't just something being mumbled on college radio, it was entering the wider public lexicon.
And interestingly enough, it seems as if the alt-rock spirit has made a successful re-entry in 2013. Recent efforts by Roomrunner and Speedy Ortiz have captured the grungy sound of the era quite nicely, and without a hint of sounding dated. To recognize the sound that more or less got Treble where it is today, we took a look back to the best alternative rock albums of the 90s. And when we say that, we don't mean "alt-rock" in the broadest sense. We mean the stuff that populated radio in the '90s, landed on "Alternative Nation" and headlined Lollapalooza. It has a very specific connotation in this sense. So, no Pavement, Guided by Voices, Neutral Milk Hotel or Built to Spill in this round. When we say alt-rock, you know exactly what we're talking about.
---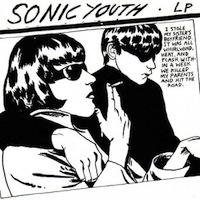 Sonic Youth – Goo
(1990; DGC)
Buy at Insound
Nirvana are seen, rightfully, as having set the standard for alternative rock in the '90s — even 20 years later, there are plenty of bands on the radio who still can't escape their grungy influence. But Nirvana, themselves, were products of their influences, the most prominent being The Pixies, who broke up in the early '90s, and Sonic Youth, who, just until an unceremonious ambiguous end two years ago (stemming from Thurston Moore and Kim Gordon's separation), had one of the best streaks of creativity in all of rock music. And part of that streak was shaping alternative rock as we know it, primarily through their landmark albums Daydream Nation and Goo. The former might be the critical favorite, but the latter is the one with songs that actually got played on the radio, like the groove-heavy noise-rock opener "Dirty Boots," and semi-hit "Kool Thing," in which Kim Gordon briefly hands off the mic to Public Enemy's Chuck D. It's a noisy record, a weird one, and a rebellious one, but it's also one of the most important documents in all of alternative music. – JT
---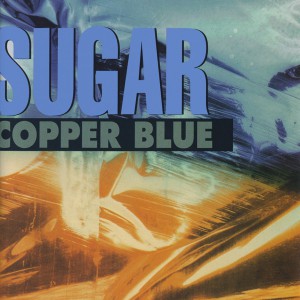 Sugar – Copper Blue
(1992; Rykodisc)
Buy at Insound
There's no point in mincing words here — alternative rock doesn't exist without Bob Mould. Arguably every noisy, American band that picked up a guitar in the late '80s and early '90s did so after a lengthy soak in the Hüsker Dü catalogue. So, really, by that measure, nobody would be able to pull of commercial alt-rock as well as Mould. Right? Pretty much. Copper Blue, the debut album by Mould's short-lived but critically admired Sugar, was chunky, distortion- and power-chord-heavy alt-rock that hit every single right note. Streamlined, catchy, even kind of beautiful in its muscularity, Sugar was Hüsker Dü's carbon-based energy compressed into radio-friendly diamonds. The album's leadoff track, "The Act We Act," sets a soaring tone for the nine outstanding tracks to come, from the Pixies homage "A Good Idea" to the churning "Slick" and the infectious "Helpless." Maybe Sugar didn't have the unpredictable, anarchic attitude of Nirvana, but they definitely had the songs. – JT
---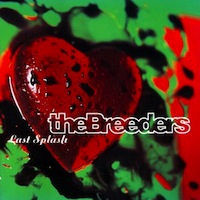 The Breeders – Last Splash
(1993; 4AD-Elektra)
Buy at Insound
Much like Bob Mould's well earned underground cred in the 1980s, Kim Deal logged a lot of alt-rock mileage in The Pixies before releasing the first Breeders album, Pod, in 1990. And while the friction between her and Pixies leader Frank Black is now the stuff of legend, as frontwoman in The Breeders, Deal more than proved herself as a knockout songwriter. Much like The Pixies, The Breeders had a knack for short, upbeat and noisy pop songs that were just slightly off kilter. Yet in 1993, The Breeders actually achieved a commercial success greater than The Pixies had in their first five years together, with two-chord wonder "Cannonball" and its accompanying album, Last Splash. As an album, Last Splash is weirder and more diverse than its flagship single, bouncing from nigh-shoegaze tracks like "Roi" to punk rock raveups like "New Year" and riff-heavy standouts like "Saints." This year marks its 20th anniversary, and it's not hard to see why so many folks are nostalgic for it — when Last Splash was released, it sure felt like a kick in the ass. – JT
---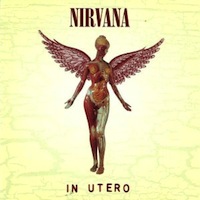 Nirvana – In Utero
(1993; DGC)
Buy at iTunes
Pretty much anything by Nirvana could have made this list, but on its 20th anniversary, it's only right to give In Utero some special recognition. Besides, when you consider the proximity of the album's release to Kurt Cobain's death, as well as the record-company fueled disputes with record producer and alt-rock godfather Steve Albini, there are few other moments in history that can truly encapsulate the dark and moody landscape of '90s alternative. – AK
---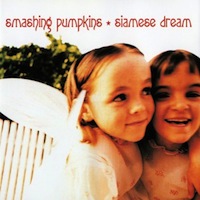 Smashing Pumpkins – Siamese Dream
(1993; Virgin)
Buy at Insound
Perhaps it's the privilege of hindsight, but looking back now on assertions — like the one offered by contemporary Creem writer Dave Thompson — that the Smashing Pumpkins were "the next Nirvana," they seem absurd. Sure, they played alternative rock with high production values, but a discerning listener would have a difficult time failing to notice the seminal uniqueness of their second album, Siamese Dream. On this record — with Sonic Youth-esque title and all — the Smashing Pumpkins create a bold fusion of noise rock, dream pop, and preexisting alternative to relate their personal hardship and internal strife to the listener. Even above its innovation, however, the execution of Siamese Dream, forged by Corgan, Butch Vig, and Alan Moulder (of Loveless fame) in a white heat, is near flawless. Indeed, this across-the-board excellence is what allows Siamese Dream to remain standing as one of the greatest alternative rock records of all time. – CB
---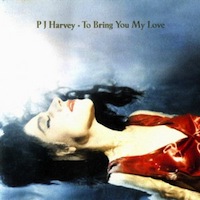 PJ Harvey – To Bring You My Love
(1995; Island)
Buy at Insound
In 1992, with the release of Dry, PJ Harvey had already started her ascent toward becoming alt-rock royalty, but it wasn't until 1995's To Bring You My Love that she conquered the mainstream. In fact, for a while it seemed like she wasn't really interested; her best album, 1993's Rid of Me, is so loud and abrasive, and mixed to shatter skyscrapers, that it seemingly had no place on commercial media. (Also, yes, she's just that badass.) With To Bring You My Love, however, Harvey teamed up with Flood and John Parish to create something dark and bluesy, but more approachable. "Down by the Water," for one, was a song that dominated radio for the better part of 1995, and the rest of the album didn't stray too far from that song's sinister punk-blues vibe. Not that her early records did either; this one just masqueraded as mainstream. – JT
---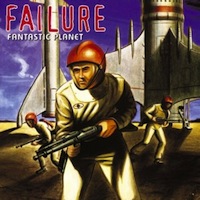 Failure – Fantastic Planet
(1996; Slash)
Buy at iTunes
Failure probably wasn't the first band in the world to write an entire album about heroin, but few other bands have done so with such radio-friendly results. In fact, the interesting irony about that is that the band's sole hit, "Stuck On You," used the idea of a catchy radio tune as a metaphor for addiction and withdrawals. And wouldn't you know it? Damn catchy tune. Slotted deep down at track 15 on the band's third and final album, Fantastic Planet, its part of a broader narrative that goes through the highs and lows of heroin addiction that addresses the dark, complex topic through themes of love, sex, space travel and other different cosmic diversions. It's about as ambitious as alt-rock ever got without losing the hooks. – JT
---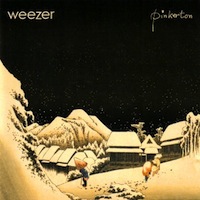 Weezer – Pinkerton
(1996; DGC)
Buy at Insound
Weezer's self-titled "Blue Album" may be Weeer's most well-rounded and historically resilient record, but on this list, Pinkerton takes the cake for its daring attitude. Borrowing a title and themes based loosely on Giacomo Puccini's Madame Butterfly, Pinkerton marked a rare moment when Rivers Cuomo refused to play the part of a radio friendly unit shifter, instead choosing to write noisy, emotional tunes focusing on his own self-doubt and insecurity. Must listen tracks include "Tired of Sex," "Across The Sea," "El Scorcho" and "Butterfly." – AK
---
Ben Folds Five – Whatever and Ever Amen
(1997; 550-Epic)
Buy at iTunes
The '90s, with all the fuss about grunge and noise-pop, will be less remembered as the decade of the songwriter. Talents like Better Than Ezra's Kevin Griffin and Semisonic's Dan Wilson have expanded their careers beyond their own bands. Toad the Wet Sprocket's Glen Phillips went cafe-folk after the band broke up. Yet one artist who managed to stay as big as he became in the '90s, with his array of solo projects and releases, was Ben Folds. When Ben Folds Five's Whatever and Ever Amen came out, it was a revelation of piano-based rock with killer melodies, barber shop harmonies, and insightful and witty lyrics — and no guitar. Ben Folds described the band as "punk rock for wussies," and seeing them perform "One Angry Dwarf" or "Song for the Dumped" live was proof that there is plenty of energy to be found in this typically subdued setup. Mellower numbers like "Missing the War" and "Evaporated" hinted that, as a composer, Folds was just getting started. Though it came out late in the decade, Whatever and Ever Amen laid the groundwork for a renaissance of witty, and just slightly nerdy pop songwriters to stake their claim in the mainstream. – CG
---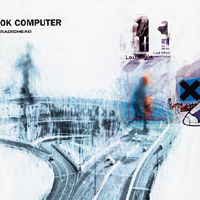 Radiohead – OK Computer
(1997; Capitol)
Buy at Insound
By now, we all know not to expect the same thing from Radiohead twice. But in 1997, it seemed a lot more surprising for a Brit-pop hit (The Bends) to be followed by an album so dark and brooding in atmosphere, yet so vast and beautiful in scope and sound. Love it or hate it, OK Computer changed the landscape of popular music, and quite possibly catalyzed the transition from grungy alt-rock to melancholy indie-rock. – AK
You might also like: