The Top 50 Hip-Hop Albums of the Millennium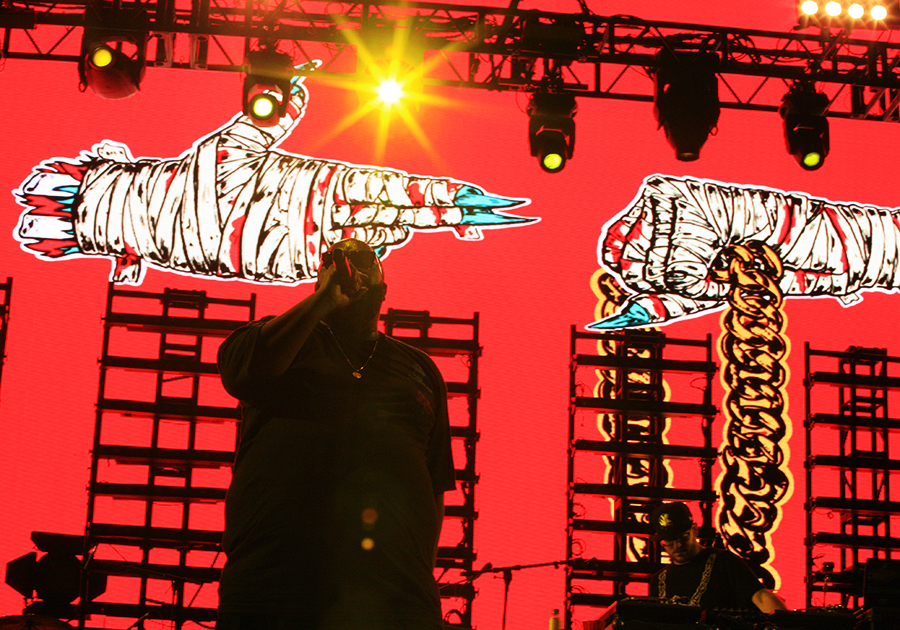 The close of the decade is just over the horizon. And as we get closer to the turning of that calendar page, we've begun to look back at the decade—and millennium—that was. In 2017, we got something of a headstart by assembling a list of the best metal albums of the previous 17 years, a list that's proven significant for how much a fringe genre has come to define trends in guitar-based music. And similarly, we've come to another genre-specific survey of the millennium: The best hip-hop albums of the past 20 years.
It's been just in the last few years that we've seen a significant sea change: Hip-Hop is now more popular than rock for the first time ever. And it's easy to understand why—despite Dave Grohl's cheerleading, there's still a lot of stagnant creativity in rock (not totally of course but it's naive to ignore it), whereas hip-hop keeps evolving, keeps growing, keeps producing more relevant recordings that sound nothing like the ones before them. And when we started discussing our favorite hip-hop albums of the past two decades, the most significant trend was that they were all over the map. This list goes from Dirty South to the trap, LSD trips to ego trips, internal struggles to enemies lists. We got it from here; thank you for your service.
---
50. De La Soul – The Grind Date
(2004; Sanctuary)
Like Basquiat defaulting to the spray can just to show folks he could still do it, De La Soul—the incendiary trio of Emcees from Long Island—went back to seething lyrical pressure as the priority for their seventh studio album The Grind Date, and let a crop of 2004 new dudes handle the beats. With no skits in sight, inferring stakes got much higher, the message, not a comeback one just a continuation, needed to be crystal. With producers, J Dilla, Madlib, 9th Wonder, Supa Dave West and Jake One contributing far above average tracks, guest emcees Common and more importantly MF Doom and Ghostface deliver animated yet surgical verses generally reserved for solo projects. But it's still De La serving the hard lesson and sharp quotables. Posdnuos relays the personal math on "Rock Co.Kane Flow" with: "They say the good die young, so I added some/ Bad-ass to my flavor to prolong my life over the drum/ Everyone cools off from being hot/ It's about if you can handle being cold or not."
Observing how Hip-Hop from the late '90s to the early oughts went from expanding minds to brainwashing them—luke warm producers names being shouted over tracks instead of lyrics—the trio brandished a wiry and quick-moving release, better for the administering wisdom that bites. – John-Paul Shiver
---
49. Malibu Ken – Malibu Ken
(2019; Rhymesayers)
"Tuesday," the second song on Aesop Rock and Tobacco's collaborative debut as Malibu Ken, opens with fungus growing inside a car, and features graphic depictions of pimples, warts, boils and other skin growths. Its artwork out-icks the Garbage Pail Kids while its narratives navigate the space between a fucked-up LSD trip and true crime horrors. As much fun as it is to hear this unlikely duo navigate their way through corn mazes and stoner snacks, there's a sense of danger that's not far from the surface—"Acid King" takes a gritty snuff-film rewind to 1984 in a narrative of Ricky Kasso's drug-fueled murder of Gary Lauwers. Malibu Ken seems on the surface like nerd-rap pranksterism but just a cursory look under the hood reveals the most stunningly psychedelic analog-synth hip-hop sounds of the past two decades paired with Aes' most eye-popping, and at times uncomfortably descriptive turns of phrase. On one hand it's pretty gross. On the other it's like a pretty desert rose. – Jeff Terich
---
48. Curren$y – Pilot Talk
(2010; DD172/Roc-a-fella/Bluroc)
Some records become classics by not aspiring to be classics. This is one of them (as is, for what it's worth, this record's sequel). Pilot Talk finds Curren$y and the perennially underrated Ski Beatz crafting 13 tracks of languid, hypnotic cloud-rap. Ski draws from soul and psych-rock and electro and filters them all through his East Coast lens (don't forget, he had credits on Reasonable Doubt!), Curren$y lays down his stylish, deceptively intricate shit-talk, and guests from Jay Electronica to Devin the Dude round out the record and help give it the languorous hangout feel that makes it so compulsively relistenable. Wiz Khalifa could never. – Ben Dickerson
---
47. Shabazz Palaces – Black Up
(2011; Sub Pop)
It's easy to say about any year, but 2011 was a big year for hip hop. The big names of the genre seemed in overdrive, Kanye following his previous year's My Beautiful Dark Twisted Fantasy with a ridiculously anticipated Jay-Z collaboration, while Eminem was busy sweeping the Grammys. Amidst it all, though, the undercurrent of fresh waters was emerging. A kid called Kendrick released his debut to critical acclaim, as did a duo from Seattle called Shabazz Palaces whose darkly weird, jazz-influenced brand of hip-hop turned heads. Steeped in strange rhythms, experimental song structures and one half '90s hip-hop royalty, Black Up was a progressive album that encapsulated hip hop's need to keep moving. The fact it was the first hip-hop album released on Sub Pop perhaps speaks more volume than its bass and drums ever could. – William Lewis
---
46. YG – Still Brazy
(2016; Def Jam)
YG's second studio album is so special, in part, because it manages to be both a top-notch West Coast party record and, at the same time, one of the most urgent political records in recent memory—the It Takes a Nation of its era. Animated both by the Black Lives Matter movement and by an attempt on YG's own life, Still Brazy is thoughtful, impassioned, and vital, and, thanks to collaborators like Swish and Terrace Martin, it comes in the form of floor-shaking, window-shattering G-funk. It's a reminder, too, that West Coast rap is just as much "The Day the Niggaz Took Over" as it is "Let Me Ride." – Ben Dickerson
---
45. El-P – Fantastic Damage
(2002; Def Jux)
"My name is El-P, I produce and I rap too." There's a reason why Jaime Meline credits himself in "Tuned Mass Damper" as a producer first. Particularly in the early '00s, the Brooklyn rapper and Def Jux label head was making beats for a long list of other rappers, many of whom also had a Def Jux release or two: Aesop Rock, Cannibal Ox, Mr. Lif, Murs, Del the Funky Homosapien and Cage, among others. So it's all the more remarkable that it's his own solo effort, Fantastic Damage, that stands among the best releases on the label's brief run. A satirical, dark, unsettling landscape of broken families, sci-fi tropes, dark alleys and MPC thunder, Fantastic Damage lives up to its name in high points such as the too-many-guns nightmare "Deep Space 9mm" and dystopian sales pitch "Stepfather Factory." To say he was ahead of his time is almost redundant given that nihilistic futurism is pretty much his aesthetic, but the fact that Run the Jewels found success a dozen years later more or less proved that point.  – Jeff Terich
---
44. Missy Elliott – Miss E…So Addictive
(2001; Elektra)
That "Take Away/4 My People" double video may have been slightly on the nose but hey, that kind of comes with the territory and given then events it deals with you can't really hold it against Missy Elliott. Certainly not since her third album remains one of the most daring albums of the new millennium. Missy showed a confidence beyond what we'd seen from her first records and, in the process, produced several of her best and biggest songs. Her punchy lyrics and songwriting stood out in an album that, almost 20 years later, has stood the test of time. – William Lewis
---
43. Raekwon – Only Built 4 Cuban Linx Pt. II
(2009; Ice H2O/EMI)
Had the calmly swaggering Raekwon's sequel to his justly celebrated masterpiece been a mere retread, we wouldn't be talking about it now. But Only Built 4 Cuban Linx Pt. II is an exhaustively detailed exploration of crime's bleakest realities: Rae is much older and wiser than the ambitious Wu-Gambino on the first OB4CL, the burden of command evident in his dextrous flow. Ghostface Killah remains an excellent foil, but his energy seems desperately manic, more than a little haunted. It's not all joyless; celebrations of kingpin glory like "Kiss the Ring" and plain old shit-talking sessions like "House of Flying Daggers" and "New Wu" are album highlights. Yet more common are grim laments of men neck-deep in the coke trade ("Pyrex Vision," "Surgical Gloves"), shooting it out with rivals ("Sonny's Missing," "Mean Streets") or imprisoned for life ("Have Mercy"). Ultimately, OB4CL Pt. II is a work of brutal yet poignant urban crime fiction as much as anything by Richard Price, George Pelecanos, Walter Mosley or Iceberg Slim—grounded in cinematic soul production from all-time greats including J Dilla, Pete Rock, Alchemist, Dr. Dre and RZA. – Liam Green
---
42. UGK – Underground Kingz
(2007; Jive)
If you were a seasoned UGK fan in 2007, watching Underground Kingz scale the Billboard charts must have been like tricking your picky-eating friend into eating haggis. It took nearly two decades for UGK to get into the limelight with Underground Kingz and just months after its release, Pimp C died of kidney failure. Therefore, UGK's double-album is an artifact, totemic of a very brief moment of glory for the Port Arthur duo. That said, UGK's brief moment is Texas-size (29 tracks!) and bangers like the funk-heavy "The Game Belongs to Me" and "Take the Hood Back" display the juxtaposition of Pimp C's snarling acumen next to Bun B's unpretentious and economical delivery. And then, of course, there's "Int'l Player's Anthem." When the aughts fortify as a singular genre of music and Time-Life has a compilation album that they advertise on late-night cable TV, where the track listing scrolls down the screen, that collection will be anchored by "Int'l Player's Anthem." A strong argument can be made that this was the most prominent rap song of the past 20 years. The banger glides over four narrators and moves from Andre 3000's introspection to Pimp C's aggression, into Big Boi's lustful frustration and ends with Bun B's technical ease. – Paul Glanting
---
41. Eminem – The Marshall Mathers LP
(2000; Aftermath)
Recent records may have stained his reputation in the eyes of many, but it's important to remember Eminem historically. The Slim Shady EP and following Slim Shady LP placed him on the map as a young protege of Dr. Dre spinning elaborate, elastic and highly narrative tales, blending both the humor and wordplay of someone like Method Man at his peak with the dense horrorcore of his native Detroit. On Marshall Mathers, everything was intensified; his proto-emo rap narratives of childhood in neglect and abuse, the heart-baring introspection of tracks like "The Way I Am" and, of course, the big pop-rap crossovers like "The Real Slim Shady," which only further worked to cement his place in the broader pop canon. But it is the track "Kim" that demonstrates Eminem at peak power, both for best and for worst. It is a highly disturbing track tracing a horrific tale of domestic violence, its narrative conveyed by Eminem as master storyteller in horror-through-hip-hop. It is both Eminem at his most grandiloquent and technically gifted, provoking a one-man theater of real-life tales of horror, as well as everything Eminem has ever been accused of. It is counterbalanced earlier in the album by "Stan," another all-time great narrative rap track, this time specifically undercutting a fan interpreting the overarching horror narrative of Marshall killing Kim which had played at that point across multiple songs and albums as an overarching endorsement of violence instead of what Eminem always sought to do: dark, violent horror storytelling through rap. – Langdon Hickman