20. Dirty Projectors – Bitte Orca
(2009; Domino)
To reflect on Bitte Orca now is to essentially remember a band that no longer exists. Sure, Dirty Projectors released an album a few months ago but they did so without essential member Amber Coffman (in fact, that album—and her solo release a few months later—is more or less about this very departure). Instead, Bitte Orca now stands as a memorial to the band's golden moment, a sort of opus that is probably the reason we still talk about them. At the time of its release, listeners were enamored by the songs' indescribability, a sonic hodgepodge referential of too many things to pin down. Its "experimental sound" (a term we laugh at now in the same way Neutral Milk Hotel was once experimental) carved a space in indie where acts such as tUnE-yArDs and Perfume Genius could flourish. And unsurprisingly, standout "Stillness Is The Move" is the only track that frontman David Longstreth shares a writing credit with Coffman. – Matt Perloff
---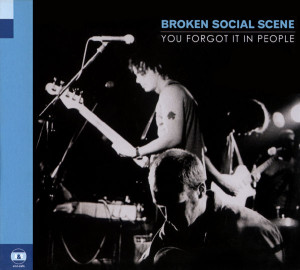 19. Broken Social Scene – You Forgot It In People
(2002; Paper Bag/Arts & Crafts)
Broken Social Scene started off as a small ambient instrumental project between Kevin Drew and Brandon Canning that yielded a strong debut. But the record that came after has become a monument in indie rock. Anybody who discovered You Forgot It In People around the time it came out has surely developed a special bond with it. The sounds presented in this record are too vast too describe; it's rock, it's shoegaze, it's pop, it's beautiful all around. Essentially, this was a record that boosted their profile and changed their identity, and former members have found their successes outside the band as a result. You Forgot In People is a raw record, jam packed with emotional tracks ("Anthems For A Seventeen Year Old Girl" and "I'm Still Your Fag" come to mind). And while the band have reached greater popularity and are still making great records, they'll never sound this good or ambitious ever again. - Giovanni Martinez
---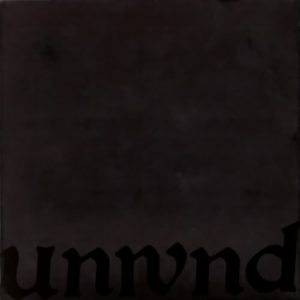 18. Unwound – Leaves Turn Inside You
(2001; Kill Rock Stars)
Unwound aren't the only band to bow out on a high. In fact, there's another band on the next page that did just that without ever announcing their intention to do so. Yet never has there been such a case of don't-know-what-you-got-till-it's-gone as when Unwound released Leaves Turn Inside You. The Tumwater, Washington trio steadily built up a career of pounding post-hardcore and noise rock abstractions throughout the '90s only to reinvent themselves entirely on their final double-album. Justin Trosper, Vern Ramsey and Sara Lund could craft wiry punk numbers such as "December" and "Look a Ghost" in their sleep by this point; Leaves Turn Inside You was about how far they could spiral outward and still sound like Unwound. The results skew from triumphant art rock ("Off This Century") to haunted post-punk ("October All Over") and glacial post-rock ("Below The Salt"). And they covered four sides of vinyl in the process, proving that not only did Unwound have the vision but the wealth of material to build their most ambitious and finely crafted album. And that was it: One final year of touring and no reunion. Leaves Turn Inside You has earned its legend status on the strength of the music itself, but by never capitalizing on its legacy, they never gave us the opportunity to grow tired of it. – Jeff Terich
---
17. Phoenix – Wolfgang Amadeus Phoenix
(2009; Glassnote)
With the proclamation "Time to show it off! / From a mess to the masses," in opening song "Lisztomania," Phoenix indicated that they knew, somehow, that Wolfgang Amadeus Phoenix would launch them to global recognition. From that very track, the album is all dazzle—all thrill. The last notes of "Lisztomania" cut right into "1901," and it feels like your stomach flipping when you drive too fast over a small hill—more exhilarating than it has any right to be. Throughout Wolfgang, Phoenix plays with the sounds of words in the way of poets, done so smoothly that it might appear they run the risk of fumbling, but of course they don't. It's in the blunt morbidity of  "Lisztomania"'s "Do let, do let, do let / jugulate, do let's go slowly," and the glorious pacing on "Fences": "If only your necessary silhouettes / unknown, join the dissi- dissi- dissidents"; and, later: "Did you miss a – miss a – message?" This slithery repetition of sounds accounts for a good chunk of Phoenix's indefatigable catchiness, and they bolster this playfulness with their quick beats and spirit. They continue to churn out single-worthy songs with boundless self-confidence, though Wolfgang is the moment that they punched through to the next level. - Paula Chew
---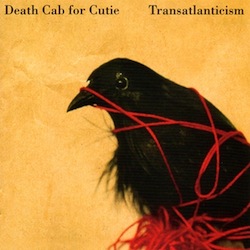 16. Death Cab for Cutie – Transatlanticism
(2003; Barsuk)
Transatlanticism is Death Cab for Cutie's most heart wrenching album. It's not a concept-album per se, but on the group's fourth album they put a heavy emphasis on themes of long-distance love. It's a much darker album than those that preceded it, with the few, rare upbeat moments showing themselves in "Sound of Settling" and "Death of an Interior Decorator." Each song presents golden moments of painful clarity—sometimes nearly impossible to swallow. Yet it's best experienced all the way through, with no pauses, with its narrative qualities walking us through the challenges that distance presents. Ben Gibbard's lyrical prowess shines through on highlights such as the extended title track, wherein he sings, "The rhythm of my footsteps crossing flatlands to your door have been silenced forever more/The distance is quite simply much too far for me to row." Throughout Transatlanticism, questions are implicitly raised about what we want from our relationships, and leave the listener pushed to acknowledge true emotions with the raw melancholic undertones in tracks like "Tiny Vessels" and "The New Year." It's an album of discovery and acceptance, growing up and understanding what lies ahead. - Virginia Croft
---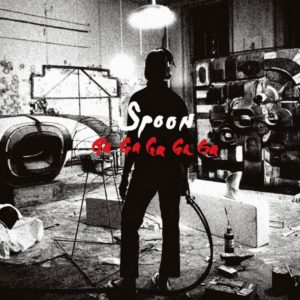 15. Spoon – Ga Ga Ga Ga Ga
(2007; Merge)
To this day, Spoon has yet to make a bad record. As a result, it's hard to say exactly where the ridiculously titled Ga Ga Ga Ga Ga (named for the nigh-jarring piano sound of album track "The Ghost of You Lingers") ranks among them, but even if it resided at the bottom of the list, it would still be better than most bands' best efforts. From the opening salvo of "Don't Make Me A Target" to the sultry groove of The Natural History cover "Don't You Evah," Spoon brought the hits. None would become as ubiquitous to indie rock soundtracking, though, as the Jon Brion-produced "The Underdog" with its vision of suburban aging backdropped by revelrous horns. – Andy Barton
---
14. The Microphones – The Glow Part 2
(2001; K)
Listening to The Microphones' The Glow Part 2 in light of Phil Elverum's most recent release—Mount Eerie's A Crow Looked At Me—is a curious experience. The latter is where Elverum is now—stripped of abstraction and fanciful verse, trying to make sense of his wife's death (a thing of which there's no sense to be made) and simply doing his best to provide for his daughter. It's almost heartbreaking to hear The Glow Part 2 in context; this is an album of possibilities, of observations of elements and pieces of the natural world, of finding freedom in the potential of a recording studio. The album contains Elverum's most ambitious—and for that matter best—songs, from the acoustic build-up of "I Want Wind to Blow" to the dense fuzz of "Moon" and the lo-fi noise pop drive of "Samurai Sword." It's an album of magic wrought from humble means, of worlds crafted with human hands. Elverum will probably never record another album like this again; may he one day find the joy in a different kind of musical enchantment. – Jeff Terich
---
13. Yo La Tengo – And Then Nothing Turned Itself Inside Out
(2000; Matador)
Yo La Tengo have a few modes of operation: shoegazing noise-pop songs; James McNew-fronted janglers; and whisper-quiet slowcore lullabies. Most of the time they cram variations of all of these onto one album, like the ambitious I Can Hear the Heart Beating As One. But And Then Nothing Turned Itself Inside Out is different. Momentarily shedding their walls of fuzz and feedback (save for centerpiece "Cherry Chapstick"), Yo La Tengo turn the lights low and offer a collection of songs that are sweet, dreamy and unprecedentedly intimate. At times, Ira Kaplan is barely audible; his vocals on the romantic "Our Way to Fall"—a song about his own relationship with drummer Georgia Hubley—sound like he's sharing a closely-held secret. When Hubley and Kaplan harmonize during the chorus of "Tears Are in Your Eyes," a transcendent peak on what's arguably the album's best song, the band reveals a level of beauty that's surprising for even them. It's not just that And Nothing Turned Itself Inside Out is the band's prettiest album—though it is—but that somehow a team of ringers nearly two decades deep into their career were still capable of revealing something entirely surprising. – Jeff Terich
---
12. Vampire Weekend – Vampire Weekend
(2008; XL)
Well read, oxford clad and primped for their late night TV debut, Columbia University's finest baroque-pop quartet showed a knack for weaving bookbound lyricism into Paul Simon-esque melodies on their self-titled debut. Self-described by frontman Ezra Koenig as "Upper West Side Soweto," Vampire Weekend's music plays out like a modernized S.E. Rogie fixed on the socialites dwelling in the WASP-swamped hotspots of New England and prime real estate of Manhattan. Koenig's intellectualized songwriting covers aging gadabouts, society's colonialist undertones, and a grammar-defending Facebook group, with multiple nods toward Romantic Age poet William Blake.
"Oh your collegiate grief has left you dowdy in sweatshirts/Absolute horror," Koenig sings on "One (Blake's Got a New Face)," a cross examination of introspection and confidence, equipped with a sharp Metallica reference, despite sharing zero similarities with its source. On "Bryn," the narrator reflects fondly on a romantic connection to a real life persona, reminding them "Ion displacement won't work in the basement/especially when I'm not with you." Koenig's bold and brainy lines is an example of the kind of songwriting where every word counts. A bona-fide appreciation for African guitar music mixed with Rostam Batmanglij's fine-tuned production makes Vampire Weekend's debut a landmark in indie pop. – Patrick Pilch
---
11. The Strokes – Is This It
(2001; RCA/Rough Trade)
Julian Casablancas—a crown prince of New York City, son of modeling magnate John—is the lizard-king frontman for this 40-minute treatise on the ongoing struggle to build relationships. Despite the sexy original cover art and the explicit nature of "Alone, Together," it's clear that most of Casablancas' complaints address banal difficulties of communication and the process of sustaining interest in a significant other.
From the languid opening title cut to perkier material like "Hard to Explain" and "Someday," a lot of Is This It casts the illusion of going through the motions musically and thematically. It's grimy music made by well-schooled children of privilege, as Casablancas, Albert Hammond, Jr., and the rest of the band compose a love letter to the chugging sounds of The Velvet Underground and The Doors, reflected forward to mostly (inferior) European indie performers.
Truth be told, this album is propelled by the energy of its arrangements ("Soma," "Take It or Leave It," "New York City Cops") far more than its words. If you must use words as the lens through which to view the album, go to track four, "Barely Legal": "I should have worked much harder/I should have just not bothered." Therein lies the suggestion that The Strokes positioned Is This It as the decade's quintessential "hipster" album in the most pejorative sense—awesome songs about questionable people, full of the unresolved angst of concurrently giving a shit and not. – Adam Blyweiss